In one short year, Hunt Club has grown from 15 employees to over 50 and, it's no surprise, the team is full of creative and bright professionals.
What is surprising, however, is finding out we're kind of a mixed bag.
We have people who've left aspiring roles at some of the fastest-growing companies and category innovators, like Facebook and Trunk Club.
Others came from big blue-chip brands, some who've founded their own companies or who have rejoined the workforce after taking some time away to raise their families.
When it comes to growth and success around hiring and retaining employees, our secret is simple: We bring in exceptional "doers" with the right entrepreneurial skills, who aren't afraid to get their hands dirty and work together, to build something great.
Said a different way, we all have the right skill sets and qualifications but may not all have earned them in traditional ways.
In today's founders series we'll cover off on why you want to look beyond someone's pedigree when hiring and how to do it.
Let's dig in.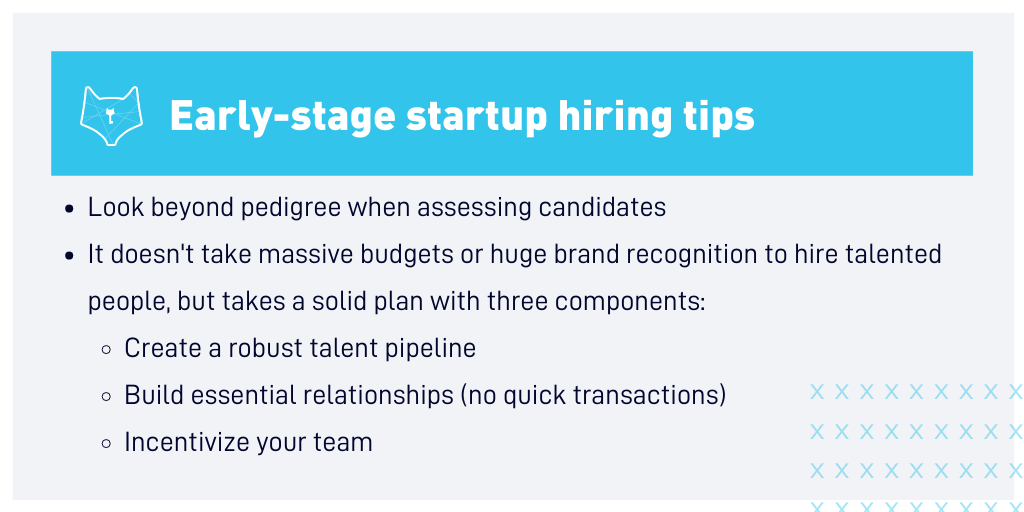 Why you want to look beyond someone's pedigree
Pedigree is determined by where someone went to school or what job titles they have held, and oftentimes, what companies they have listed on their resumes.
When looking at today's workers and the world of employment in the startup space right now, it's heavily skewed on what a person did before, where they went to school, and who they know, rather than about the qualities necessary for the role.
However, when we dig into the data on Hunt Club's candidate pool, including our own employees, we begin to see some interesting points.
The first is if you look at the executive layer of candidates hired across our early-growth stage customer base, almost 30% of people hired have atypical backgrounds. This means they either:
Never graduated from college
Earned a college degree that is not from a top-100 university (i.e., Stanford, Princeton, MIT, Harvard, USC)
Have non-traditional work experience (e.g., contractors, self-employed consultants)
Traditional hiring practices have focused on a candidate's background and experience rather than talent and potential. While it might seem like a leap of faith, nine times out of ten, a person's passion and abilities can throw pedigree out of the water.
How to hire the brightest, most talented people without massive budgets or huge brand recognition.
While most startups haven't transformed their hiring processes and are competing with big-name players for top talent, you might think that unless you have massive pocketbooks, you won't be able to compete with Google to hire that exceptional engineer. Or you can't get that CMO from Cisco.
With a little additional work and willingness to embrace the following ideas, you can get the talent you want while operating within the constraints of a growing business.
So how can you build a robust pipeline of candidates, actually get them to listen and take a look at what you're making and then seal the deal with your perfect hire?
Let's take a look at three key ideas to get you there.
1. Build a pipeline
This one seems obvious, but you'd be surprised at how often this is missed. There are few things more valuable to founders than someone who can take the initiative to try new things, learn a new skill, or do what it takes to fill a business need.
Make sure you're always networking to find these people and build your pipeline of candidates.
Sometimes it means looking where no one else is looking.
As a cash-strapped, growing business in the tech space, for example, it's hard to compete with Facebook to hire developers for your team since you likely can't offer the same compensation or benefits packages.
Instead, look in pools of talent outside of your usual channels. Places where your business can stand out from the crowd. Think about networking with peers and colleagues, local college alums, and even family members of spouses in highly-dense startup areas who may want to move back at some point.
At Hunt Club, one of our star software engineers started working in a creative field (after pursuing a political science degree) before expressing an interest in software development and enrolling in an engineering boot camp. One of our talent strategists was a full-time tennis coach before making moves into the recruiting world. We would probably not found them otherwise.
Key takeaway: Don't dismiss or overlook talent just because it's not where you'd expect to find it.
2. Avoid quick transactions
Startup hiring requires careful consideration. Take the time to build real relationships with potential candidates coming externally or internally. It probably has something to do with a founder's nature (they're working fast to create something incredible and quickly), but many founders are quick to offer a job to someone they've only just met.
Keep in mind that most people will be intrigued, attracted to, and curious about something only once they have the most information possible. If you find someone you would like to recruit for a job with your company, think about asking them for a coffee, then lunch or something outside of where you work, first. Establish a rapport with them and use the time to educate them about how you are building something that one day will change an entire category. Share the details about who you work with, your business projections, financial models, and plans to raise capital.
Most importantly, ask your potential candidates a lot of questions so you can get a good read on what the person is interested in, what they like doing, where they want to go in their professional journey.
At Hunt Club, we put a lot of care into the end-to-end candidate experience, and it pays off (see our crazy growth numbers above.)
This is built on three straightforward things: fostering trust and real relationships with every candidate, asking pointed questions to get an insanely good read on their interests and potential, and we listen and honestly care about what they want to pursue.
Do all of this before you even think about extending an offer.
Key takeaway: This should also be a core competency for everyone you hire - not just marketing, not sales, or just the founding team. Everyone should be asking lots of questions, helping to cultivate a culture of transparency and communication.
3. Incentivize your team
Given the nature of the environment, the employees who thrive and move your business forward are so often the people who do things "outside of the job description" day in and out.
At Hunt Club, like to think of it as unbridled energy and scrappiness.
Odds are, your teammates know some really great people, and, let's face it, we all want to work with someone we want to grab beers with and hang out with outside of working hours. From the earliest days, turn your staff into your greatest weapon by empowering and incentivizing them to bring relationships to the table.
Key takeaway: The best talent comes from trusted referrals and while referrals only represent 7% of all interviews, they represent 40% of all new hires. Find ways to get everyone involved, from referring talent to screening candidates to interviewing, hiring, and beyond.
Learn more on How to Build a Hiring Committee That Attracts Top Talent
In the end
Strong recruiting is tough for early ventures.
There isn't a playbook on hiring, but when it comes to your business, find curious people, who have the drive, and the confidence and a willingness to tackle new and unfamiliar challenges.
Your early hires set the tone for the next phase of the business. They need to be people who can grow with you, step into uncharted territory, and encounter things outside their current capacities.
"In tomorrow's world, people are going to want the job they love. One that betters their career, betters their perspective on life, and working with people they admire and respect, all while doing something that they're passionate about."

Nick Cromydas, CEO & co-founder, Hunt Club
---
Two other things to keep in mind as you hire: The best people aren't applying online. They aren't taking career advice from people they don't know.
Working with Hunt Club helps you deliver an exceptional candidate experience and access to real relationships built on trust, so you can land top talent over your competition every time.
Find out how we can get you to where you want to go faster.
Contact us at partnerships@huntclub.com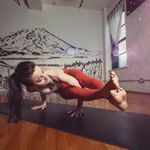 Veronica Feldmeier
---
Stay updated. Subscribe to our blog.