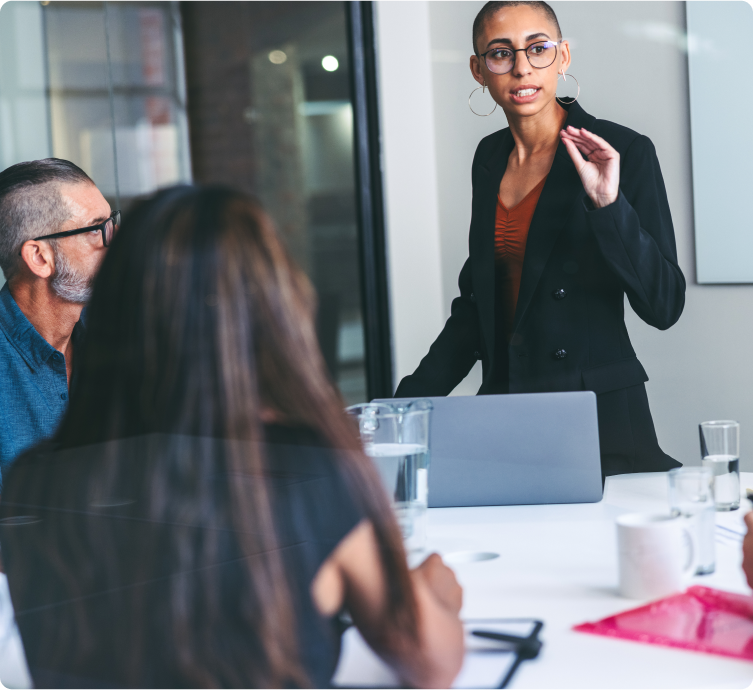 Talent Acquisition
Build Innovative Teams To Transform Healthcare
The healthcare industry has faced some of the most challenging times in recent history. However, thanks to innovative teams across hospitals, health tech, service-based businesses, biotech, and supply — the industry has been able to persevere and make an inspiring recovery.
Ongoing modernization and innovation are necessary to keep up with the dynamic nature of healthcare and the world around us.
The right leaders are the heartbeat of this change — and Hunt Club can help you find them.


Modern healthcare starts with the right leadership teams
To keep pace with the evolving needs of patients while also improving the safety and health of everyone involved, healthcare organizations need innovative, outcome-driven, and empathetic leaders who can be a positive driving force for change.
So what exactly does modern healthcare leadership look like?
Top talent and the right executive leadership in healthcare should — first and foremost — be equipped with hands-on experience in the healthcare industry. Ideally, they will have served in some real-life, technical capacity and can bring a deep, usable expertise to their next opportunity. Additionally, the best healthcare providers and leaders should be:
Our health is deeply personal and unique, and in order to provide the best care, healthcare executives must operate from a place of genuine trust and values-driven ethics.

Whether your company builds the innovative technology medical centers use to diagnose and treat illness, or if you're an entrepreneur setting out to create an app that reimagines mental health, success ultimately depends on patients' and customers' ability to trust you.

So, how do top healthcare leaders build this trust? They:

Understand that trust and safety are the doors to commerce.
Prioritize confidentiality and uphold all industry standards and regulations.
Inform and educate with unbiased fact, research, and studies.
Share the decision-making and are empathetic toward individual problems.

In order to successfully introduce new — and potentially lifesaving — products or services, the healthcare industry must possess a keen eye for identifying antiquated practices and an even bigger propensity for embracing much-needed change. Executives and healthcare providers alike should exemplify:

>
Strategic curiosity: The right leaders are always learning about the industry and are eager to understand where it can benefit from modernization initiatives.
Adaptability: Leading healthcare executives and providers recognize when change is needed and are agile in molding their products and services to meet the shifting needs of everyone involved. They must be ready to adopt new technologies, state-of-the-art tools, and cutting-edge equipment to better serve patients and customers.

In an industry that works so intimately with people, healthcare leaders can drive better results if they have empathy for the people and processes involved. By showing compassing for every individual, every step of the way, healthcare leaders stand to impact the larger health system as a whole.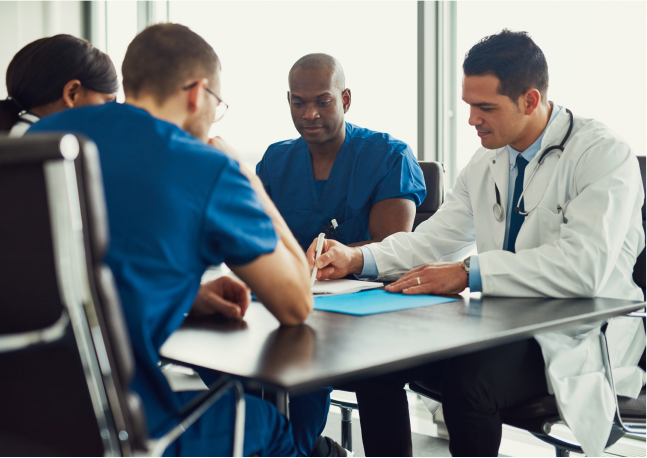 Hire top healthcare & health tech leaders to drive change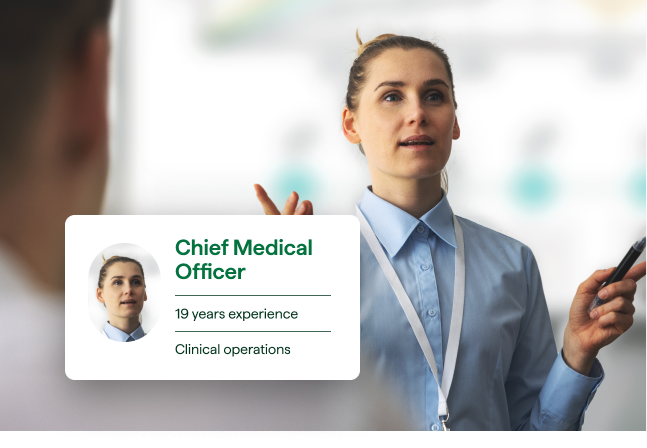 Hunt Club's Expert Community is made up of 20,000+ industry titans and thought leaders — 14% of which are from the healthcare industry and help connect our Talent Advisors to top candidates.
Our executive search firm specializes in sourcing talent across the industry, including healthcare software, mental health, pediatrics, dentistry, product development, life sciences, and more.

With the functional expertise your team needs, we can connect you with innovative and empathetic healthcare executives and providers in roles such as:
Chief Executive Officer
Chief Product Officer
Chief Innovation Officer
Chief Administrative Officer
Chief Medical Officer
Account Executives
VP of Supply Chain & Logistics
VP of Finance
VP of Sales
Managing Directors
And more
We Know Healthcare
Hunt Club has worked with a wide range of healthcare customers, including traditional healthcare organizations, fast-growing startups, and software companies in the industry.



Case Studies
Industry Roles We've Placed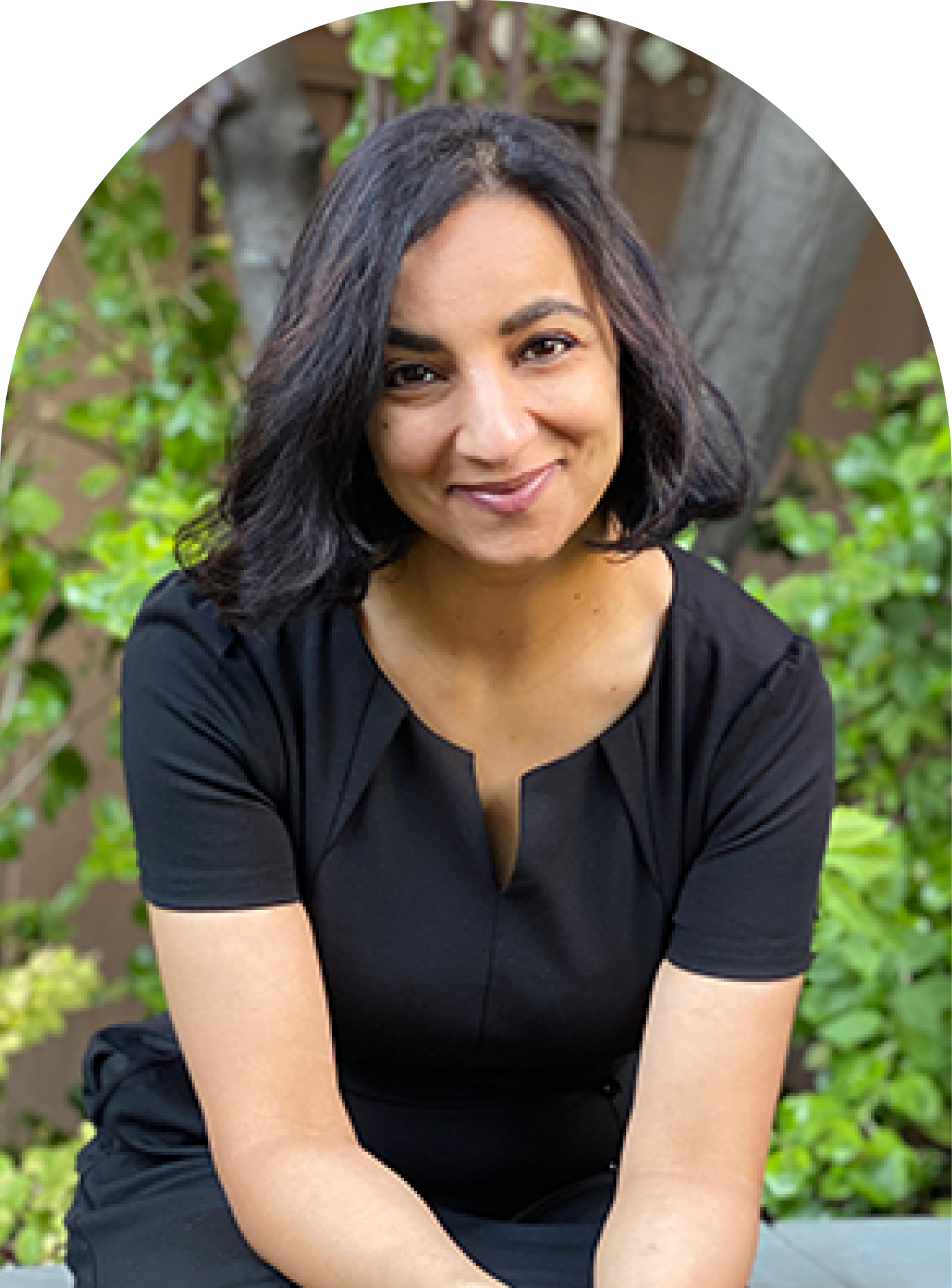 How We Win
A Healthcare Team's Winning Formula
"In order for healthcare enterprises to keep up with the changing needs of healthcare consumers, they must understand that each patient is unique and provide a service that adjusts to their needs, and move away from patients adjusting to the healthcare systems to get the care they need. Every patient is different and personalization is key to guiding them to the care they need."
Manisha Sharma, Chief People Officer
Find your next healthcare leader
Our tailored search process and executive recruiters connect you with the leading healthcare professionals and executive leaders that can drive systemic change.
Meet Ady, our General Manager
Ady Malhotra

With over 15 years experience working with hospitals, providers, and healthtech companies, Ady has deep industry knowledge of hiring the right healthcare leaders.