Throughout my career, I've heard people dispense common wisdom like "it's not what you know, it's who you know," or "business is all about relationships," and "relationships are everything." While there is a lot of truth in these statements, I have witnessed service providers fail to convert contacts into clients merely because they were not top of mind at the time of need. Bottom line: if you have a strong relationship with a contact, continuous communication is key to ensure they remember and trust you when it's time to do business.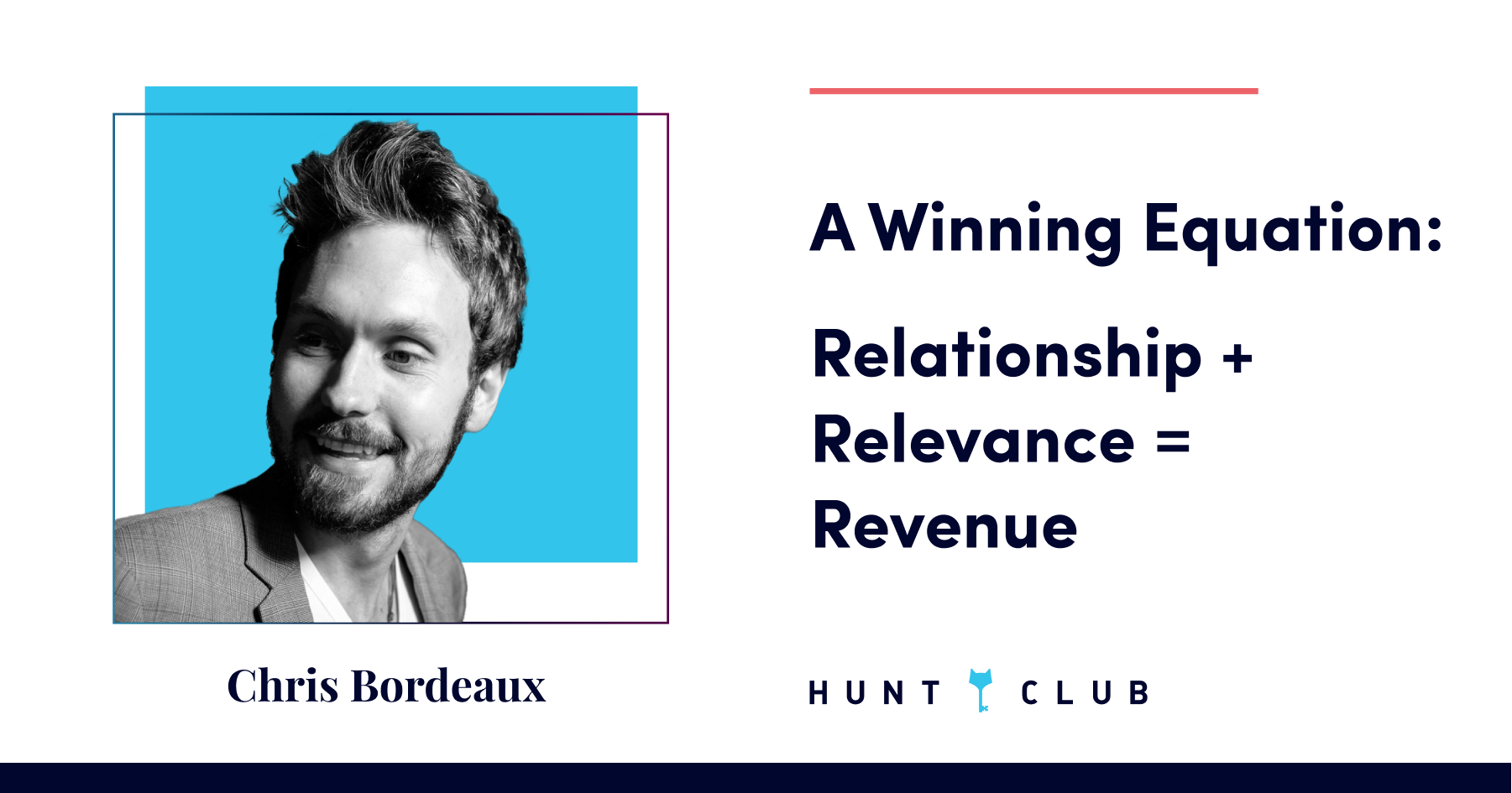 During my three years as COO of Techweek, my team and I hosted networking events in eight major cities each year. With an attendance of nearly 15,000 professionals at events such as Techweek's Founders House in Chicago and Los Angeles, I witnessed countless interactions between business developers and decision-makers, all in hopes of building relationships to generate business. My observations of the different relationship-building tactics led me to realize that too many business developers fail because they drop the ball on staying relevant past the point of entry.
Based on my experiences at Techweek, and later as I delved deeper into the human capital industry here at Hunt Club—and because alliteration is a powerful mnemonic device—I developed this simple equation as a reminder of the impact relationships and relevance both play in building strong connections that convert.
RELATIONSHIP
Relationships are unarguably a critical element of business—and in life. I, like many of you, cherish my close relationships. We all want to do business with people that we trust. In order to establish trust, it's important to focus on building a meaningful relationship through interactions that feel less like transactions, and more like personal connections.
To establish a strong relationship, consider these tactics:
Connect on a personal level
Demonstrate your value through empathy
Nurture the relationship through continuous, genuine interactions
Along those same lines, it's also important to remember:
First impressions count: When you make a good first impression—and can connect on a deeper level, it doesn't always have to be about what you do or the value that you offer. People are often anxious at networking events and unless they find a tangible business opportunity, they probably don't want to talk about work-related topics.
Be human: It's important not to lose sight of embracing the human side of an interaction. For example, when I practiced law, I would hear attorneys talk to founders at length about intellectual property and commercial litigation. These founders know what attorneys do and attorneys are in high supply. I suggest that service providers differentiate themselves through their energy and personalities—be human. Connect on a human level - don't always default to business talk.
Talk with, not at your contacts: Unless you have an entertaining professional story to tell, avoid hammering your professional resume into someone's brain. Like a first date, you shouldn't just talk about how awesome you are—aim to connect on a topic of mutual interest. I'm happy to discuss what I do in my professional role when a prospect wants to hear about it, but I have successfully engaged more people talking about Teenage Mutant Ninja Turtles, Bored Ape Yacht Club, and random travel stories, versus talking about the services my organization can offer.
If you can connect with someone at a deeper human level, you're more likely to mutually want to help the other person and are excited to do so - whether directly through the services that your company offers to support an immediate need or in some other way - like leveraging your network to make introductions to investors or strategic partners. After connecting and demonstrating value, you must nurture the relationship by staying in touch in a meaningful way—this is where relevance comes into play.
RELEVANCE
As your network grows, you're likely to establish relationships with several trustworthy service providers, such as attorneys, real estate brokers, recruiters, etc., who all effectively offer comparable services.
So, how do you decide who to work with? In today's busy, oversaturated messaging landscape, the number of competitive services can become overwhelming. As your network expands, relationships should constantly be working to compete for relevance. I've witnessed many such relationships fall through the cracks because it's almost as if they assumed that their relationship was a silver bullet to helping them win the business.
To establish and maintain relevance in a relationship, consider how to:
Offer something the contact needs or wants
Clearly communicate your offering and any new features or benefits
Stand out when your offering is of service or needed
Just as you would treat your friends, you should only sell something to your business relationships if they genuinely want or need it. When you make your offering, be concise and precise with your communication. People don't buy things that they don't understand. Then, as the time of need can vary and is often not immediate, keep your relationship alive and your service or product remembered.
For example, if a financial adviser or a real estate broker meets a recent law school grad, who has the potential to generate investment and house funds, but is dealing with school debt, they will need to keep in touch and be top-of-mind when the grad student evolves into a successful professional who is ready to invest and buy a house. The fun part involves staying relevant and top-of-mind for the student. This might mean touching base frequently to share news or insights they would find interesting or wishing them well over a holiday.
What can business developers and companies do in 2022 to stay relevant within their industry?
Staying relevant is like creating a metaphysical billboard. Here are a few ways for business developers to stay relevant:
Follow up (periodically and thoughtfully): Don't annoy your contacts, but don't let them forget about you. There's a lot going on in our daily lives, but try to keep in touch with your contacts about meaningful moments in their personal and professional lives - beyond a generic 'Congratulations' when you see an update on LinkedIn. Tip: I like to occasionally share a book that I think someone will enjoy.
Educate; establish yourself as a thought leader: Share and publish your ideas. Don't just sell. This can take place in many forms. Social media has a lot of noise, but it's a great way to keep in touch with a large network. Just be sure to also connect with people on a more personal level.
Create associations: Create associations to common ground or superlative concepts to generate fun interactions, such as TMNT, NFTs, life philosophies, undergrad memories, or anything that creates better conversation than the weather. People remember unique and fun conversations more than they remember that it rained on a Tuesday.
Share and host experiences: Host memorable events. Grabbing a coffee or a drink can be a good touchpoint, but will likely get lost in the mix. Without checking your calendar, tell me the last five people you grabbed a coffee with. How about the last person that you jumped out of a plane or raced cars with? To make an impression, and to have fun doing so, create a memorable experience for an intimate group. If you host an event, make it more than a happy hour – choose a superlative venue, have a theme, and curate a thoughtful guest list for everyone's benefit.
Connect the dots:

Leverage your network to help others

. Take a few minutes to identify how you can make a mutually beneficial introduction based on listening to your relationship's needs.
The more relevance you bring to the table, the more value you're likely to add to your offering. If someone likes what your product or service does —and they are excited to do business with you as a person – it's that trusted, relevant relationship that converts.
The same principles from above are important for hiring too. Check out additional insights from my 1:1 discussion with Dan Gloede, President and CFO at Codeverse on attracting and retaining top talent in 2022. He shares 5 expert tips on the powerful role connection and how thoughtful leadership can play to boost your talent strategies.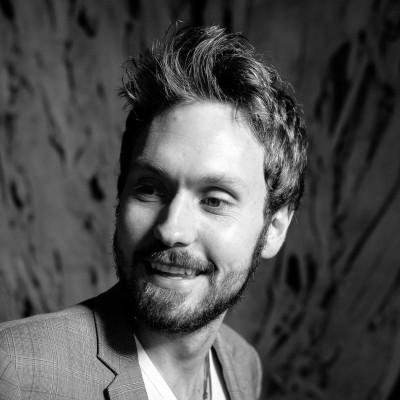 Chris Bordeaux
---
Stay updated. Subscribe to our blog.