Do you need to hire your next VP of Marketing?
If so, you've come to the right place!
In this article, you'll find out the best places to find recruits, how to write a VP of Marketing job description, how to interview candidates, and so much more.
Let's get started!
What does a VP of Marketing do?
A Vice President of Marketing is a marketing expert who oversees the overall marketing efforts for a company.
This is done to boost the organization's market position and achieve business objectives.
What to look for in the perfect VP of Marketing
Here are the qualifications a VP of Marketing needs to have:
People skills
The perfect VP of Marketing needs to have plenty of experience in managing people.
For example, he'll need to have exceptional leadership abilities so he can motivate employees working in his division and get them to function as one unified team.
Campaign management experience
To be considered for the job, a candidate needs the practical experience of running actual marketing campaigns.
That's because this is one of the core skills of the job.
T-shaped skills
The ideal VP of Marketing candidate should have T-shaped skills.
A T-shaped skill set describes the attributes of highly desirable workers. This means an individual with a diverse skill set relevant to the company you're hiring for, alongside an in-depth knowledge of one key area.
For example, a VP of marketing with T-shaped skills would have considerable expertise in one to three marketing areas. This could be something like content marketing combined with one or two other skills.
However, he would need to also have broad knowledge in other areas too. This could be things like SEO, email marketing, and pay-per-click ads.
Say you're looking to fill the position of VP of marketing at an eCommerce company. In that case, you're going to need someone with a thorough understanding of online and offline marketing.
This would be the vertical line in the "T"--in-depth expertise in one or two core skills. However, he'll also need to have broader knowledge of other marketing areas too, so he has a well rounded skill set.
This could be the unique challenges eCommerce firms struggle with, such as logistics, website usability, eCommerce sales funnels, and customer retention.
A VP of marketing for a SaaS company won't need to know too much about offline marketing. However, he must have lots of in-depth knowledge about things like effective SaaS funnels, churn rates, and cost per acquisition.
Regardless of the industry, every VP of Marketing candidate should have a working knowledge of content marketing. He should also be comfortable with data because every single one of his business decisions will revolve around it.
He'll also need to be well versed in using analytics platforms like Google Analytics and product analytics platforms such as Heap, Amplitude, and Mixpanel.
Creativity
Your ideal VP of Marketing candidate needs to be highly creative.
This means he must have the brains of a data analyst and the heart of a creative visionary. He needs to be able to take data he gathers and creatively use it to craft highly effective marketing campaigns that'll knock the socks off potential customers.
To find someone with this kind of creative potential, ask your applicant the following questions:
How do you come up with all your ideas?
What was your craziest idea, and were you able to craft a marketing campaign around it?
What are some of your favorite content promotion strategies?
What is your best recent content piece?
Give an example of an objective you had to achieve, the metrics you used as benchmarks, and the strategy you used.
Did you meet the goal?
Ask to see the hard data on successful marketing campaigns your candidate ran to see evidence that he can produce results.
Where to discover candidates
There's no single best place to discover a terrific VP of marketing, so don't limit your search to just a few places.
LinkedIn
LinkedIn is a fantastic place to commence your search for your next VP of marketing because it's where all the best marketers hang out.
Be ultra-specific when typing in search keywords. This way, you'll get the results you're looking for. In other words, don't just type in marketer—add qualifiers to the word.
Locate candidates with the qualifications and experience you need, and then reach out to them.
Alternative recruitment platforms
LinkedIn is starting to become oversaturated with recruiters, which significantly increases the competition for the same talent.
High-caliber candidates on the platform are overwhelmed with the number of recruiting messages they receive. Consequently, many of them don't bother to respond anymore.
That's why savvy companies diversify their sourcing channels by using alternative platforms such as AngelList, or network recruiters.
Job boards
Some people think that job boards are hopelessly outdated. However, lots of candidates still use them to complement the searches they make on social media.
The more places you post your job, the greater the odds of finding the right person to fill it. Try posting the job to both industry-specific and general job boards.
You want to cast as wide a net as possible.
Your network
You can try recruiting from your own professional network to locate your next VP of marketing.
If it helps, try implementing an employee referral scheme. This is a cash reward when a referral leads to a hire. Generally, the prize will only be paid out after a set period—usually when the new employee has completed a probation period.
This helps prevent abuse of the scheme.
Writing a job description
There's an art to writing a job description.
It's harder than it looks!
Get it right, and you'll save yourself tons of time by screening out undesirable candidates.
Here's what you should include in your job description for VP of Marketing:
Job title
Of course, one option is "VP of Marketing." You can also use "Head of Marketing." If you want to be more descriptive, try "VP of Digital Marketing" or "VP of Ecommerce Marketing."
The more precise your terminology is, the quicker you can weed out applicants who won't be right for the job.
Job overview
Give a concise overview of your organization. Then list the daily duties your prospective employee will be expected to carry out.
Your candidate wants to know whether their skills and expertise are a good match for the job, if the opportunity is a good one, and if the company culture aligns with their values.
So, make sure you provide enough information so he can make an informed decision.
Key responsibilities
These should be bullet points of the responsibilities the prospective employee would be expected to assume should he get the job.
Here are some suggestions:
Provide team leadership
Develop a plan to boost brand awareness
Create marketing strategies and oversee their successful execution
Monitor all marketing campaigns and improve them when necessary
Ensure projects don't go over budget
Measure and report on critical KPIs
Skills and qualifications
Here's where you outline the proficiencies the candidate needs to be seriously considered for the role.
Usually, it's grouped into two distinct sections: essential skills and experience and desirable skills and experience.
About us
Use this section as a sales pitch of sorts.
Tell your prospective employee why your company is a fantastic place to work and what current employees have to say about the organization. Some people think this section should include your company's history, but that's not what it's for.
Instead, try to see yourself through the candidate's eyes.
What could you say that would entice him so much, he can't wait to get the job?
Interviewing a potential candidate
Conduct your interview in four stages.
Email
Send the candidate an email containing the following question:
What would you do in your first three months with our company?
Although there are no right answers, a definite wrong answer would be if he got way too specific about what he would do. This would be too glib, as there are still too many unknowns for him to offer up a detailed plan.
This is an excellent way to cut down on the number of interviews you need to do.
Phone interview
This is another highly effective pre-screening technique.
Here are some questions you can ask:
How many people have you managed?
How many employees have you hired?
How many have you fired?
What's your proudest achievement as a marketer?
What was your most colossal marketing mistake?
The in-person interview
By the time you invite a candidate to the office, you should have a pretty good idea of his suitability for the position.
That's why the in-person interview should be an opportunity to get to know the person and if they would be an excellent cultural fit. You should have some pre-scripted questions at the ready.
However, what you really want to do is to get a conversation started.
Get him to talk about his interests, passions, and ambitions. This can lead to you getting more useful information than mere answers to routine questions.
In-office visit
The last stage of the interview process is inviting the candidate for an in-office visit.
This is an opportunity for him to meet the team and vice-versa. You can even have him sign an NDA so you can use actual analytical data to see how he would run a marketing campaign.
Selecting your VP of Marketing
Here are some strategies you can use to make a final decision:
List skills
Compare candidates by creating a comprehensive list of every skill each candidate has.
Compare this list with the skills your company needs.
Rate candidates on crucial attributes
How do the job seekers compare to each other when you look at critical attributes like managerial skills, ability to analyze data and creativity?
To figure this out, rate each candidate on each attribute.
Reference checks
When you do your reference checks, ask concrete questions about the potential candidate's skills and performance.
It's a red flag if references refuse to answer questions or give super-short answers.
This means they were unhappy with their former employee but won't come right out and say it for fear of being sued.
After you've made your decision
As soon as you decide, call your chosen candidate and offer them the job.
How to find your next VP of Marketing
Do you want to know the very best way to find your next VP of Marketing?
By letting the experts at Hunt Club do it for you!
We can take over the recruiting process from start to finish, saving you plenty of time and aggravation.
Call us today if you want to harness our army of experts and our proprietary technology to find your next hire!
Ready to hire top talent for your startup?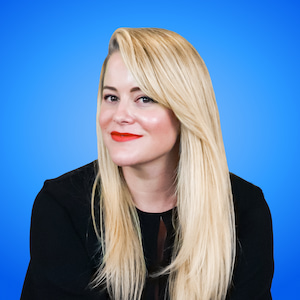 Amanda Price
---
Stay updated. Subscribe to our blog.