How many 100+-year-old companies do you know still exist today?
Probably not very many; keeping a legacy business fresh and exciting for another 100+ years takes a lot of work and effort.
As Marc Andreessen of Andreessen-Horowitz puts in: "Software is eating the world," – and there are no signs of slowing down. It's one reason why digital transformation spending in business will approach $2 trillion by 2022.
In this era of digital disruption, getting the right talent that knows how to keep pace with the changes in today's world should be top of mind for companies of all sizes.
Understanding why established industry leaders need to adapt to disruption
Once upon a time, or roughly forty years ago, most people set out to live the American dream: graduate college, own a home, work a steady job, and climb the corporate ladder.
There also wasn't a little thing called the internet.
The business world was also pretty predictable. Fortune 500 companies often stayed put on the list for 20 or 30 years. For workers, the job you were doing in year 10 was the same as in year one, and having this experience was usually a good indication of someone's capabilities.
Fast forward to 2019, and the business and talent landscape has changed dramatically. The internet has given people access to more information, enabling us to work faster than ever: we send 269 billion emails every day and 627,000 businesses open each year.
According to PitchBook, venture capital investment has reached an all-time high of $130.9 billion, surpassing the dot-com era, and fuels disruption across all industries.
The Fortune 500 list of companies has dwindled. Startups like Uber, Airbnb, and Dollar Shave Club have all become the new taxis, hotels, and Procter & Gamble companies.
Startups empower their employees with the right tools and hands-on learning to accelerate their careers that otherwise would take decades to get at big companies.
In the hiring environment, these disruptive startups can–and do–poach top talent from more prominent companies.
These components have massive implications for companies who are slow to make the digital jump.
How to get the talent behind today's disruptive startups
Today, one-third of the U.S. workforce–53 million Americans–work as freelancers or hold gig jobs. Millennials are now the most significant demographic age group and have reshaped the talent profile.
Most change jobs four times before the age of 32. They have pioneered their career paths, are utility-players, and are comfortable with volatile compensation or working with constrained resources.
In the startup ecosystem, the best venture firms offer their portfolio companies more than just capital. They provide access to services, administration and operation resources, technology–all to create the best chance for success.
It also includes access to talent.
While legacy companies have access to capital, the operational infrastructure, finance, and legal support, most firms struggle when it comes to recruiting the entrepreneurial talent needed to drive real innovation so that they can stay relevant.
The takeaway?
Getting the right talent that knows how to keep pace with the changes in today's world should be top of mind for businesses.
When it comes to recruiting, most companies know how to deal with candidates who have a defined career path, stable income, functional expertise and understand how to work with a breadth of resources to do their job.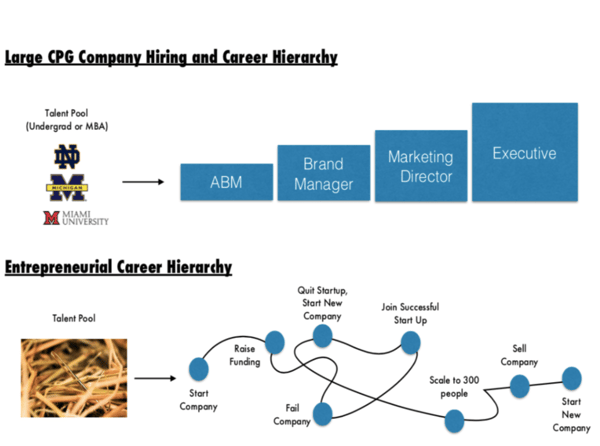 However, finding, vetting, pipelining, and hiring people with entrepreneurial DNA requires a different approach and methodology. Most large companies have yet to implement or adopt.
Corporations need to rethink their approach in order to stay competitive in today's landscape because the way large companies hire is not conducive to landing entrepreneurial talent.
Three ideas on how to get talent
Like the best venture firms, big companies need to find and develop relationships and recruit serial entrepreneurs for real innovation. Then arm those entrepreneurs with a team of others, like them, that know how to handle a hyper-growth environment.
1. Lean in and build relationships within the entrepreneurial market
Understanding the people within the entrepreneurial ecosystem is key. Tap into their expertise and leverage corporate resources to fuel startup innovation. Many large companies are doing this, and establishing incubators or funds aimed at startups:
For example, Nike teamed up with Techstars for a three-month program that mentored ten startups to help build technologies for Nike's activity-tracking devices, like the FuelBand. Each startup received a $20,000 investment from Techstars, and the chance to pitch investors and Nike at the season's end.
Microsoft also joined forces with Techstars to create a three-month incubator in Seattle for companies focused on designing products for Microsoft Kinect and Windows Azure. The startups received mentorship, technical training and support, and the opportunity to pitch to angel investors and venture capitalists at the end of the program.
2. Rethink the candidate experience
Entrepreneurs are often engaging people who are interested in making money and building a business into something that will make them proud. They want to know the long-term success and opportunities at your big company. This needs to be built into every piece of the hiring process.
3. Build a relationship-driven talent ecosystem
Relationships are the future of talent, but hiring from internal referrals alone won't cut it. Think outside of your usual networks and professional organizations to find a broader range of talent. One thing that Hunt Club does is to create automatic referrals for you from the best leaders in entrepreneurship. As a true talent partner, we can help your corporate innovation goals because the five million candidates in our talent pool are all referred and pre-vetted by over 10,000 industry leaders and executives across all industries.
In the end
Adapting to the digital transformation will help more prominent companies gain an edge over their competitors, particularly those disrupting the industries they're in. For these companies, working with a partner like Hunt Club enables you to deliver an exceptional candidate experience and access to real relationships built on trust so that you can land top talent over your competition every time.
Hiring? We can get you to where you want to go faster.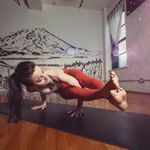 Veronica Feldmeier
---
Stay updated. Subscribe to our blog.