These days, SEO is becoming so much more critical for companies who want to annihilate the competition, grow their businesses like never before, and know what's going through the heads of their target market.
That's why increasing numbers of organizations are hiring SEO executives.
In this article, you'll discover what an SEO executive is, why you would even need one, essential qualifications every SEO executive needs to have, and so much more!
What is SEO?
Some things you need to know about how people live, work, and shop online:
90% of all organic traffic on the web is generated by search engines
81% of people use search engines before committing to a big purchase
93% of cyberspace shopping begins with a search engine
Search is the biggest driver of traffic to a website, beating social media by 300%
Nobody can argue that search engines have fundamentally changed how business is done. Because of the groundbreaking ingenuity of Google, the strategic use of SEO has the best ROI and most significant impact on lead generation and conversion than any other digital marketing technique ever devised.
SEO, otherwise known as "Search Engine Optimization," is a set of strategies for increasing website traffic quality and quantity. It does this by boosting organic search engine rankings.
"Quality of traffic" is a particularly critical metric. Say you're able to attract millions of visitors to your site. However, if they're coming to your site looking for the Four Seasons Hotel, but you're Four Seasons Total Landscaping, there's a snafu in the algorithm that's screwing things up. This means the quality of your traffic will be abysmal.
You want to draw in prospects who are genuinely interested in your wares—not merely bring in visitors by the truckloads.
What is an SEO executive?
An SEO executive is an individual who's skilled in using a set of techniques and strategies to improve a company's ranking on the search engines.
Their expertise includes doing such things as link building, keyword research, and ensuring that website architecture is user friendly. It also helps if an SEO executive knows coding techniques and impeccable copywriting skills. Most SEO executives are also expected (at least occasionally) to contribute articles to the company's blog.
When the job title was initially conceived, the responsibilities were less demanding than they are now.
SEO executives of long ago (which is ten years in internet time) only had to worry about things like basic keyword research, on-page keyword targeting, link building, limiting duplicate content, and getting listed in directories.
The role has been significantly expanded.
Today, SEO executives must do things like keeping up to date with developments in SEM (Search Engine Marketing), conducting in-depth SEO analyses of competitors, and using Google Analytics to generate performance reports.
They must also conduct detailed keyword research based on the latest keyword strategies and pay close attention to changes in Google's algorithm.
Why would you need an SEO executive?
When commercial content on the web first appeared, people needed a way to find this stuff as quickly as possible.
Search engines were born at that very moment.
Once people saw how much a high search engine ranking could increase website traffic, they sought highly skilled individuals to optimize their content. That way, their site could climb to the pinnacle of the Google pyramid--taking their business to unprecedented heights.
This created an insatiable demand for SEO experts that exists to this day.
Some people even call SEO the word of mouth of the Internet era!
With stiff competition in cyberspace, companies who don't tap into the power of SEO are at a disadvantage. Because SEO is so crucial to most businesses' success, you should think about hiring someone whose sole mission is to ensure that your organization uses SEO most effectively.
When used correctly, SEO can dramatically increase your ROI and help your brand achieve greater visibility. It can also make it incredibly easy to attract people who'll convert like crazy.
It can make a huge impression on customers if they find your business ranking high when using a search engine to shop for products and services.
Once your website is ranking on the first page of the SERPs, you'll be elated that you had enough foresight to hire a consummate SEO expert!
Essential qualifications every SEO executive needs to have
An SEO executive requires a skill set that's technical, analytical, and strategic.
Without a clear job description that sets out your expectations, you run the risk of hiring someone who doesn't have the necessary capabilities to implement a resoundingly successful SEO strategy.
A successful SEO executive needs to have the following qualifications:
Experience using analytical tools such as Google Analytics and Google Webmaster
Experience in HTML coding, PHP, and JavaScript
An ability to understand Google's algorithms
Familiarity with basic web design
Experience developing digital marketing strategies
A proven track record for developing content protocols that boost search engine rankings
The ability to build and submit sitemaps
Able to do offsite high-quality backlink building
How SEO improves your business
One of the many ways SEO principles can give your business a much-needed lift is by using them to elevate your website content's quality.
By having superlative content on your website, you'll not only appeal to visitors. You'll ingratiate yourself with the search engine spiders.
A search engine spider (otherwise known as a web crawler) is a cyberspace bot that clambers through millions of websites. It does this so it can collect information for Google, which will meticulously index every bit of it.
Without Google's breathtakingly immense indices, your internet searches wouldn't be possible.
SEO is an ongoing process—not a one-time thing. All the search engines are continually refining and updating the way they rank websites.
This means you need to be continuously updating if you want to keep your search rankings high. All this takes so much time and energy that businesses should consider hiring one person to do it all for them.
Once you get your website indexed and you start getting ranked on the first page of the SERPs for your chosen keywords, you'll thank the gods that you had enough common sense to hire an SEO expert!
7 principles to apply to your SEO executive search
Here are eight principles you can use to make your SEO executive search easier:
1. Look for out-of-the-box thinkers
The best SEO executives are those with creativity so plentiful that it borders on the visionary.
This calls for hiring someone who has a gift for out-of-the-box thinking, which is something you might want to test during an experiential interview.
2. Check for the ability to think analytically
Your new SEO executive will need to have exceptional analytical thinking skills.
You need someone willing to analyze every part of your current process so that the parts that no longer make sense can be scrapped. This takes a person who's top-notch at taking a critical look at your current SEO strategy in exacting detail.
Possessing practical knowledge of what the core performance indices in the SEO field are is crucial. That way, an SEO executive can devise a comprehensive SEO strategy for you that'll propel you lightyears ahead of your competitors.
3. Find executives with keyword research and author content experience
Since keyword research is such an essential cornerstone of any SEO strategy, you're going to need to find someone who possesses this expertise in spades.
Content marketing is another one of the vital skills every SEO executive needs to have in his professional toolbox. So, hire someone with a proven track record in crafting compelling content perfectly optimized for SEO, such as blog articles and social media posts.
4. Can they program? Put them at the top of your list
Devising a superb SEO strategy will require experience in web technologies like HTML, PHP, and JavaScript.
If your candidate can program, put him at the top of your list!
5. Find sociable, interpersonally skilled leaders
Most SEO executives end up managing teams.
That's why being sociable and having outstanding interpersonal skills is so important.
6. Make sure they're familiar with Google Analytics
Google Analytics is free tracking software that provides you with crucial insights on how visitors to your website locate you amongst all the internet noise.
Your SEO executive needs to be intimately familiar with every aspect of Google Analytics so you can understand the psyche of your ideal customer.
7. Test their drive, motivation, and ability to adapt
Because SEO strategy is becoming increasingly essential to a company's continued success, an SEO executive needs drive, motivation, and the ability to adapt.
This is something you should test for either through targeted interview questions or through an experiential interview.
Boost your SEO executive search with Hunt Club
Want to boost your SEO executive search?
Hire the experts at Hunt Club! We're not like traditional recruiting firms, so you won't get the same old tired results.
We harness the power of technology to transform thousands of subject matter experts across the planet into the most effective talent network you'll find anywhere.
Call us today, and use our trusted referrals to hire faster than you ever thought possible!
Ready to start analyzing your recruitment metrics?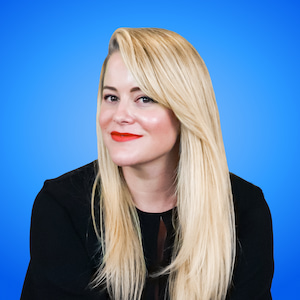 Amanda Price
---
Stay updated. Subscribe to our blog.