Having emerged from the pandemic and one of the most challenging times in recent history, what has been revealed and what does the larger healthcare industry look like today? I've outlined this below:
The gap: Access to healthcare is harder than ever, which has created the opportunity to infuse an antiquated system with innovative solutions that drive change.
The hope: Patients and providers communicate and collaborate without barriers, making it easier to both deliver and receive holistic care. From general wellness to life-saving discoveries, we need new players who can fix a fragmented system.
The answer: Having the right minds and leaders in place to implement fundamental changes needed to break silos and create a patient-centric healthcare system. This includes developing the tools and technologies that allow healthcare providers to focus on outcomes as well as empower patients to make educated decisions about their health.
Over the course of a decade, I've had the opportunity to work with over 1,000 hospitals and have seen firsthand how the gap has grown and its lasting impact on outcomes.
At the same time, I've been fortunate enough to see some of the most brilliant minds in medicine and technology work together to fix what is broken and apply a renewed focus on delivering improved, preventative, and holistic healthcare.
As mentioned, I believe the answer lies in these people and their brilliant minds. This is why I've dedicated my career to finding these people and building such passionate healthcare teams—to mind the gap.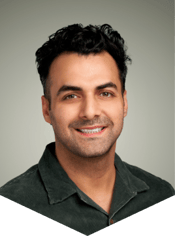 Need help building your healthcare and health tech teams? I specialize in finding and hiring uniquely-qualified, top-tier healthcare professionals for a variety of roles and sectors. Connect with me on LinkedIn to learn more, or get in touch with the link below.
3 Distinct Sectors Emerge Amid an Evolving Healthcare Landscape
Throughout my journey crafting the best healthcare and health tech teams, I've watched how the larger healthcare industry has grown as we've all become increasingly tech-driven.
There's a growing list of innovative technologies being introduced into the market at a rapid pace. Healthcare and the abundance of solutions modernizing the industry will continue to grow and coincide with one another as they continue to remedy some of the biggest issues we face in healthcare today.
However, despite today's evolving and progressive nature of healthcare, three unique healthcare sectors have come to light. These sectors are:
Health Tech
Digital Health
Med Tech
| | | |
| --- | --- | --- |
| Health Tech | Digital Health | Med Tech |
| Any technology aimed to improve healthcare delivery, including wearable devices, artificial intelligence (AI)/machine learning, software and hardware solutions, along with other information technologies that improve communication, data transfer, payment, delivery, and more. | The integration and implementation of technologies such as computing platforms, connectivity, software, and sensors to effectively manage illnesses, mitigate health risks, and promote wellness in medicine and health professions. | Traditional medical devices, equipment, and technologies used in medical settings like hospitals, surgical centers, and doctors' offices. |
While sometimes conflated because of just how much tech underscores modern healthcare, these sectors have still emerged and established themselves as cornerstones of the larger healthcare market. This blog is meant to provide a broad overview of their differences, hiring trends, growth opportunities, and more.
Because healthcare will continue to shift, evolve, and grow, note that these definitions and sectors may also evolve. But as an entrepreneur or investor in today's market, knowing these distinct sectors and how healthcare is currently shaping up can not only help you determine the talent you need but also guide your investment decisions and business strategies.
What Is Health Tech?
Health tech is one of the fastest-growing sectors in healthcare and includes any technology aimed to improve healthcare delivery. This increasingly sophisticated technology empowers individuals to autonomously monitor their health as well as simplify how physicians communicate with, diagnose, and treat their patients.


Examples of Health Tech Products and Services
Examples include wearable devices, artificial intelligence (AI) and machine learning, software and hardware solutions, and other information technologies that improve communication, data transfer, payment, delivery, and more.
Hunt Club has helped some of the fastest-growing health tech companies build high-performing teams from the top down. A few of our most recent partners include: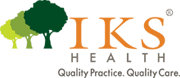 IKS Health is a provider enablement platform that optimizes every aspect of healthcare at the enterprise level. From providing better patient outcomes to increasing efficiency and revenue, IKS Health offers hospitals a comprehensive approach to their daily operations. Currently, our team is actively helping them hire key market leaders.
Upfront Healthcare is a tech-driven patient engagement platform that optimizes every step of patient communication (history, outreach, payments, and more) through integrative data, consumer insights, and machine learning. We've helped them find and place a passionate RVP of Sales as they continue to scale.
Triomics minimizes the time it takes to collect and monitor data at academic medical centers and hospitals. To ensure their team is ethically scaling within the healthcare market, we recently helped them place their first Director of Compliance, an essential role for a health tech startup.
Health Tech's Impact on the Healthcare Industry
Health tech is creating more convenient, flexible, and cost-effective access to healthcare.
These advancements ultimately grant patients and consumers more autonomy and access to care outside of a medical facility. Some of the most notable impacts of health tech solutions include:
Streamlining communication between patients and providers through digital platforms.
Utilizing wearable devices to enable more accurate diagnostics and treatments.
Providing personalized and autonomous healthcare options through the use of navigable apps and platforms for monitoring health and scheduling appointments.


Growth Opportunities For Health Tech Companies
The health tech startup industry has exponentially grown in valuation over the past few years. In 2022, the median healthcare tech deal rose by 33% YOY, reaching $45 million and venture capital invested over $26 billion in health tech startups alone.
This capital is even more notable at a time given VC's reduced investments across other sectors, including retail — which experienced a 36% drop in funding this past year.
Furthermore, companies that develop and commercialize plug-and-play devices and software have one of the most significant potential to expand into emerging markets that directly interact with patients and individuals.


Hiring Trends and Common Roles Health Tech Companies Are Hiring For
This growth is representative of the roles Hunt Club is seeing open in the market. Specifically, we're seeing an uptick in the need for top engineering talent to support health tech's growing arena. This includes product engineers, developers, and data experts.
Adam Caswell, VP of Corporate Development at Gravity Diagnostics shares his point of view on the type of talent we can expect to see as health tech companies continue to scale.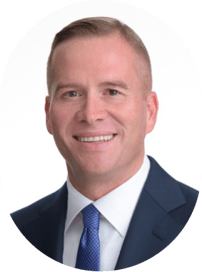 "The health tech sector has seen incredible change coming out of the COVID-19 pandemic.

Technology and innovation that seemed a decade away from scalability have now become mainstream, most notably telemedicine and at-home testing.

To grow and win the market in telemedicine and at-home testing will require talent skilled in the areas of medical device engineering, R&D, software development, and ecommerce sales, marketing, and commercialization."

- Adam Caswell, VP of Corporate Development at Gravity Diagnostics
Other roles that health tech companies are hiring for include:
Biomedical Engineers
Software Developers
Hardware Engineers
Data Scientists
Product Managers
Sales Representatives
Regulatory Affairs Specialists
Clinical Application Specialists


What Is Digital Health?
Digital health is the actual use and integration of digital technologies (such as software, hardware, and services) to revolutionize healthcare. It includes a broad spectrum of applications, ranging from mobile health apps to electronic health records.
Together, these technologies leverage computing platforms, connectivity, software, and sensors to manage illnesses and promote wellness in health-related professions.
Digital health technologies can be used both within and outside of hospital settings by healthcare providers and consumers.
Digital health solutions are helping create efficiencies to:
Help patients effectively track daily health goals.
Identify symptoms and ways to reduce them.
Enable patients and providers to explore alternative treatment options unique to the individual.
Streamline healthcare information, making it easier to share data across provider and patient channels.

Examples of Digital Health Products and Services
Some examples of digital health products and services changing the way healthcare delivery systems operate include:
Electronic health records (EHRs) like Epic simplify scheduling and tracking patient data.
Telemedicine platforms like MyChart allow easy patient and provider access to medical records, payments, and more.
Mobile health apps like MyFitnessPal, Calm, and Talkspace.
Remote patient monitoring systems.


The Impact of Digital Health on the Industry
From initial consultations to managing daily health, digital health apps and products are constantly optimizing the entire patient experience. As a result, this category of products is helping create process efficiencies, addressing challenges such as in-office wait times, geographic barriers, appointment scheduling, and more.
Digital health will continue to make a vast impact on the health and wellness industries as companies continually iterate on their product offerings and streamline their user experiences. This will likely generate:
An increase in virtual medical and therapy appointments.
More efficient visits with healthcare providers.
Improved transparency and communication that simplify one's healthcare journey and updates.
Better control of infectious or contagious viruses through advanced tracking systems.


Growth Opportunities For Digital Health
There are significant opportunities for digital health solutions to continue driving impact across healthcare, specifically in areas like telemedicine, data analytics, and AI-driven diagnostics and treatment. This has led to two conclusions.
Because of how much digital health solutions improve workflows and healthcare delivery, it's breaking into other sectors like dentistry, physical therapy, and mental health. We are already beginning to see this take root in companies like Alkeme Health and Glorify.
The overall healthcare market will see a mirrored increase in net new jobs as digital health products and services expand into these other sectors. In fact, the Bureau of Labor Statistics estimates a 13% increase by 2031.


Hiring Trends and Common Roles Digital Health Companies Are Hiring For
Digital health companies support the medical field through new and efficient processes, software, and tools. More often than not, this will require highly-specialized talent. As a result, digital health companies will prioritize:
Software Developers
UI/UX Designers
Mobile App Developers
Data Analysts
Product Marketers
These are just a fraction of the roles contributing to life-saving and cutting-edge innovations. It's the brilliant minds and talent that help us unlock incredible medical and technical achievements.
This is something that Chief People Officer at Upfront Healthcare, Manisha Sharma understands and prioritizes every day when building the best teams. Learn more about Manisha's role as CPO, her guiding philosophy of "Sawubona", and how her team overcomes some of healthcare's biggest challenges, together.
What Is Med Tech?
Med tech, or medical technology, encompasses traditional medical devices, equipment, and tools specifically designed to be used in medical settings like hospitals, surgical centers, and doctors' offices.
Med tech tools can be as simple as a tongue compressor used to inspect a patient's throat or as complex as a centrifuge used to identify infections in blood samples.
The goal of these types of companies is to build products and tools that assist healthcare professionals in preventing disease, diagnosing, treating, performing surgical operations, and monitoring patients.


Examples of Med Tech Products and Services
Examples include specialized tools and instruments specifically built to be utilized inside the hospital by a healthcare provider, such as:
Surgical instruments like laparoscopic tools and surgical lasers.
Diagnostic equipment like blood pressure monitors and MRI machines.
Implantable devices like pacemakers and insulin pumps.
New and transformative technologies like robotics that utilize AI.
3D printing technology like these 3D printed regenerative heart valves.
Hunt Club has helped build teams across growing med tech companies, including:
Circle Cardiovascular Imaging

,

which provides world-class cardiovascular imaging backed by AI. The company offers various med tech solutions from cardiac MRIs to CT machines. Read about how we helped place their new Director of Revenue Operations.
Marketlab

,

which is redefining the supply chain through medical equipment and solutions so they can provide best-in-class service to their patients. Marketlab makes it easy for healthcare providers to search for and buy products so they can spend more time focusing on what matters most — their patients.
AIRS Medical

,

which is integrating AI into the MRI process, cutting scan times in half and saving medical professionals valuable time to meet with and treat patients.
Joanna Bomi Kwon, Chief Operating Officer at AIRS Medical and leader in the med tech industry, tells us how they're introducing AI into their everyday work to cut down on time-intensive tasks and optimize performance in med tech.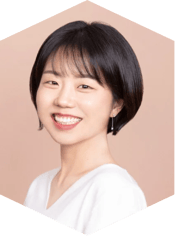 "The healthcare industry is gradually adopting AI technology. For quite some time, AI's role would be to 'aid' humans rather than acting as a standalone.

As more and more AI tools are adopted, however, we'll see simple and repetitive tasks being 'outsourced' to AI tools, freeing up time for humans to focus on creative, complex, and experience-based topics. One's performance and work time would greatly differ according to how well they embrace and utilize these AI-aided tools."

- Joanna Bomi Kwon, Chief Operating Officer at AIRS Medical
Growth Opportunities For Med Tech
We've seen an unprecedented shortage in medical supplies that occurred over the last few years, further exacerbated by challenges brought on by the pandemic.
But having recognized this, the med tech field now has an interesting growth opportunity in reimagining the supply chain process. Med tech companies can gain a reputation for reliability and resilience by overcoming supply chain obstacles. This builds trust with healthcare providers and customers, which leads to stronger partnerships and a larger market share.
Revamping the supply chain can also minimize the risk of disruption, ensuring a consistent flow of supplies to healthcare facilities. This may in turn give med tech companies a competitive advantage, attracting more customers and driving business growth.
Moreover, we can anticipate a natural rise in demand for medical devices and equipment with recent technological advancements in medicine and as people are living longer lives. The demand is already underway as traditional technology companies are beginning to offer at-home med tech devices.
For example, Best Buy recently partnered with Atrium Health, a leader in home health and virtual care, to provide more affordable and accessible individualized healthcare opportunities.
Hiring Trends and Common Roles Med Tech Companies Are Hiring For
As med tech continues to expand, companies must stay ahead of the curve by hiring agile talent with largely transferable skills. It may even be that med tech companies start hiring talent that comes from other industries to glean their experience and drive new, creative decision-making and innovation.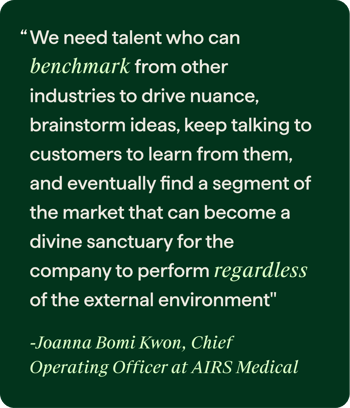 As Joanna puts it:
"Since the economic downturn, investors are looking for companies that can continue exponential growth regardless. This requires out-of-the-box thinking and a strong conviction in trial and error.
We need talent who can benchmark from other industries to drive nuance, brainstorm ideas, keep talking to customers to learn from them, and eventually find a segment of the market (out of the reach of competitors, of course) that can become a divine sanctuary for the company to perform regardless of the external environment."
- Joanna Bomi Kwon, Chief Operating Officer at AIRS Medical
There's also a particular demand for those with expertise in engineering, quality assurance, AI, and regulatory affairs, such as: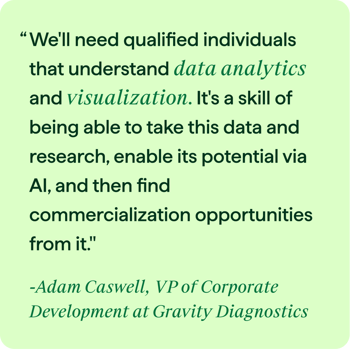 Medical Device Engineers

Quality Assurance Specialists
Regulatory Affairs Professionals
Clinical Research Associates
Data Analysts
AI Specialists
Accelerate Modern Healthcare With Top Talent Leaders
There are vast opportunities for startups and established companies alike to make a meaningful impact on patient outcomes and healthcare delivery.
This begins with innovative leaders who are excited and determined to find new solutions. It begins with the people who build solutions that empower healthcare professionals, patients, and individuals.
After 15+ years working intimately with the industry, I understand the impact the right leader can have on the health tech, digital health, and med tech fields.
Want to learn more? Let's chat about how we can help connect you to the professionals who will help you shape the future of healthcare technology.


Topics Discussed