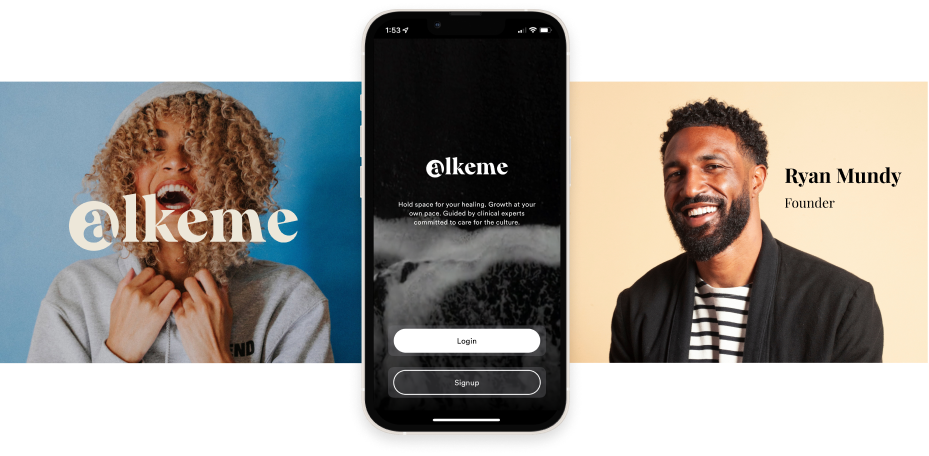 A decorated NFL player, Superbowl champion, start-up entrepreneur, investor, father, and self-dedicated advocate for mental and emotional health. Meet Ryan Mundy, CEO and Founder of Alkeme Health.

"I've been able to accomplish a lot of cool things in my life, but along the way, I get to these destinations or milestones and I say, all right, that was amazing. Now what do I do next? That perpetual mindset of growth of development - of exploration, is one in which I'm on and very excited about that," said Ryan Mundy.

Mundy's next move is focused on revolutionizing healthcare for the Black community with Alkeme Health, an innovative digital health company with a mission to become the universal healthcare provider for the Black community. Alkeme Health provides a unique, intentional experience that combines the likes of Masterclass with Peloton's on-demand programming to deliver accessible, high quality, mental and total wellbeing content.
At the forefront of culture, wellbeing, and technology, Alkeme Health is disrupting the health and wellness category, making it more accessible and more affordable for the Black community to embark on their healing journey. With the click of a button, Members can access world-class content curated to address the Black experience, including a growing library of Labs (therapy modules), Waves (guided medications), and Live Labs (live therapist discussions) all designed to meet individuals at the respective stages of their practice. The content is created and taught by renowned licensed clinical Experts, versed in addressing anxiety, gender, depression, diet and lifestyle, work, relationships, joy, and other areas of personal growth.

Alkeme Health Addresses an Important Gap in the Wellness Market
According to the National Alliance for Mental Illness, Black adults in the U.S. are more likely than white adults to report persistent symptoms of emotional distress, yet only one in three Black adults are receiving the mental care they need. Resources are also limited. Only 4% of U.S. therapists are Black - making it much more difficult for the community to find therapists who can relate to their feelings, values, and cultural experiences. Amidst an ongoing fight for inclusion, representation is still severely lacking across a critical spectrum in our society and healthcare systems. Particularly in the wake of the pandemic, coupled with 2020's eye-opening racial reality - and its lasting impact, a widening gap lies between the Black community's mental and emotional support system and the necessary tools to effectively reach and treat a group in need.

Taking a look back even before the pandemic, Mundy found himself searching for purpose. After dedicating his life to football for nearly 24 years, he knew he couldn't live in the glory days of the Superbowl forever. Struggling with anxiety, depression and identity issues, Mundy reflected on where he could make his next impact.

His journey led him to the entrepreneurial ecosystem, where he learned about what it takes to turn an idea into a startup. Looking to get into the driver's seat of launching his own company, he co-founded SWZLE (acquired in October 2020), a sustainable straw company to help solve the single-use plastic straw problem - one of the top 10 contributing pollutants in oceans across the globe. He also served as Managing Director at Techlete Ventures, investing in technology companies that significantly impact areas of sports, health, lifestyle, and the future of work. Mundy's journey had finally led him to a new purpose: Driving personal, positive changes for the wellbeing of others.

"It got to a point where my personal experience and a professional opportunity aligned. I looked out into the world after reflecting on what myself and my family were going through," explained Mundy. "My family was struggling with Alzheimers, type two diabetes, amputation, cardiovascular disease, among other daunting challenges. I couldn't solve all of these things at once. So I asked myself, where do I start? I ultimately landed on mental health, really driven by my own experience, but also driven by the macro environment. The truth is, a healthy life starts with a healthy mind."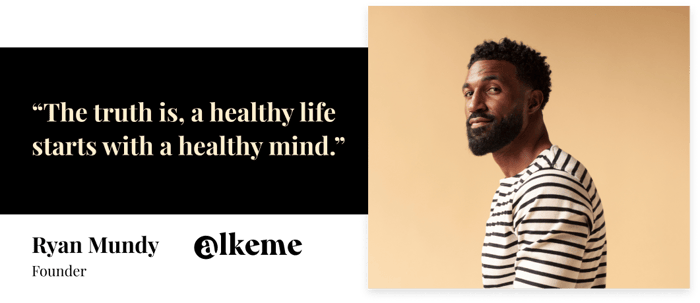 COVID Fuels the Conversation
Just as Mundy prepared to get Alkeme Health off the ground in February 2020, the pandemic hit, dismantling the original model that incorporated a physical product. He was forced to pivot quickly, considering the ways a digital-first program could support his mission to break down barriers to access mental health resources. From geographic, financial, and time constraints - the barriers add up, making it hard for many Americans to access the help they need. For the Black community, these barriers are especially compounded. And at a time when Black Americans were being hit the hardest, Mundy knew he needed to help. "There was such a massive outcry in the world. But particularly from our community with the events of George Floyd, Breonna Taylor, Ahmaud Arbery. It was very, very heavy. That's where I had to really drill down and say, how are we going to insert ourselves into this conversation?"

In September 2021, Alkeme Health raised $4.6 million in seed funding, further propelling their mission to become the universal healthcare provider for the Black community. Celebrating Black History Month, and the launch of their iOS application in February 2022, Alkeme is on the trajectory to rapidly scale, putting all of these tools and resources effectively into the Black community's pocket to digest, on-demand and at their own pace.
One-on-One with Ryan Mundy

On the heels of Alkeme Health's incredible momentum and the launch of their iOS application, Hunt Club's partner, Ryan Mundy, met one-on-one with us to talk all things Alkeme Health, along with his personal and professional journey to this point.
Alkeme: The Art of Transformation
The ancient art of Alchemy is largely based on transformation. Far from operating within the modern definition of a scientific discipline, medieval alchemists believed that purity of mind, body, and spirit was necessary to pursue the alchemical quest successfully.

With Alkeme Health, Mundy is transforming a daunting journey, into one that holistically offers a safe, inclusive space for the Black community to heal. "I look at health as a transformative process and, and along our life spectrum - from the day that we're born until the day that we pass away, we have different needs across that spectrum."
Mundy was also inspired by one of his favorite books, The Alchemist, by Paulo Coelho. "When talking about the journey of life, it's not always about the destination, but more so rather the journey. And I look at my life as one big journey," said Mundy.
The Mission: To Build and Deliver Intentional Resources for the Black Community
"We are designing a mental health platform through the lens of the Black experience, but we are not Black only. We know that with the intentionality in which we operate, there's people who find themselves uniquely within the Black experience. That shows up in rap and hip hop, sports, and other areas. But everybody can tap in - in some form or fashion to find a space within a category. We firmly believe that by being intentional about who we're serving, we can more efficiently and effectively reduce these out-sized risks that our community faces. But it's not a binary thing. We know what's good for Black people is technically good for all people, but we're solely focused on designing for the Black experience. We're all about growth. We're all about development. There's no one way of being, but our goal is to meet you where you are and help you to get to where you want to go along that journey," explained Mundy.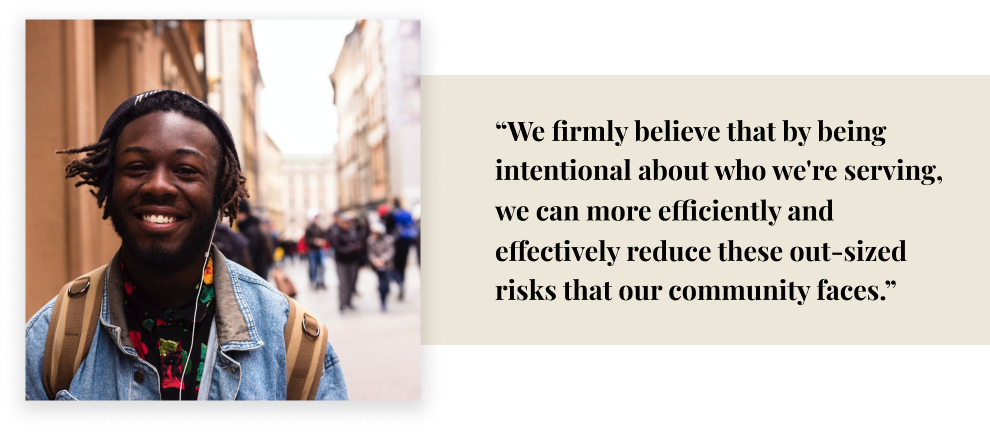 Reducing Stigma, Empowering Black Therapists
Alkeme Health is also focused on the continued growth of Black practitioners in healthcare. "Black therapists are the unsung hero here. These are folks who have committed their livelihood, their time, their talent, they make a living delivering healing to the culture. For a long time, they were doing it in the shadows due to the stigma around mental health."
As Mundy and others help advocate to break these stigmas down, and as the demand for mental health resources go up, it is more important now than ever to support those around you who you believe may be struggling, and to have the tough conversations surrounding mental health in the Black community. By creating a safe and comfortable space for the community to share their stories of tears and triumph with others, Black adults will feel more empowered to seek new and transformative services like Alkeme. This needed shift in cultural inclusivity and access to mental health service will ultimately pave the road for Black therapists, now and into the future, to provide effective care when it is needed most.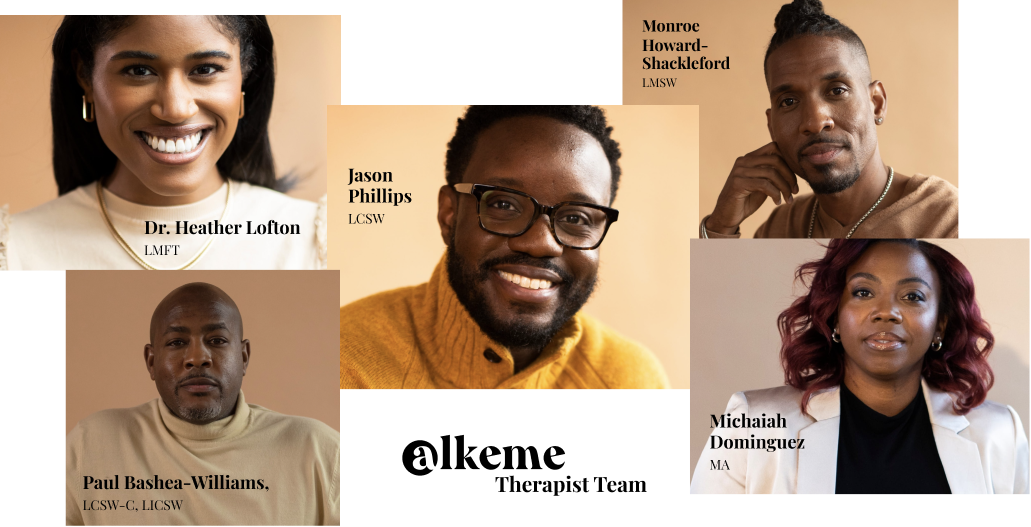 The Future is Gold for Alkeme Health
What's next for Alkeme Health? Over the next decade, Mundy and his team envision that the product will be an all encompassing, national platform across different modalities. Alkeme will be fully integrated into healthcare systems, with full coverage for every Member of their community. Whether an individual is for virtual resources - or an in-person therapist on the South Side of Chicago, access will be within reach.

As they continue to build on that mission, Mundy is confident that Alkeme is effectively positioned to be the top thought leader in the category. "When we look out into the world, you don't see a go-to resource for Black wellness or Black mental health. That will be us. And that could be us very quickly. That is what we're working on sprinting towards right now."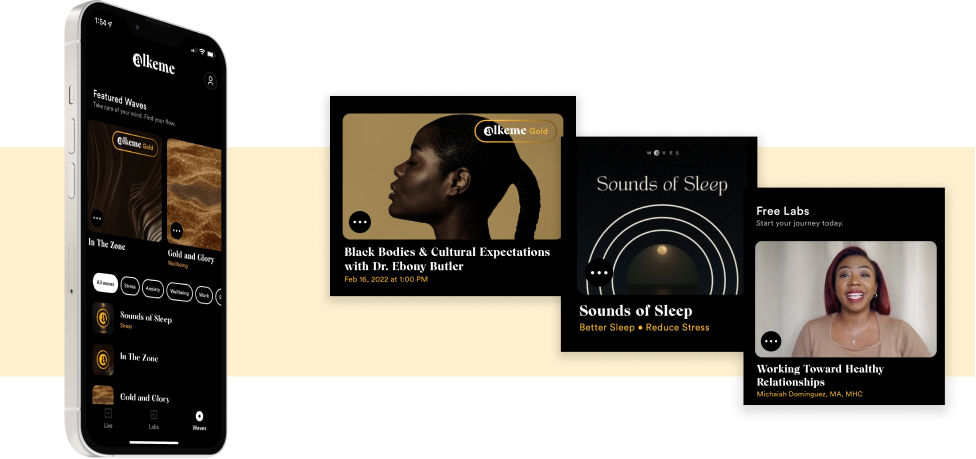 Alkeme Health is Always Accessible
It's never too late to focus on your mental health. But let's face it - the journey can be incredibly daunting. From the intimidation of insurance policies and figuring out if costs are covered, to finding the right therapist, to squeezing in time each week for sessions, there are several barriers to seeking professional support. At the same time, our society has placed a stigma on depression and therapy, making people feel weak and insecure for prioritizing their own wellness.
Hunt Club partners with high-growth tech companies to build world-class teams.
Topics Discussed