Are you a current entrepreneur looking to take your business to the next level?
Maybe you're searching for a way to transform your bright idea into a scalable business?
One of the best ways to grow as an entrepreneur is to learn lessons from others and incorporate their tried and tested principles into your unique formula.
There have been countless books written on how to elevate your startup and create success for you, your employees, and your customers. Below, we outline the ten of the best books for startups, what makes them unique, and the key insights you can expect to learn from each.
The Startup Owner's Manual - Steve Blank and Bob Dwarf
The Startup Owner's Manual is an insightful introduction to the process of business development.
Co-written by Silicon Valley's Steve Blank - startup subject matter expert - The Startup Owner's Manual lays out a blueprint on how to build your startup, identify profitable customers, and successfully retain them.
The book discusses the critical mistakes that cause most startups to fail. It also outlines a step-by-step process on how to optimize your customer development efforts. Blank's message includes how to grow an account or prospect from the ground up. You will find strategies for keeping these customers so that they spread the good news about your brand.
Blank does an excellent job of conveying this information in a simple format. He utilizes over 100 graphs, charts, and diagrams. There are also over 75 helpful checklists to guide you and your company toward your revenue goals.
The Hard Thing About Hard Things: Building a Business When There Are No Answers - Ben Horowitz
Ben Horowitz, who helped found the Silicon Valley startup of Andreesen Horowitz, delivers meaningful value through The Hard Thing About Hard Things.
Throughout the book, Horowitz communicates helpful advice on growing and operating a startup. He talks from his firsthand experience, including mistakes he made, and the decisions that contributed to his success and his company's profitable rise.
What makes this book unique is its deep dive into the challenging aspects of entrepreneurship that school often simply doesn't teach you. Many of the lessons and themes are an extension of his blog, which has many subscribers.
The book also sheds light on the most common problems that startup leaders encounter in today's competitive landscape. Horowitz provides specific actions and habits that he learned through growing, managing, buying, selling, and investing in some of the most innovative technology companies.
Horowitz's writing style is another creative quality that makes his book an engaging read. Because he is a rap music enthusiast, he highlights many of his points by citing lyrics from his favorite tunes.
The Lean Startup - Eric Ries
The Lean Startup by Eric Ries is a great option for entrepreneurs who are just getting into the startup realm.
However, this read may be applicable to companies with a lot of capital, too. The book discusses an approach that enables companies to strategically amplify their human capital and creativity.
The book explains principles from lean manufacturing, and it expands on the concept of "validated learning." A startup leader will learn about rapid scientific experimentation and other methods to streamline product development life cycles.
The book also covers how to outline key performance metrics, measure them properly, and understand what your target customers desire the most.
For a company looking to pivot or adjust itself to future trends, The Lean Startup will provide a roadmap to success. Instead of hammering out a business plan, the book encourages the idea of testing a vision all the time, adapting to the results, and implementing continuous improvement.
Never Too Late to Startup - Rob Kornblum
Venture capitalist and startup founder Rob Kornblum delivers Never too Late to Startup, an insightful read on the process of starting a company in your mid-life.
Kornblum captures the experience through a series of interviews with mid-life entrepreneurs and explains why following your passion is not the only critical component in entrepreneurship.
This read may help you to understand how to think through innovative ideas for your business. While many startup founders are hesitant about starting a side hustle while working their regular job, Kornblum's book provides helpful tips on mitigating your risk while starting your side business.
Once you have your product or idea down, the novel explains how to advertise and position your products successfully.
What's more, Komblum's book dives deeper into how you can maintain good mental health throughout the entrepreneurial journey. His interviews and readings provide principles on how to maintain your work-life balance, foster healthy family life, and manage your time effectively.
Mastering the VC Game - Jeffrey Bussgang
One of the biggest challenges for startup leaders is locating the ideal venture capitalists to back up their dream. Once you obtain financial support, it is also a skill to maintain relationships and put the money to optimal use.
Jeffrey Bussgang's Mastering the VC Game outlines timeless principles on how to influence others and win these people over. The book also defines what a successful partnership can look like for you, your business, and your venture capitalists.
There are also helpful lessons on getting yourself noticed, developing an influential pitch, and negotiating a win-win business partnership strategically.
Throughout the book, Bussgang delivers meaningful stories, advanced insights, and applicable advice from his successes and failures. He also interviews dozens of esteemed venture capitalists and entrepreneurs.
Start Something That Matters - Blake Mycoskie
If you are ready to impact the world, Blake Mycoskie's Start Something That Matters could just be the solution for you.
The founder of TOMS shoes explains what it means to love your work, progress toward something meaningful, and have a positive influence on others around you.
The book is also an excellent fit for startup leaders who are motivated by charitable projects. Mycoskie's book explains how these charities and non-profit organizations get their start, build a value-first brand, and execute effective growth strategies.
Mycoskie's story is interesting because he built a successful business without making a pair of shoes, attending fashion school, or working in a retail setting. His value-first approach is something that all entrepreneurs can learn from.
The book also contains timeless principles that are easy to share with your students, children, co-workers, and community members.
Starting a Business QuickStart Guide - Ken Colwell
For those that have a deep passion to start a business and live life to the fullest, Ken Colwell's Starting a Business QuickStart Guide provides you the tools to make yourself stand out.
By laying out a set of principles for entrepreneurs who have a creative idea, but no business built around it, this book will teach you how to find your ideal customers, develop an effective marketing strategy, and provide meaningful value.
Colwell also walks you through transforming your hobby into a sustainable business venture that positively impacts the world.
Colwell has over 20 years of experience collaborating with new ventures, startups, and entrepreneurs. He takes these experiences and conveys a blueprint of timeless fundamentals on how to get started, realize success and live a meaningful life.
What It Takes: How I Built a $100 Million Business Against the Odds - Reagan Moya-Jones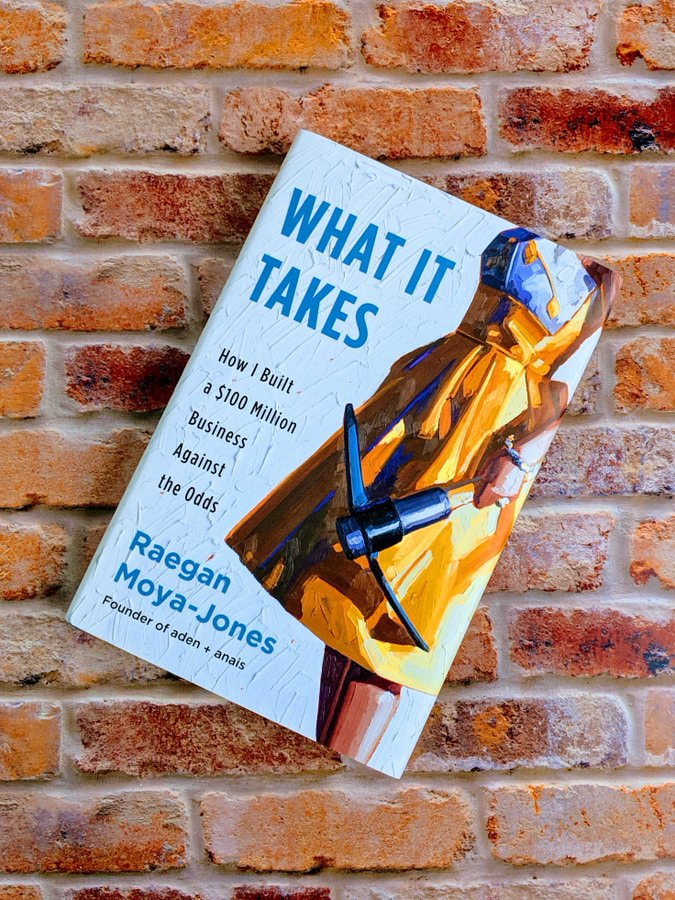 Reagan Moya-Jones came from a typical corporate background with a family to provide for. However, she started a side hustle that eventually turned into a business that generates $100 million annually.
Through her book, What it Takes: How I Built A $100 Million Business Against the Odds, Moya-Jones shares the key lessons, failures, and successes that she encountered on her riveting journey. She also shares what it is like to drop out of college and pursue your dreams.
Moya-Jones provides realistic advice to entrepreneurs on how to overcome challenging odds in entrepreneurship. She is transparent about obstacles such as working through disagreement with investors, addressing mother guilt, and running out of funds.
Readers will learn how to stay consistent with their idea, trust their intuition, and leverage special talents for greater success.
This book is also a suitable fit for people who want to make a career switch, set their own schedule, and scale a business in the process. As you read, Reagan's charming personality is an added bonus.
The Entrepreneur Roller Coaster - Darren Hardy
In The Entrepreneur Roller Coaster, Darren Hardy uncovers the real reasons why businesses fail.
He outlines his keys to success for aspiring entrepreneurs and established startup founders, outlining the internal issues that can prevent businesses from reaching their full potential.
Hardy's book also conveys some of the best startup strategies from the world's most successful people. It focuses on honing skills like leadership, recruiting, productivity and sales. The book is suitable for people who have big dreams but fear the unknown.
Leading at the Speed of Growth - Katherine Catlin and Jana Matthews
Leading at the Speed of Growth captures the examples of over 500 entrepreneurs who are winning the game.
Katherine Catlin and Jana Matthews coach you through the three essential stages of developing a business: beginning growth, continuous growth, and rapid growth. The personal anecdotes describe how to grow as a leader, identify upcoming pitfalls, and foster scalability for your company.
For start-up-specific recruiting tips or to hire your first employee, check out Hunt Club today.
Related Startup Resources:
The 7 Most Exciting New Logistics Companies in 2021
The Consumerization of IT, And How Your SEM Can Take Advantage
What's the Best e-Commerce Platform for Startups?
The 5 Most Common Types of Startups (And Which One You Should Choose)
Topics Discussed