Sustainability is stitched into the fabric of this Finnish children's outdoor apparel brand, and it's helping our kids rediscover the Great Outdoors.
Can you remember the last time you jumped in a puddle during a rainstorm?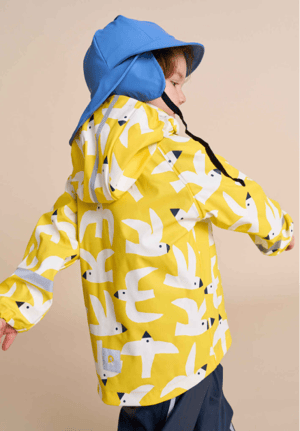 For many of us, it may be easier to recall a time when we purposefully avoided a wet sidewalk to prevent our shoes from being ruined.
The time we used to spend outside — rain or shine — we now often spend inside looking at screens. And, unfortunately, this shift in our collective lifestyle has not escaped our kids' habits either.
In fact, the amount of time children have spent interacting with screens has increased by a staggering 150% over the past few years, while time spent doing any physical activity has decreased by 32%.
But one brand is on a mission to help Americans change that.
This brand's business model, values, and people are trying to encourage children to rediscover the joy of being outside. Of playing offline. Of movement.
This is a brand that makes sustainable kids' clothing meant to last generations and encourages an outdoor lifestyle.
This brand is Reima.
Digital Transformation Is Sustainable, Too
For Reima, sustainability doesn't just end at its products.
For the majority of the past eight decades, Reima's products were exclusively sold locally in shops across Europe. But in 2011—and as part of the company's missions of being green and reaching a larger market—Reima's CEO, Elina Björklund, took their brick-and-mortar model mostly online.
Björklund knew the power that a digital transformation could have on the business. Not only would it reduce the number of physical stores needed, but it would also expand its customer base to geographies that needed better and more sustainable clothing options to trust and choose from.
As a result of the CEO's vision for Reima's digital transformation, 50% of its products are sold exclusively online.
An Opportunity to Expand Its Mission With Top Talent
While Reima experienced tremendous success and growth in Europe, it had a massive opportunity to expand internationally. North America, specifically, presented an untapped market.
To lead its expansion, Reima knew it needed entrepreneurial leaders in place who could spearhead a strategic sales approach that would transcend excessive, fad-driven marketing campaigns our "green" palette is used to.
The company partnered with Hunt Club to help them find the talent they needed.
Hunt Club's Talent Advisors began the search for two key director roles: an Operations Director who would help the brand establish a sustainable growth plan and a Sales Director who would garner and nurture pivotal brand and customer relationships.
How Hunt Club is Helping Reima Shape the Future of Sustainability
As Reima began building out its North American function, the company was tasked with finding the right functional leaders to drive sustainable growth.
In order to effectively scale their business in the U.S. and Canada, their Head of North America identified the need for world-class sales and operations leaders who could build steadfast downstream teams and accelerate Reima's mission.
As the company began its search, Reima partnered with Hunt Club, a full-service recruiting company powered by technology and community, to connect with talent leaders who were inspired by the company's sustainability and wanted to further its impact.
When thinking about their ideal candidate, Reima's leadership wanted to connect with talent who were entrepreneurial-minded, enterprise-minded, and eager to be part of a team of builders transforming how kids interact with the outdoors.
Reima worked with Hunt Club to source and hire two key leaders to drive their North American expansion, including:
Sales Director: The children's clothing company knew they needed a savvy sales director who had the experience and enthusiasm to build a sales team from the ground up. They were looking for someone who was articulate, extroverted, and focused on nurturing a team all while leaving their ego at the door. Through Hunt Club's network recruiting model, they were introduced to a bullseye candidate who had the expertise to build a brand new playbook, drive revenue growth, and collaborate with leadership, helping Reima to scale effectively into a new market.
Operations Director: When hiring their first Operations Director, Hunt Club connected Reima with a leader who took a holistic approach to management and growth. They needed a leader who could take an entrepreneurial approach to establish an operations department within the enterprise company. For Reima's talent team, this meant hiring a leader who was able to envision the company two, five—even ten years— into the future and could put the processes in place they needed in order to achieve that growth —both in the North American market as well as in Europe.
Since establishing their North American Sales and Operations teams, Reima has since created brand recognition across the U.S. and Canada both online and in stores like Backcountry and Altitude Sports with world-class leaders as their driving force.
"Hunt Club uses a unique approach to recruitment. We were presented with candidates that a traditional recruiter, or our own personal networks, would not have given us. Rather than a traditional search that produces recycled candidates, their team understood the needs of our business and delivered," says Reima's Head of North America.
Reima Wants You — and Generations to Come — To Spend More Time Outside
One scroll through today's social media landscape will show you: Many of today's brands claim to be driven by their commitment to sustainability.
We're now making smarter, more environmentally-conscious decisions on what brands to buy from.
This is a good thing… Right?
While it may seem like a step in the right direction, we have to remain diligent about the very real possibility of greenwashing. Greenwashing is when companies make unproven or unsupported claims about sustainability or environmentally-friendly business practices as part of their marketing.
Greenwashing becomes even more ominous when it comes to products for children.
Because parents want to give their children the best and safest products, some may fall victim to gimmicky and ethereal branding that convinces them the product(s) uses all organic or recyclable materials when, really, only a fraction of these products actually meet these standards.
To remove the onus from parents and the general consumer, Reima not only markets its products to be sustainable, they prove it in everything they do.
"Our sustainability story is part of the fabric of who we are, no pun intended. We're not making sustainable promises, we are sustainable."

- Reima's Head of North America
This sentiment is built into Reima's business model and literally manufactured into their products. Reima prioritizes and values purchasing quality clothing that can be passed down from your oldest to youngest, encouraging customers to actually buy less of their products.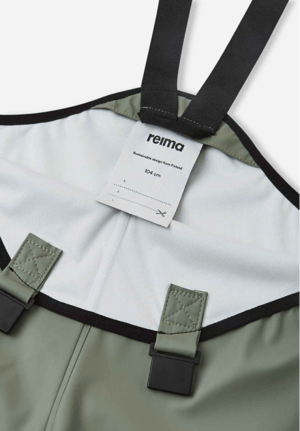 Take, for instance, Reima's tags.
Rather than including a single line where you can write your child's name, there are three lines with dashes so you can cut away each name as the piece is outgrown and passed to the next adventurer who can then add their name.
We know this begs the question: "How exactly could a single piece of clothing persevere through all the years? Or even generations?"
Well, Reima will tell you that the products have to be both made sustainably and made to be sustainable.
This notion of creating lasting products has become something of local folklore. For years, Reima employees have shared the story of their founders and the durability of their early designs that have inspired Reima's present-day catalog.
"During the first few decades in business, leadership couldn't understand why the customers weren't returning to purchase gear for their kids when they had been so happy with the products. As it turns out, the clothes were, and still are, so durable that they were being handed down through generations.
In the beginning, the brand was using military-grade textiles to make outdoor gear for kids and now, with all the innovation in the apparel industry, we're crafting clothes from a single, mono-material, or a blend of sustainably sourced materials that we've engineered to outlast a single season. "
"Almost unknowingly at first, Reima built a culture around re-usability and sustainability that still persists today."

- Reima's Head of North America.
Reima Has Always Been & Will Continue To Be Driven by Sustainability
From its beginnings, Reima has always had the desire to not let materials go to waste. The brand was implementing sustainability practices before it was a trendy business goal or marketing position to achieve.
This is evident in their practices nearly 80 years ago — when they repurposed old World War II tents into wearable clothing.
Today, Reima continues to prioritize sustainability in its manufacturing, chosen leadership, and blueprints for the future.
For instance, in 2023, 97% of Reima's entire catalog will be made with sustainable materials. Their fall and winter line will be made using mono materials. This means a single material will be used to make an entire clothing item—greatly simplifying the apparel recycling process. In fact, over 80% of their clothes are made mostly with sustainable materials which alleviates the environmental impacts of their products' lifecycles.
Who Is Reima?
What began as a concept for repurposing soldiers' gear from World War II into children's clothing, has grown into one of the leading outdoor brands for kids.
Founded in 1944, Reima is a children's outdoor clothing and gear brand based out of Finland. Its products are made of durable, high-quality materials that can withstand harsh weather conditions. So no matter where you and your kids are, Reima makes it possible to still comfortably go outside.
It's More Than Just Selling Clothes
For Reima, the stakes are higher than just selling sustainable outdoor clothing.
Reima wants to help you and your family go back outside to make new memories together.
Reima wants to help our kids put down the screen, put on a (Reima) jacket, and go outside.
Ready to jump in a puddle in the middle of a rainstorm with your kids?
Explore and shop Reima's products.
Learn more about Reima's green initiatives.
Grow a sustainable team with Hunt Club. Our automated Search Platform and world-class Talent Advisors power your search, connecting you with the leaders who will help shape the future of your business.
Topics Discussed