Today, more and more leadership books written by women earn their rightful spots on bestseller lists. And with good reason.
This is because more and more women are entering the leadership roles they deserve, and have the wisdom and advice to guide the next generation of women leaders and entrepreneurs.
While we have a lot more work to do (take, for instance, the fact that only 21% of females represent the C-suite), there's still so much to celebrate.
Hunt Club is always looking for ways to elevate and celebrate women, and for Women's History Month, we've asked five of our very own female leaders to recommend a book that helped shape who they are as leaders. As women.
This is a list of book recommendations for women, by women.
5 Best Leadership Book Recommendations From Hunt Club Female Leaders
2/3 of Hunt Club is proudly made up of women (at the time of publication).
We asked five of these female leaders from different departments and backgrounds to tell us about the book that helped shape who they are.
1. Mikki Kendall's Hood Feminism - Recommended by Cammy Keiler, Managing Director, Organizational Strategy & Consulting
In Hood Feminism, author and activist Mikki Kendall takes a mirror to mainstream feminism. In an equally searing and illuminating collection of essays, Kendall challenges the legitimacy of the modern feminist movement and how it might be reimagined to improve the lives of all at the intersection of race, class, health, education, and more.
Hood Feminism (Notes from the Women That a Movement Forgot) by Mikki Kendall
Why have you chosen this book to recommend to other women?
A couple of years ago, I was at the checkout register of a bookstore in my neighborhood buying a totally different book on feminism, and the cashier told me to put it back and buy this one instead. "It's just better," she claimed.
I'm so grateful to her because she was probably right. This book is so clear and so thought-provoking — I finished it cover to cover in a single day (a testament to Mikki Kendall's writing as I'm a slow reader). Hood Feminism gives you chills when you reflect on your own behavior as a self-identified feminist and helps us realize all of the unintended mistakes we've made under conditioned beliefs.
Is there anything specific this book has helped you achieve?
Hood Feminism was so powerful, and it specifically helped me recognize how mainstream feminism has been taught to us in a way that actually divorces gender inequality from intersectionality. Mainstream feminism, as we've been taught and as it's conceptualized, isolates more oppressed people from its efforts than it actually helps. It was in this realization and understanding that I was able to participate differently and become a better advocate for feminism.
What do you hope other women take away from reading your book recommendation?
I hope that other people (anyone, really, because we need everyone) can take the same thing I learned from it. My hope is that both men, women, and nonbinary individuals can all understand and actively embrace what it means to be a feminist today.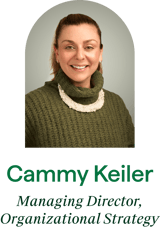 Cammy Keiler is the Managing Director of Organizational Strategy & Consulting at Hunt Club. She leads Hunt Club's consulting practice and guides founders in their decisions about their organization's talent and team structures.
Cammy has spent most of her career operating as a senior partner to Fortune 500 companies to deliver on their growth ambitions. Through this experience, she developed a passion for understanding the ways in which talent influences a company's growth and trajectory.
2. Arianna Huffington's Thrive - Recommended by Sabrina Kumar, GM, Venture Capital Partnerships
Written by the co-founder and editor-in-chief of the Huffington Post Media Group, Huffington's Thrive makes the compelling argument that today's meaning of success must be redefined. After experiencing several medical issues brought on by exhaustion, Huffington examines her extraordinary success and how it could be possible that it nearly killed her.
In this deeply researched and personal book, Huffington investigates how our relentless pursuit of "success" has led to a culture of burnout and the degradation of our lives, and how we might, somehow, find our way back to what truly matters.
Thrive by Arianna Huffington
Why have you chosen this book to recommend to other women?
I read this book when I was younger and amidst a career crisis. When you're young and starting your career, you don't have a ton of perspective and you often use success as a barometer to feed your ego, not your purpose or what you're truly good at.
Is there anything specific this book has helped you achieve?
Thrive helped me get out of my own way and redirected me toward what was really important to me. It completely re-shaped how I saw success. Today, success to me in my career and personal life means balance. Although it's hard to achieve and a constantly swinging pendulum, I've learned to place value on the things that energize me versus chasing titles, status, and pedigree.
What do you hope other women take away from reading your book recommendation?
I hope women that read this book walk away with a better understanding of how being you is your best superpower. And that they can use their career as a vessel to feel energized and fulfilled, and build a life outside of work that they are equally proud of.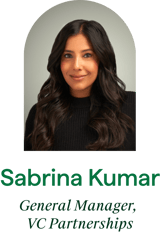 Sabrina Kumar was working in a non-profit organization when the recession hit in 2008. With the sudden need to propel her career, she found a new passion and began her journey in tech. She has a master's in social work and today, serves as Hunt Club's General Manager of Venture Capital Partnerships.
3. Aminatou Sow & Ann Friedman's Big Friendship: How We Keep Each Other Close - Recommended by Chelsie Salib, Director of Product
Two friends, Aminatou Sow and Ann Friedman, share the story of their friendship in this honest and heartwarming book. Combining interviews with friends and experts and real-life anecdotes, Big Friendship explores how strong bonds are formed, tested, and, ultimately, persevere through life's many phases.
Big Friendship: How We Keep Each Other Close by Aminatou Sow and Ann Friedman
Why have you chosen this book to recommend to other women?
My best friend who has been in my life since undergrad shared this book with me during the pandemic. We have a really unique and special relationship that I don't take for granted. This book offers a fresh perspective on deep friendships that we often don't think of as needing the same relationship support and effort to maintain as we might apply to a relationship with a partner or spouse.
Is there anything specific this book has helped you achieve?
Big Friendship helped me stop underestimating the value of friendships. As life changes and you change, it's the people around you that support you — and that you support — who don't only build you up and give you a laugh or joy, but also help you to be all that you can be to become a better person.
What do you hope other women take away from reading your book recommendation?
I hope other women will read Big Friendship and become more aware of the actions and conscious effort it takes to support and maintain a deep friendship.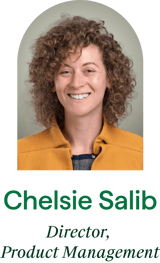 After a career start in the arts, Chelsie Salib eventually transitioned to the startup world where she found herself implementing customers, designing product requirements, a building a 24/7 global product support team. Taking her self-taught knowledge in product management, she joined the global furniture and home company, Wayfair. Hunt Club soon reached out to her through a trusted introduction to lead the product team. With a career start selling memberships at the Art Institute of Chicago, Chelsie Salib now serves as the Director of Product at Hunt Club .
4. Robin Roberts's Everybody's Got Something - Recommended by Kevnie Tolliver, Head of DEI
In her best-selling memoir, Roberts shares her incredible journey with breast cancer, a rare blood disorder, her mother's passing, and the support and love that saw her through.
Everybody's Got Something by Robin Roberts and Veronica Chambers
Why have you chosen this book to recommend to other women?
Robin Roberts is a renowned journalist I deeply admire and such an inspiration to me. As a fellow breast cancer survivor, Robin's transparency and determination especially resonated with me.
Her story brought home the trials and triumphs that uniquely belong to me — and to so many other women. It is the ultimate fall-down-and-get-back-up-again story, told with grace and intention.
Is there anything specific this book has helped you achieve?
Robin's story helped me view my own experiences, issues, and my comebacks in a whole different light. Most importantly, it taught and continues to remind me to react with compassion first.
Everyone has something they're facing that they might not share or be public about, and Robin's book serves as a reminder to be compassionate above all.
What do you hope other women take away from reading your book recommendation?
I hope that other women see and respond to the vulnerability that Robin displays. It takes so much vulnerability and confidence to share something as personal as that with a platform as big as hers. I also want women to see her ability to come back from what seemed to be almost impossible to overcome.
Being a "boss" doesn't mean you won't ever have to endure tough times. It's how you overcome and rebound that makes you one. Plus, it tells your story of resilience!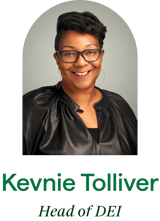 As Hunt Club's Head of DEI, Kevnie is dedicated to supporting the businesses we work with as they develop best practices around hiring and retaining diverse talent, building belonging within organizations, and engaging shared networks to cultivate diverse talent pipelines. She has an extensive background in leading Customer Experiences and Voice of Customer initiatives in mid-sized to large corporations.
Kevnie sits on the advisory board of Diverse & Equal, a tech consultancy in the UK, as well as the board for Boundary Issues Media, a traditional and digital media company based in Southern California.
5. Amy Eschliman & Leigh Oshirak's Balance is a Crock, Sleep is for the Weak - Recommended by Stephanie Tysdal, Chief Operating Officer
Told with equal parts humor, wit, and downright helpfulness, Balance is a Crock, Sleep is for the Weak is the ultimate survival guide for working mothers who want none of the fluff, and all of the practical advice on navigating a career as a new mom.
From nursing at work to navigating maternity leave, Eschliman and Oshirak cover tactics working moms actually care about in this relatable guide.
Balance is a Crock, Sleep is for the Weak: An Indispensable Guide to Surviving Working Motherhood by Amy Eschliman and Leigh Oshirak
Why have you chosen this book to recommend to other women?
A colleague recommended it to me when I was having my first baby. I was working too much, and though I had prepared for having a baby, I didn't feel confident I had prepared for the career transition I was about to go through as well. This book was useful and funny — providing snarky and over-the-top comedic relief at a time in my life when I needed that.
Is there anything specific this book has helped you achieve?
This book helped me transition into motherhood more effectively than I would have otherwise. I was and continue to be very career-focused, and I highly value that aspect of my life. The early years of motherhood can be an emotional rollercoaster, and this book helped me navigate that while maintaining the trajectory I wanted in my career.
What do you hope other women take away from reading your book recommendation?
I hope women feel more confident navigating what can be a very difficult time of life. Not only do I hope this book instills more confidence in the women who read it, but I hope they can walk away with a few practical tips for success and the knowledge that they are not alone.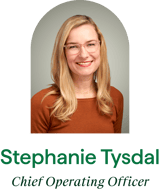 Stephanie Tysdal is the Chief Operating Officer at Hunt Club. Stephanie has a long and successful career in operations management, where she first began at a large ecommerce company and has since moved into the startup space. Since joining the startup world, she has specialized in customer operations at scale. Stephanie is especially passionate about helping early-stage companies build teams and deliver excellent customer experiences through rapid growth. Today, she uses this same passion to help Hunt Club scale as one unified team.

Connect with Stephanie.
11 Other Must-Read Leadership Books for Women
From leadership development to advice on how to navigate a challenging work environment, we've compiled a list of the top 11 leadership books written by influential women.
1. Becoming by Michelle Obama
Becoming by Michelle Obama
Michelle Obama's Becoming is a bestselling memoir that traces her journey from the south side of Chicago all the way to the White House. In her own words, she chronicles both the triumphant and challenging experiences that have shaped her as a mother, wife, woman, and the First Lady of the United States of America.
2. Dare to Lead by Brené Brown
Dare to Lead by Brené Brown
Brené Brown is a renowned research professor, author, podcast host, and lecturer. In this New York Times and Wall Street Journal bestseller, Brown brings decades of research and practical advice on navigating leadership with equal parts daring, courage, and heart — even, and especially, when it's hardest to do so.
3. The Likeability Trap: How To Break Free and Succeed As You Are by Alicia Menendez
The Likeability Trap by Alicia Menendez
"In order to be successful, you need to be likable — but you also can't come on too strong."
Women have heard this or a variation of this throughout most of their careers — if not their lives. But what does this mean, exactly? Supported by extensive research, interviews, and her own experiences, Menendez explores what it means to be a "likable" woman and how we can break free from this pressure to succeed just as our unique selves.
4. The Making of a Manager by Julie Zhuo
The Making of a Manager: What To Do When Everyone Looks to You by Julie Zhuo
Julie Zhuo was 25 when she found herself as a first-time people manager. With an entire team's well-being and success on her shoulders, she faced all of her uncertainties by starting with the basics. From hiring to firing to every leadership skill in between, Zhuo found her way through and has now led dozens of teams of all sizes. In this practical roadmap filled with everyday examples, Zhuo shares with us the makings of an effective manager.
5. Lead from the Outside by Stacey Abrams

Lead from the Outside: How To Build Your Future and Make Real Change by Stacey Abrams
Politician and voting rights activist Stacey Abrams speaks to outsiders, millennials, people and women of color, the LGBTQ community, and other marginalized groups about their collective power to make a difference. Drawn from her own hard-won successes and intimate stories, Lead from the Outside provides an illuminating look into how our differences in race, class, and gender can be harnessed to drive impactful — and necessary — change.
6. We Should All Be Feminists by Chimamanda Ngozi Adichie
We Should All Be Feminists by Chimamanda Ngozi Adichie
From the award-winning author of Americanah comes this New York Times bestselling essay on what it means to be a feminist in the 21st century. Adapted from her wildly successful TED Talk of the same name, We Should All Be Feminists explores the nuanced argument that feminism shouldn't just fall on the shoulders of women so that, collectively, we may all live in a fairer, happier world.
7. The Confidence Code by Katty Kay & Claire Shipman
The Confidence Code: The Science and Art of Self-Assurance — What Women Should Know by Katty Kay and Claire Shipman
In this insightful guide, Kay and Shipman explore the importance of confidence and its role in women's careers and lives. Backed by research in genetics, behavioral science, and gender, and combined with personal examples from their own lives, Kay and Shipman provide practical advice women need to understand and employ one of their greatest tools — confidence.
8. More Than Enough: Claiming Space for Who You Are by Elaine Welteroth
More Than Enough: Claiming Space for Who You Are (No Matter What They Say) by Elaine Welteroth
Written by the former Teen Vogue editor, More Than Enough is a memoir that traces Welteroth's early life and professional journey — both of which she was often the only Black woman in the room. Packed with lessons on identity, race, and navigating success, Welteroth shows us how — despite being told for most of our lives — we are all more than enough.
9. How Remarkable Women Lead by Joanna Barsh & Susie Cranston
How Remarkable Women Lead: The Breakthrough Model for Work and Life by Joanna Barsh and Susie Cranston
From veteran McKinsey & Company consultants Joanna Barsh and Susie Cranston comes a fascinating look into female leadership in an increasingly nuanced work environment. Based on five years of research, this book looks at "feminine" leadership traits, identifies behavioral patterns in successful women, and provides a blueprint for becoming a high-performing female leader.
10. Lean In: Women, Work, and the Will To Lead by Sheryl Sandberg
Lean In: Women, Work, and the Will To Lead by Sheryl Sandberg
Perhaps one of the most popular books on this list, Lean In is a powerful manifesto that has sold over 4.2 million copies worldwide. In it, Sandberg, former COO of Meta (Facebook), encourages women everywhere to take their rightful seat at the table, be bold, and overcome the tendency to shy away from challenges in the workplace.
Supported by extensive research, data, and personal anecdotes, Lean In shares with its readers valuable advice on leadership styles, negotiations, mentorship, and more.
11. Women and Leadership: Real Lives, Real Lessons by Julia Gillard & Ngozi Okonjo-Iweala
Women and Leadership: Real Lives, Real Lessons by Julia Gillard and Ngozi Okonjo-Iweala
In this book, Gillard and Okonjo-Iweala explore the unique challenges successful women and women in leadership roles face as a result of institutional inequity and cultural biases. With a special focus on women in politics, this book gathers interviews and anecdotes from global leaders like Theresa May and Hillary Clinton to paint a rare inside look into the lives of powerful women.
Find Your Future Leader
In Sheryl Sandberg's Lean In, she tells us: "In the future, there will be no female leaders. There will just be leaders."
Let Hunt Club help you find them.
We combine world-class Talent Advisors, automated sourcing technology, and a supernetwork of eight million high-quality candidates to find your future leader.
Topics Discussed