The definitions for traditional career trajectories and the expectations for what it means to be a qualified professional candidate have dramatically changed. Today, personal sabbaticals are envied. It's acceptable to have a gap in your employment. Pivoting 180 degrees to an entirely new industry or role is understood and also encouraged. Asking for what you want - and what you rightfully deserve, is respectable. Now and into the future, it's no longer about how a candidate looks on a paper resume, but far more about what that person as an individual is looking to accomplish, how they value their time, their teammates, and their dedication to helping drive a mission that they believe in, forward.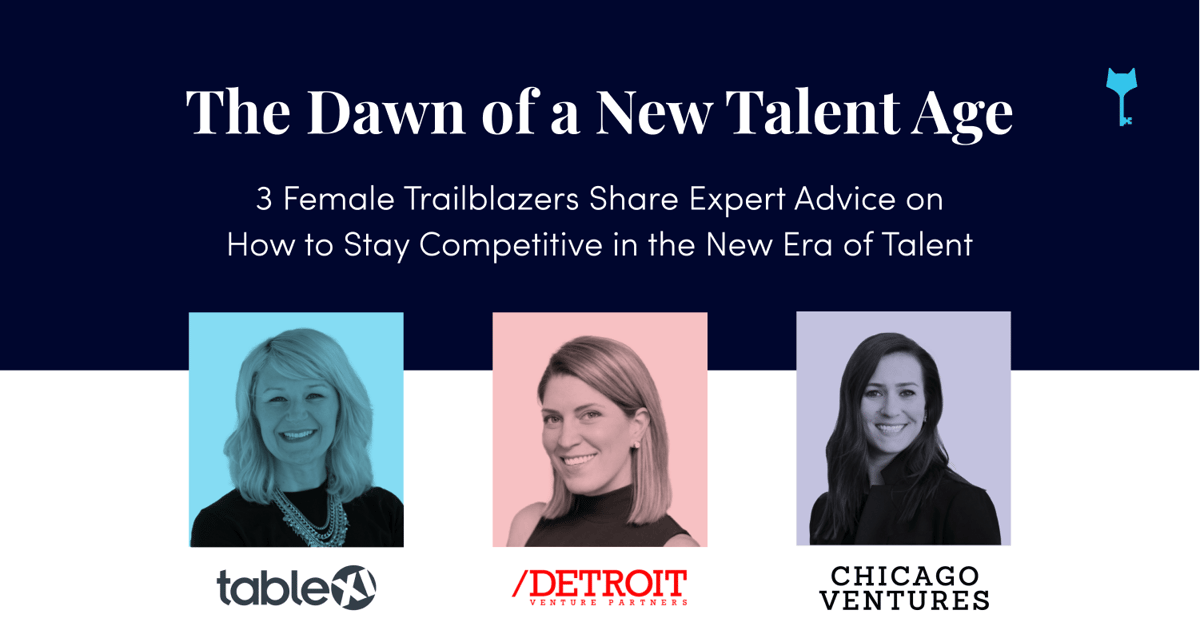 Overall, candidates are thriving in this dawn of a new talent age. Yet, many employers are struggling to keep up. There is a clear distinction between companies that have been able to enhance and modernize their talent strategies to offer a desirable candidate experience - and those that are left behind, scratching their heads as to why current employees are leaving and wondering why there's no one there to fill those open roles. According to 2022 U.S Bureau of Labor data, with nearly 11 million open jobs, the labor market has never been more in favor of candidates. And on the flip side, employers will likely have to replace one in three workers this year as record-high resignation rates continue to trend upwards.

As a result, innovative companies and founders are leaning in, helping to build and participate in this new world of talent where hiring rules, customs, language, and expectations are forever changed.
Hiring the wrong person comes at a cost
The bottom line is, if you want the best talent, you will need to operate and hire differently. Doing so will also significantly impact a company's bottom line. In fact 74% of employers say they've hired the wrong person for a position for various reasons, including low quality of work, incompatible culture fit, or their skills that did not match their claims. These missteps are costing companies an average of $30,000 per bad hire, and up to hundreds of thousands of dollars for the wrong executive leader.
Trusted introductions open up doors to find and hire the right talent
Candidates are 50% more likely to respond through outreach that happens via a trusted introduction - and are one of the most effective ways to take the guesswork out of your talent search. When the right person introduces the right opportunity at the right time, there is a synergistic effect on the entire hiring process.
Thoughtful referrals are also one of the easiest ways for you to make a difference in someone's life - and Hunt Club is making it more accessible to elevate existing relationships in your network. With the click of a button, members of Hunt Club's Expert Network, a professional community made up of founders, investors, senior executives, and entrepreneurs, have the power to change the trajectory of someone's career. As Experts, these influential people have elected to be in a position that allows them to pay it forward, impacting the lives of others by opening doors to unexpected opportunities.
Hear from Hunt Club's Expert Community: Tips on how to stay competitive in the market for new talent
To help candidates and employers navigate this new talent ecosystem, we asked three, trailblazing, female leaders, who are all part of Hunt Club's Expert Network, to share their insights and lessons learned on how to compete and win in today's talent market.

With tech giants such as Apple and Amazon planting deep roots in the Motor City, Detroit is quickly rising on the list of top desirable cities for emerging tech hubs in the U.S. Since 2010, Detroit Venture Partners has been integral in helping promising, determined founders and early stage tech companies grow and scale their businesses in the entrepreneurial, renaissance community. As a wildly successful founder, operator, and now Principal Investor at Detroit Venture Partners, Lindsey Kilbride offers founders an impressive and expert perspective based on her leadership sales and growth roles. Thus, she has been on both sides of the talent table - and has valuable advice for companies and candidates as it relates to the job market today. Hear from Lindsey:
For companies looking to hire the best talent:
Turn to your network: Those that know you and what you are building, are likely to know others who could be a complimentary fit. Seek out subject matter experts with strong networks and deep industry knowledge. When hiring for a specific department or role that isn't within your area of expertise, look to others to help navigate the search more effectively.
Look for passionate people: The right person might not have the perfect resume or live in the perfect city. Potential and passion are often superior to "perfect" when it comes to hiring.
For candidates looking to make their next move:
Leverage your community: The same goes for candidates as it does for companies. Your network knows what you are capable of and can help you break into a specific industry or take on a new challenge. Seeking advice from others that you respect - who have successfully walked that path, can
Stay open-minded: A role might not fit your perfect vision. If there is an opportunity to work and learn from a company or leader that will invest in you for a greater career journey - be open to taking the leap. I've taken introductions and interviews when I wasn't actively looking. You never know when the right opportunity might sneak up and tap you on the shoulder.
Always be looking to learn: Seek leaders you believe in and teams you feel challenged to work alongside. I'm a runner, and I always say I want to work on a team that "moves me up a pace group." My husband has had a long career in real estate, and his version of my running analogy is "you don't want to be the nicest house on the block." This applies to growing yourself and your career as well!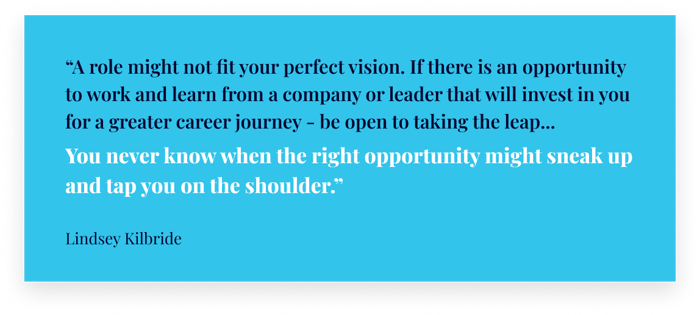 Best practices for both companies and candidates to keep top of mind:
Take meetings. Be generous with your time.
Follow up and always say thank you.
Check in regularly with those you admire, respect, and would be excited to work alongside.
Pick up the phone. Live communication is far more effective than text and email and is key to building lasting relationships.
Educate yourself. Keep an eye on what's developing in your industry and the world in general.

As Chief Growth Officer at Table XI, Margaret Jastrebski (MJ) brings an expansive level of expertise to the firm's blockbuster list of partners, who turn to the Chicago-based digital consultancy for their leading product and software development and consultancy services. With 20+ years of experience in Product Management, MJ has built an indisputably strong reputation across a number of executive roles - and her pulse on cutting edge strategy, decision-making, and the talent market are highly regarded across her network. Hear from MJ:
For companies looking to hire the best talent:
Authenticity matters: So much of it is about authenticity and walking the walk. You can't just put a DEI blurb in a job spec; it's about demonstrating your values and sharing your unique perspective and voice on how you are committed to upholding those values.
Showcase your people: Your people are your company. Spotlight their talents and accomplishments, helping candidates visualize and create links with those who could be their potential teammates. I've seen creative hiring managers make short videos about their teams to better connect with candidates. These types of personal touches come off really meaningful!
Show up with an opinion: Companies need to be specific about the type of people they are looking for; and at the same time, candidates need to be specific about what they are looking to do. From determining what stage of a company is a good fit, to the opportunity to leverage and expand on skill sets - open, specific communication will help both sides align on values to figure out what will and won't work.
Predictions for talent trends in 2022:
Remote first is the top headline: It will be interesting to see what happens in terms of culture, as there is more dialogue on this topic in the market than ever before. It will be important for organizations to ask themselves how they can set themselves apart from others, as everyone transitions to a remote first culture - and how can you reflect that in an authentic way.
Culture versus compensation: This will also be part of the discussion, but could come with tradeoffs. Will people insist on a better work/life balance and higher compensation? We're starting to see more and more people pursue side hustles - which is an exciting and common theme for building multidimensional teams.



Lindsay Knight, Partner at Chicago Ventures works with the firm's 50+ active portfolio companies to help grow and scale their businesses. As a master of her craft, Lindsay is constantly finding strategic ways to offer startups cutting-edge value through matchmaking talent, communication and PR, and community engagement. Hear from Lindsay:
For jobseekers today:
Be selective: Whether it's learning, incredible leadership, work-life balance, compensation, a company's path to exit - decide what is most important to you and optimize for that.
Capitalize on your experience: The market is wild right now, and for most job seekers, the world is your oyster. Practice telling your story so you can position yourself as best as possible. It'll make your search easier.
Prepare to move quickly: Hiring companies are actively making changes to internal policies and processes to attract and recruit candidates. Don't be afraid to ask questions about the business trajectory, leadership, benefits and culture.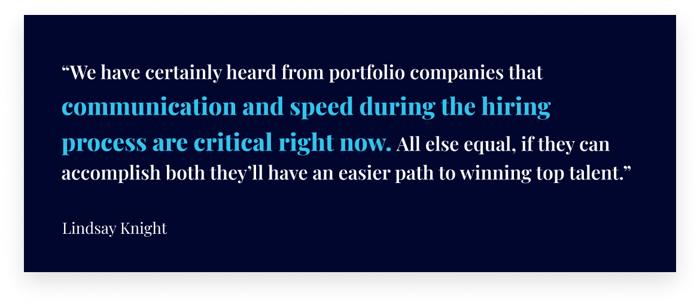 As one of Hunt Club's most prominent, well-connected Experts, Lindsay has made several thoughtful introductions that have resulted in successful talent placements. Read how her trusted introduction to Adam Perry, a top HR professional in Chicago, guided him to pursue a game changing opportunity as the VP of People at Perkspot.
Connect with the Club
Feeling inspired? Join the community of change makers.
As a Hunt Club Expert, you gain access to an elite professional community of founders, investors, senior executives, and entrepreneurs from diverse backgrounds. Members of this community represent the fastest-growing and most innovative companies changing business as we know it.
The Expert Network is designed to connect influential people with the right opportunity at the right time. Our motto is based on elevating relationships, driving trusted introductions, and advancing social capital. With a more effective way to navigate your network, you are part of a group of global leaders who have the power to positively impact the lives of others.
Topics Discussed