Organizations that prioritize diversity, equity, and inclusion (DEI) in the workforce are statistically proven to drive better business outcomes and build stronger, happier, more productive workplace cultures.
DEI encompasses an organization's structure, programs, and procedures that are designed to create a safe and welcoming work environment for everyone. Studies show companies that garner and support a diverse workforce are driving higher performance, generating 2.5 times the revenue for every employee.
Diverse organizations are also innovation leaders. According to Harvard Business Review, companies with above average total diversity had both 19% higher innovation revenues and 9% point higher EBIT margins, on average.
As teams across the globe are working towards aggregating more unique skill sets within their companies in an effort to boost productivity and drive revenue goals, hiring with diversity in mind helps establish a foundation for an inclusive, creative, and innovative workplace.
Beyond recruiting, leaders who set a tone of advocacy within their companies stimulate a workplace around diversity, equity, and inclusion (DEI). Encouraging all employees to openly and confidently collaborate promotes heterogeneous ideation and open conversations throughout the company.
This practice of open dialogue reinforces creativity along with better products and services that reflect and support a broader customer base.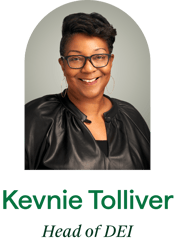 At its core, building a team with diversity in mind begins with hiring, but doesn't stop there. Another component is intentionally building a company culture around DEI values. Hunt Club's Head of DEI, Kevnie Tolliver is continuously developing and evolving initiatives within the organization as well as partnerships outside of Hunt Club.
Through these relationships, Kevnie, and Hunt Club as a whole, are cultivating a diverse and welcoming culture in-house and with our clients and the talent we help place. Kevnie reminds us that diversity is not a 'one-time thing' but a practice that organizations from startup to enterprise must always keep in mind.
Help Your Company Diversify its Talent Pool
Companies are increasingly building out DEI functions within their organizations to launch and improve hiring strategies that encompass the practices needed to overcome their diversity hiring imperatives, and build a unique and welcoming workplace culture.
As an experienced DEI leader and connector, Kevnie Tolliver helps organizations of all sizes center their growth strategy around allyship and the value of amplifying individual voices.
"I am not a recruiter. In my role I am dedicated to making certain that the executive talent we present to companies includes an incredibly diverse slate of Director, VP, and C-level candidates," said Kevnie Tolliver, Head of DEI at Hunt Club. "Oftentimes, BIPOC candidates just don't have the appropriate visibility and we're focused on building partnerships with organizations like the Illinois Diversity Council, the African American Marketing Association - and many others, in order to purposefully infuse our company, our talent pool, and Hunt Club's Expert Network with diversity."

-Kevnie Tolliver, Head of DEI at Hunt Club
Benefits of Building a Team from a Diverse Talent Pool
Incorporating diversity into your hiring strategy can be advantageous to different facets within your company. Kevnie shares 4 benefits of hiring with diversity in mind.

1. Attract diverse talent with inclusive job postings and descriptions. Companies attract talent through language. Whether a candidate hears about a job through a connection or via an online posting, the language used surrounding the role and organization can determine whether a candidate is interested in the job. Use neutral, ungendered language. For example, rather than using 'decisive,' exchange it for 'cross-functional,' instead of looking for an 'assertive' teammate, look for an 'interpersonal' teammate.
2. Foster a team that is diverse in thought by establishing a welcoming and diverse workplace. In order to attract diverse talent, you need a diverse company. You can start by including more holidays as part of your company's PTO calendar. Create safe spaces to discuss current events and commemorative days and holidays as a company to promote open communication and celebration of traditions that may otherwise go without recognition. A welcoming workplace also lends to a space where every employee can express a different view of the industry. This lends to collaboration between individual employees as well as teams creating stronger productivity and innovation.
3. Grow a diverse and expanding network. Your network is your net worth. Once you've begun building out a diverse team, ask your colleagues if they will recommend their network for open roles. If your network is small, consider leaning on larger, more comprehensive networks of leaders that can connect your team with the diverse talent who can help shape your company.
4. Cultivate a customer base as unique as your team. Organizations that hire and retain a wide range of talent are able to connect with a wider range of customers. Captivating a diverse customer base will in turn drive employee retention when they see their company supporting diverse customers. And the cycle will continue to repeat.


Build a company with DEI at the center
Grow stronger teams from real relationships. Hunt Club's talent acquisition approach combines best-in-class recruiters with our automated sourcing technology, connecting you with top-tier, diverse leaders who help build the future of your business.
Topics Discussed