According to 2021 PitchBook data, startups founded solely by women in the U.S. raised $6.4 billion of venture funding, up 83% from 2020. Although this represents an important shift, it's still only a mere sliver of overall VC funding. Looking beyond the hard numbers and the need to elevate the conversation around leveling the playing field, it comes down to the powerful, influential people taking action to drive real change.
This list highlights the female investors who are making those moves to disrupt the narrative in an ecosystem that has long been male-dominated.
Currently, female decision-makers account for just 9.65 percent of venture capital firms, but they are a powerful force. Female VCs have begun leveraging the 51% of wealth that women hold in the U.S. by influencing them to invest in their VC firms.
With more women occupying lead decision-making spots in venture capital, the investment world is seeing innovative, women-led companies gaining more momentum and access to funding. As these female venture capitalists invest in and help build an inclusive and equitable future, they are helping to actively diversify both the VC and startup ecosystems - as it relates to gender and other minority groups.
At the center of it all is an empowering idea: the more women there are in venture capital, the more likely it is that gender diverse teams will be backed and funded.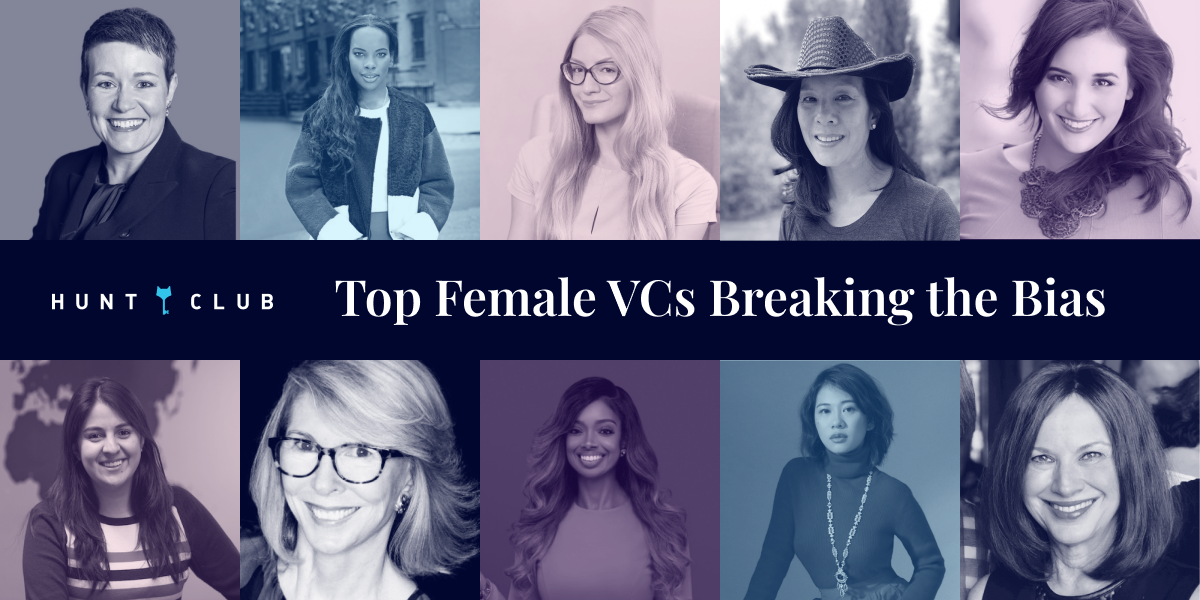 Meet 10 of the top female venture capitalists working to break the bias

1. Lisa Calhoun
Notable Investments: SHO.ai $1.1M
Lisa Calhoun is a founding general partner at Valor Ventures and is the first woman to launch the South's first female-led VC firm in Georgia. She is a venture capital visionary who created the Valor CIO/CTO Innovation Council that brings together budding startups with potential enterprise customers.
Lisa also founded the digital magazine Female Entrepreneurs, as well as Startup Runway, an organization that runs pitch events for minority and female founders.



2. Sarah Kunst
Notable Investments: Avochato, Styleseat
Sarah Kunst is an investor and entrepreneur who currently works as the managing director of Cleo Capital. Her past work experience includes Apple, Chanel, Red Bull, and Mohr Davidow Ventures. She has also founded Proday, a startup backed by the L.A. Dodgers, and has served as a senior advisor at Bumble.
Kunst is passionate about advocating for diverse founders, investors, and operators, which has led her to drive impact on game-changing organizations such as Venture for America, Code2040, Tech Women, and Technovation.



3. Susan Lyne
Notable Investments: Glamsquad, Full Harvest, Lola, and Zola
Susan Lyne is the managing partner and CEO of an early stage investment fund, BBG ventures, that focuses on investing in the next generation of market-defining and female-founded products and services.
Susan believes in investing in founders who are developing big-picture solutions that touch the daily lives of many, including health and well-being, climate-friendly products, the future of education and work, among others.

4. Trish Costello
Notable Investments: Everlywell, Canela Media
As the co-founder and CEO of the Kauffman Fellows Program, Trish Costello has mentored some of the world's top venture capitalists. Trish founded her own VC company, Portfolia, in 2014 to encourage women to invest in the companies they want to see in the world.
Unlocking the talent of women both professionally and personally is a long time passion of Trish's, which led her to continue supporting and investing in innovative female entrepreneurs.



5. Arian Simone
Notable Investments: Enrichher, Reset, 100 Black Angels
Arian Simone is an angel investor, philanthropist, author, serial entrepreneur, and marketing specialist. She currently holds the co-founder and general partner position at Fearless Fund, the first VC fund started by women-of-color, for women-of-color.
She also founded Fearless Magazine and partnered with Keisha Knight Pulliam to invest in women-of-color–led businesses seeking pre-seed, seed level or series A funding.
Arian and Keisha have a unique connection to the entertainment industry that allows them to recruit celebrities and actors as investors.



6. Aileen Lee
Notable Investments: Dollar Shave Club, ADAY, Rent the Runway, Brit + Co
Aileen is the founder of Cowboy Ventures, a VC firm focused on seed stage investments. As one of the first, female-led VC firms, Cowboy Ventures has received three large funds, with the most recent one totaling $95 million over the past six years.
Aileen coined the popular term "unicorn" that is popularly used in Silicon Valley to describe privately held startups that have a $1 billion valuation or more. She is passionate about advocating for more female founders in the venture-backed space with special attention to diversifying the tech industry in Silicon Valley.



7 & 8. Pocket Sun & Elizabeth Galbut
Notable Investments: Winky Lux, ADAY, Function of Beauty
Pocket Sun and Elizabeth Galbut founded NYC-based SoGal Ventures, the first female-led millennial VC fund. Before founding their VC that invests in diverse founders at seed and Pre-A stage in Asia and the U.S., Elizabeth Galbut worked as a business designer with Deloitte Consulting and Pocket Sun had extensive experience working with startups and appeared on the cover of Forbes Asia 30 under 30.
SoGal strives to redefine what the business space looks like for underrepresented demographics and women.



9. Anastasiya Giarletta
Notable Investments: Seneca, C2 Sense, Melio
Anastasiya is a venture capital principal at R42. Her work mainly focuses on finding and investing in the best of the best entrepreneurs in artificial intelligence and longevity.
The biotech and computer science fields is an area that Anastasiya believes is exciting and in need of significant funding. With her position at the UK and Silicon Valley-based VC firm R42, Anastasiya hopes to champion female founders in the biotech space.



10. Maria Salamanca
Notable Investments: Inspirit Learning, Prismpop, Maximus, Hairtelligence
Maria is a partner at Unshackled Ventures which focuses on founders building primarily immigrant teams. She hopes to create a safe space for immigrant founders by turning barriers into stepping stones for immigrant-led startups, helping them gain entry to the capital and support needed to ensure sustainable and scalable success.
Maria was the first Latina named Forbes 30 Under 30 in 2018 for Venture Capital. She also works on other projects like organizing Startup Weekend: Latinx Tech Edition and Making a Techie, her newsletter.



Providing Access to Mentorship and Education for Minority Startups
In alignment with our continuous mission to solve the next generation of talent challenges, Hunt Club is thrilled to partner with InTandem, Google, Creatd, Valence and Myosin, to launch a complimentary mentorship and education-based growth marketing program for startups with founders from underrepresented communities.
Hunt Club's curriculum offers strategic guidance on how to successfully build competitive talent strategies that enable companies to scale past new heights. It will also focus on how to source and hire top-tier talent, expert tips on what to look for in effective leaders, steps to building and growing strong teams, empowering founders to leverage the power of their networks to drive ROI.
Learn how Hunt Club's network mapping technology can also help boost your organization's talent strategy.
Topics Discussed