One series-A startup in the food and beverage industry works with Hunt Club to help them find the perfect blend of talent and build an organizational structure to support their long-term business strategies.
Caffeine-Powered Dreams
In the heart of Hawaii's lush landscape, where the ocean's waves embrace the shores of sun-kissed beaches, lies a distinguished and passionate coffee company that holds the very essence of Aloha — Big Island Coffee Roasters.
What began as a shared love of coffee between a biologist and an organic farmer turned into an emboldened purchase. Together, co-founders Kelleigh Stewart and Brandon von Damitz took their love for the bean one step beyond: They bought a dilapidated coffee farm off of Craigslist.
"It could have been a scam, but with little to lose, we thought, 'Why not?'"
This leap of faith certainly paid off.
Today, Big Island Coffee Roasters is one of Hawaii's most recognized coffee brands and award-winning coffee roasters.
Staying True to Your Roots: How Big Island Coffee Roasters Scaled While Keeping Their Values Front & Center
Big Island Coffee Roasters' success didn't happen overnight. For Kelleigh and Brandon, their business venture is grounded in respect for the land, deep-rooted passion, and a desire to cultivate something more than just coffee beans and a profit.
At a certain point in the company's growth, the founders knew they had to seek the help of a talent consultant to help them further legitimize and scale their ultimate mission: To give back to the community that has nourished their roots and to share the warmth of their exceptional coffee with the world.
To accomplish both of these goals, they needed the right people in place to build and support a sustainable business model.
But building teams is an intricate balance between art and science.
For most businesses and early founders, it's not always easy to know where to start or how to design an effective organizational blueprint. So I worked with Big Island Coffee Roasters to identify what roles were pivotal to realizing their strategy and what was ultimately missing in their larger organizational structure: Marketers.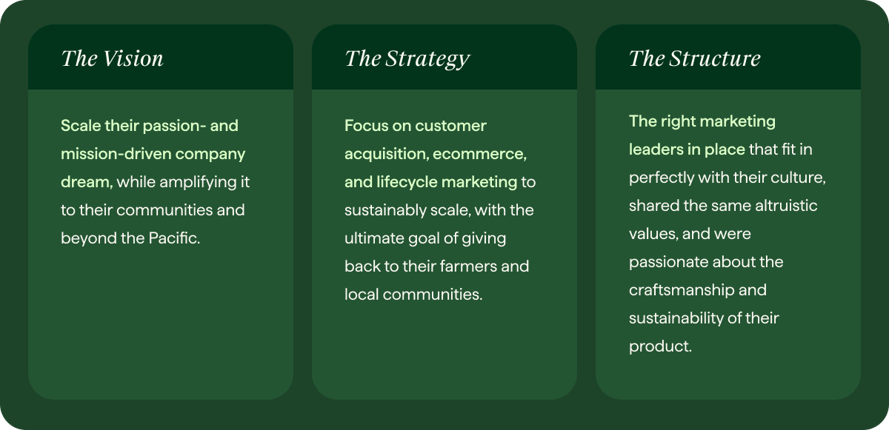 Big Island Coffee Roaster's Strategy: Sustainable Growth in Order To Give Back to Their Farmers & Communities
While the coffee roaster is a small organization in regards to employee size, it has huge growth potential and a desire to scale big in order to give back to the farmers that sustain them.
Accomplishing this type of sustainable growth is most attainable when there are specific initiatives to focus on. Together, we identified three strategies in relation to revenue that would ultimately help them give back.


Breaking the Growth Strategy Into 3 Priorities
I worked with Big Island to determine three revenue-centric pillars that their team can employ needed to grow, give back, and magnify their values:
Customer Acquisition: How do we attract and acquire new customers to sell our coffee to?
Ecommerce: How can we leverage and outsource the ecommerce side of our business to save time and money, as well as grow an online customer base?
Lifecycle Marketing: How do we continue to engage, convert, and retain customers while building more LTV?
It was clear what they needed. Big Island needed exceptional marketers with the technical savvy to execute these tactics that would help them with their overall strategy. But more importantly, they needed marketers who intrinsically understood and aligned with Big Island's roots.
How Hunt Club's Talent Consultants Helped Their Team Build the Right Structure
Organizational design is one of the most challenging things to get right, regardless of any business size or stage. An effective organizational map has the power to influence productivity, innovation, and growth.
With so much stake, we worked together to diagnose Big Island's current structure and develop an optimal blueprint tailored to their priorities, culture, and vision.
I believe that even the best strategies can fail if the right talent is not in place. With a strong strategy but limited cash runway, the Big Island team was at a pivotal point in its growth journey.
To successfully scale, it came down to two things: Who do we hire and when?
Together, we worked on the team's organizational design and identified the structure was missing critical marketing roles that would help them with:
Amplifying their values and message in a way that felt true to their roots

Acquire new and retain old customers

Manage ecommerce initiatives
Throughout my conversations with the team, we were able to understand what drives the founders and their team to wake up every morning and grow, roast, market, and sell their products.
My key takeaways?
The duo wanted to hire marketing leaders who were passionate about the artistry of farming and shared their dedication to preserving the local landscape that drives Big Island Coffee Roasters' success.
From there, I knew where and how to find this talent — and the Hunt Club Search team delivered the marketer who continues to help them with their strategy today.


Closing Thoughts: Why Would a Coffee Company in the Middle of Puna Seek Talent Consulting?
Located in the south of Hilo on the easternmost tip of the Big Island, you'll find Puna, a fiercely dense region known for its free-spirited atmosphere. You'll also find that coffee farm Kelleigh and Brandon first set up shop in.
These tranquil surroundings may seem worlds away from the corporate bustle, but even nestled in this remote haven is the need for a well-defined organizational structure.
Just as in fast-paced markets of sprawling metropolises, every company regardless of size or location must design a unique framework that aligns with its strategy in order to thrive.
In today's volatile market, I believe that razor-sharp operational efficiency is table stakes. Early-stage companies must establish product-market fit and drive ROI within shorter timelines and with tighter cash runways in order to prove growth to their investors. I'm even witnessing large enterprise organizations racing to ensure innovation and agility, all while finding ways to keep up with or pad against a contracting market.
So, how exactly are companies on both ends of the spectrum finding ways to do more with less?
The right people and team structure.
One of the most critical components to not only surviving but succeeding in this challenging environment is attracting and placing top-tier talent in the right roles at the right time.
Companies partner with talent consultants to help them achieve organizational structure to follow their business strategy. Oftentimes, talent consultants come in at a pivotal juncture once a company has established a growth or business strategy and is ready to begin hiring the talent it needs to accomplish its growth goals.
And it's precisely what Big Island Coffee Roasters is doing to remain one of the most recognized roasters in the islands and continue changing the game.
Topics Discussed