When Bill Partyka started his career in consumer products 35 years ago, he worked his way up into key executive level roles for massive global organizations including, General Mills, Conagra Foods, Pfizer, Nestle, and most recently, serving as the CEO of Gerber Baby Food. Throughout his impressive journey, Partyka did not anticipate the opportunity to one day become the CEO of an up-and-coming pet CBD company on a mission to calm man's best friend: our dogs.
While not all talent tales of executives moving from enterprise companies to startups - and vice versa, are successful, the experiences and lessons Partyka garnered over the years at some of the world's most established companies, is exactly what the hyper-growth pet calming company, Kradle needed to accelerate their growth. Since the business started in 2020, Kradle, a startup that provides the highest quality, stress-relieving solutions to dogs through products inspired by nature and backed by science, has skyrocketed into a market leader. Under Partyka's leadership, Kradle is expected to grow to 6x the size of their business in 2022, largely due to their recent partnership and product launch in Walmart stores.

It's who you know: An executive's journey to the top
Since joining Kradle as CEO in December 2021, Partyka has applied best-in-class business practices to shape the startup from the ground up.
With one of the most impressive resumes in the industry, it's well worth walking through the steps that led him to where he is today.
"I cut my teeth at General Mills for nearly 15 years, starting off as a financial manager. I realized that if I wanted to make actual decisions in the Fast Moving Consumer Goods (FMCG) industry, I needed experience as a general manager with a brand management background," explained Partyka.
He worked to get his MBA at night, eventually transitioning into a brand management role, and later ran every business within the General Mills portfolio, including kids cereals, snacks, baking, and other leading products. "It was a great opportunity to work for a company that nurtures and empowers young leaders to learn from what I consider to be best-in-class capability for large FMCG brands."
From there, he ran the frozen foods business at Conagra Foods. His next move to Pfizer started with a call from a close network contact, who ultimately opened the door to a rather unexpected opportunity. Having recently acquired a $68B pharmaceutical brand - that came with a pediatric nutrition business, Pfizer wanted an experienced leader who understood FDA requirements and consumer goods to help them determine where the brand should live. Partyka was instrumental in selling the pharma brand to Nestle for $12B - and also instrumental in helping Nestle strategically retain the company's talent. "Nestle made it clear that they didn't just buy the brand and its revenue. It was important to keep the company's talent to offer an expert perspective on how the business should function."
Fast forward through an incredibly impactful eight year tenure at Nestle, which included his time as CEO for the world's largest baby food company, Gerber Baby Foods, Partyka and his family headed back to their roots in the Midwest during the pandemic.
The power of a trusted introduction
At that point in his victorious career, Partyka was only passively engaged in the job market. He couldn't see himself in most roles that came his way - many requiring travel and other undesirable lifestyle changes.
When one of his former mentors and colleagues recommended that Hunt Club connect with Partyka to discuss an interesting opportunity to shape the CBD industry at the forefront of its inception, he was eager to learn more. Interestingly enough, there is a strong connection between the way baby products and dog products are tested and developed, pointing directly to his years of expertise with FMCG brands.
"I connected with Jadey Ryndak, Executive Director of Talent Strategy at Hunt Club, and she immediately touched on the opportunity in the right way for me," said Partyka. "She interweaved the needs of the role with how she thought my skill set and expertise dealing with babies - a very sensitive population, could add value in the pet market."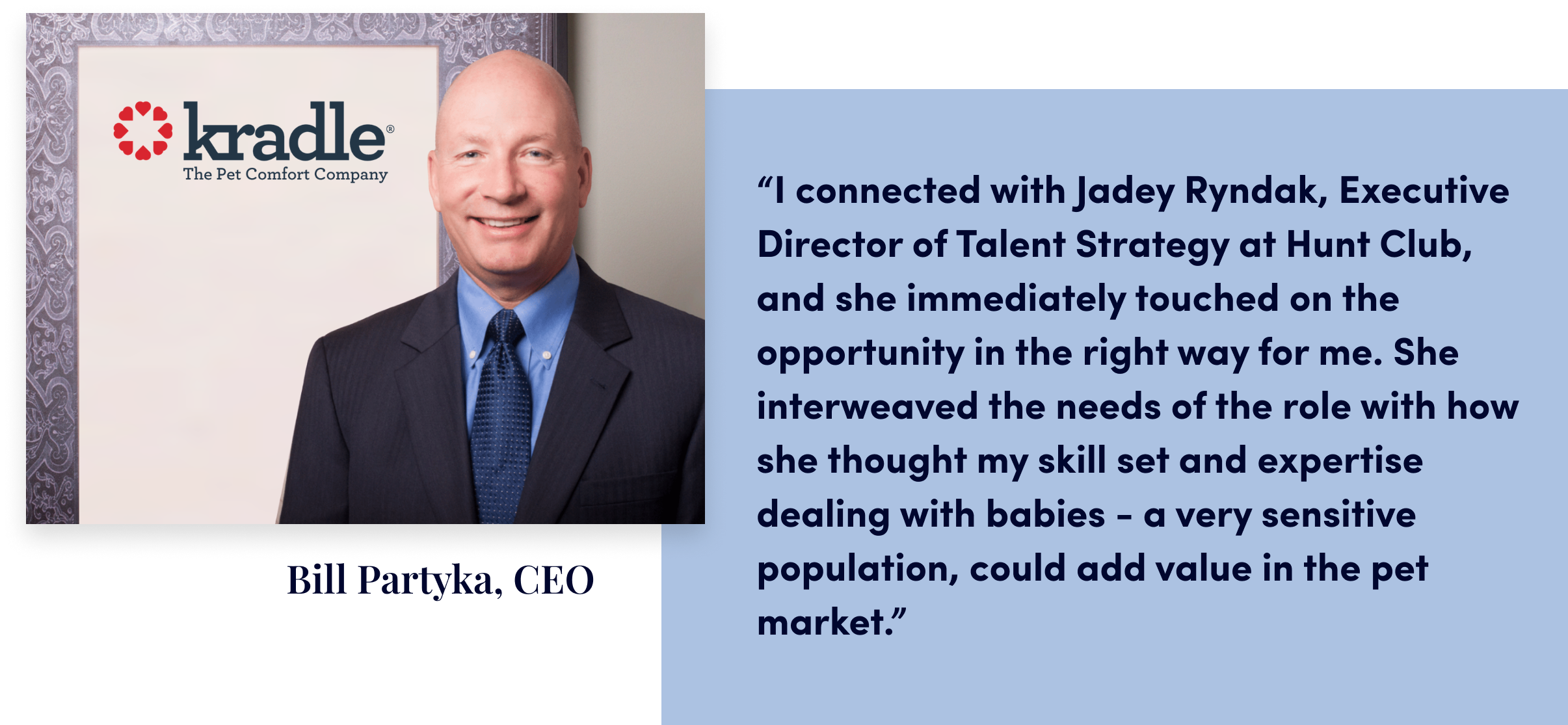 Working with the right talent partner, matters
Having previously engaged with traditional executive recruiting firms, Partyka notes that his experience with Hunt Club was a marked difference. Throughout the recruitment process, Hunt Club led a personal, tailored approach that:
Demonstrated genuine interest in understanding who he was and what he was looking to do in his next role
Focused on what motivated him in previous roles, making sure to find an intersection between the opportunity and his skill set
Established a personal, one-to-one connection, breaking down unnecessary layers in communication
Facilitated direct engagement between Hunt Club, Partyka, and the company's board, driving an efficient, transparent, and speedy process
Talent is the number one priority for companies small and large
As he reflects on his past role as CEO of Gerber - and his current role as CEO of Kradle, a much smaller, more nimble organization, Partyka says the opportunity has exceeded his expectations. Whether you work for an established, global company, or a startup in hyperbolic growth mode, every phase of a company's growth comes with respective benefits and challenges. But across the board, talent plays a pivotal role in scaling effectively. Without the right leaders and resources in place to drive smart decision-making, a business risks significant fallback.
"It might seem obvious, but until you experience what it takes to apply classic business practices to a young, green company, leaders and founders have to be prepared to dig deep. In a large company, safety nets can often catch a mistake here and there - without compromising the entire business. When you're small, any mistake could sink the ship."
At Kradle, Partyka is thoughtfully working to build teams that make the most sense for the business. Currently focused on filling critical talent gaps, Kradle will then move on over time to build out an organizational structure that supports massive expansion. "You don't want to stifle the process; it's a balance between who do we need now, and what positions can we wait on."

Kradle and Ellen DeGeneres Launch Kradle to the Rescue to Aid 1,000 Animal Shelters
This past April, Kradle announced an impactful charitable initiative, Kradle to the Rescue, on The Ellen Show with their brand's investor, Ellen DeGeneres.
Learn more about the Kradle to the Rescue program, and their mission to enroll and provide free calming products to 1,000 local shelters in 2022 as well as donate $25,000 to local shelters--at the Humane Society of the United States' Animal Care Expo conference--as part of the launch.
About Kradle:
Kradle is committed to creating happier homes for families with pets. Their mission is to bring you and your pet closer together through the easiest-to-use calming products for every dog and any anxious moment. They provide the highest quality stress-relieving solutions to dogs, through products inspired by nature and backed by science to give pet parents confidence in knowing their dogs are experiencing an enjoyable life in a happy home.
Pet owners can shop the Kradle collection on Walmart.com, select Walmart stores across the U.S., and at their local pet store.
Connect with the Club
Feeling inspired? Join the community of change makers.
The Expert Network is designed to connect influential people with the right opportunity at the right time. Our motto is based on elevating relationships, driving trusted introductions, and advancing social capital. With a more effective way to navigate your network, you are part of a group of global leaders who have the power to positively impact the lives of others.
Topics Discussed