It's no secret that movies are an integral part of society. They weave complex characters with rich stories in a way that compels us to watch and rewatch movies until we've memorized every line and detail. With the proliferation of streaming services, our relationship with movies, when and where we watch them, has transformed dramatically.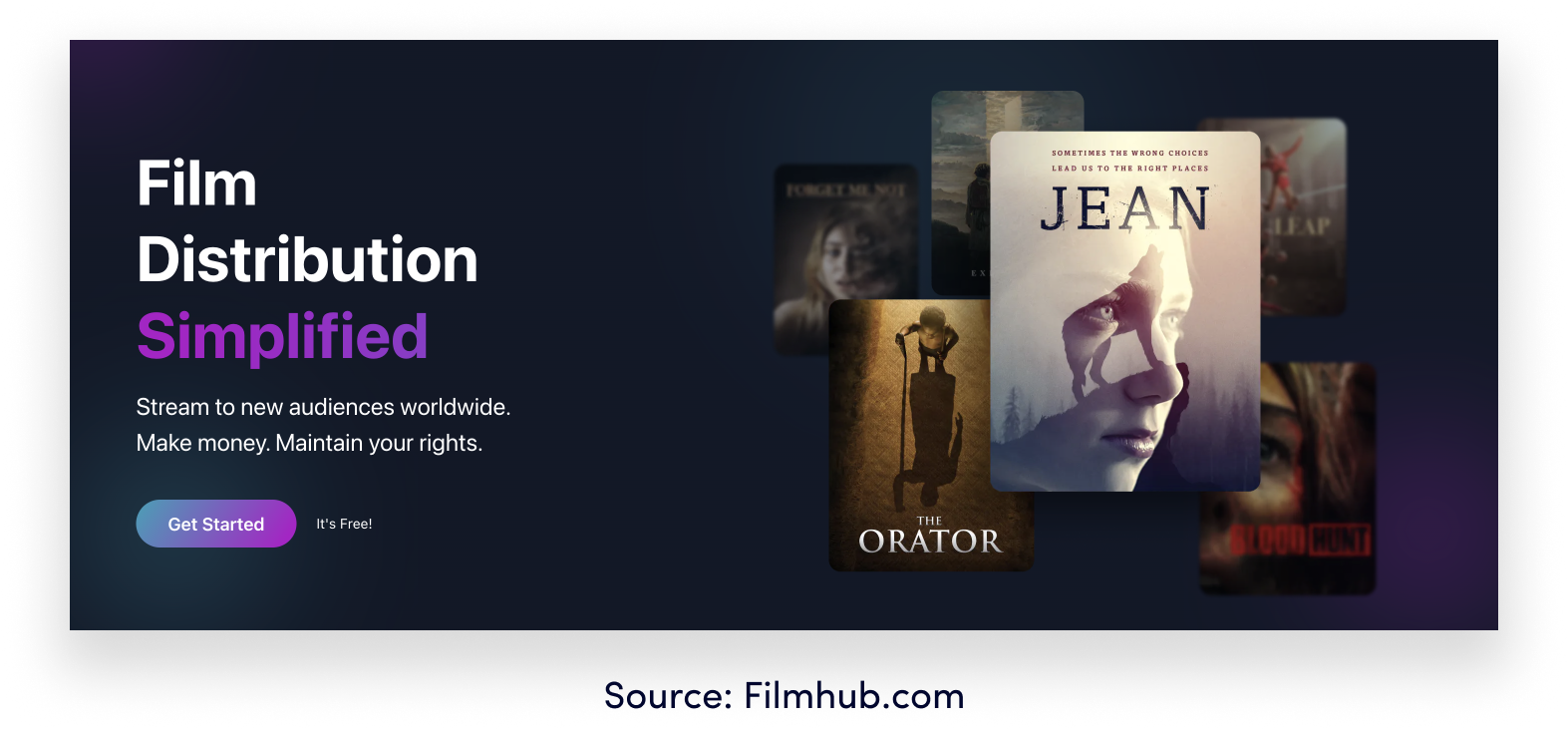 Watching movies in the solace of our own homes is a luxury many of us now can't imagine living without. As streaming platforms continue to grow and evolve, the array of films we have access to is unrivaled. Filmmakers continually produce world-class movies at incomparable rates - Filmhub, the company simplifying movie distribution, is helping bring new, fresh films to the small screen.
Disrupting the film industry, Filmhub co-founders Alan d'Escragnolle and Klaus Badelt have set out to transform the way filmmakers connect with streaming platforms, increasing the amount of movies on the market. Leveraging the power of technology, Filmhub connects filmmakers with streaming services directly through Filmhub's platform. Filmmakers maintain the rights to their movies and once a platform has licensed the title, the filmmaker earns 80% of the revenue generated, with Filmhub receiving the remaining 20%. Simplifying the traditional route the majority of filmmakers take when working with streaming services, Filmhub is streamlining film distribution.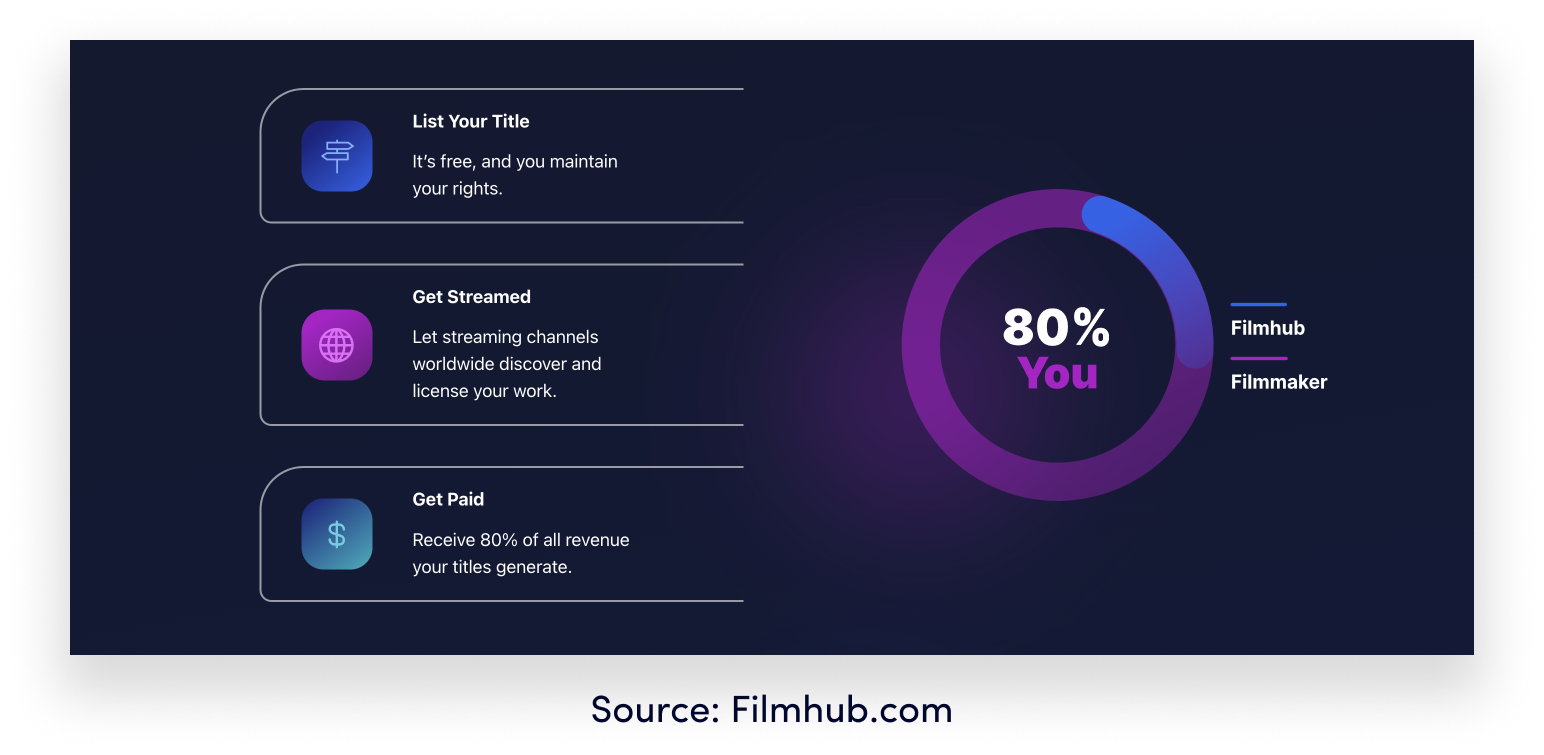 Klaus Badelt, a world renowned composer originally started Filmhub and recruited Alan d'Escragnolle as CEO to help execute the vision. With a background in building tech companies and theater production, it was a natural progression for d'Escragnolle.
Focusing on values, first
During Filmhub's first few years, d'Escragnolle likes to underscore the co-founders' hands-on approach to constructing company groundwork.
"We wanted to make sure that we could grow sustainably before we began hiring and building out a team."

-Alan d'Escragnolle, CEO of Filmhub
Rather than focusing on quickly hiring an executive and sales team, their approach enabled them to build out their company values and establish company objectives - empowering them to become strong leaders as their team began to grow.
Backed by acclaimed, tech-centric Venture Capital firms including Andreessen Horowitz, a Pinterest and Slack investor, and 8VC, an Asana and Palantir investor, Fimhub continues to be positioned as a mission driven, high-growth tech company transforming the film industry.
Building a sales team from the top down
Having built out sales teams at previous companies, d'Escragnolle knew what his ideal team looked like. A small, prolific team of four led by a pragmatic Director of Sales.
Director of Sales: An analytical leader to build and drive new sales initiatives
Having built out sales teams prior to co-founding Filmhub, d'Escragnolle knew the key characteristics of a Sales Director that would best support Filmhub's needs. Being a relatively young startup, the co-founders knew they didn't have the time to source and interview a large array of candidates - they turned to Hunt Club in order to accelerate the process.
Prior to kicking off the search, d'Escragnolle and Badelt defined the ideal candidate as an analytical leader with a background in sales. The co-founders knew they wanted an individual who could be both the 'architect' and well as the 'builder' - a flexible candidate eager to tackle the intricacies of transitioning from founder-led sales into a scalable sales engine.
Looking for the right talent to complement their growing team, Filmhub partnered with Hunt Club to source a Director of Sales who could:
Efficiently strategize and carry out structured plans to drive sales

Clearly communicate sales goals and metrics to the executive team to ensure alignment with company OKRs

Lead a dynamic and operationally driven team

Approach the position from a sales perspective rather than a film background

Create and lead an energetic and constructive sales environment
Account Executive: Motivated sales experts with a passion for building relationships
Asking Hunt Club to search for candidates outside of the film industry, Filmhub's co-founders knew they wanted Account Executives with a background in sales.
Companies are built on customer rapport and a sustainable customer base. Hiring seasoned Account Executives that could boost customer interaction and sales was a critical aspect of Filmhub's sales strategy. So they began partnering with Hunt Club to find and interview Account Executives who were:
Relationship-driven in their sales strategies.

Motivated by improving customer rapport beyond a traditional transactional sales role.

Accomplished sales and systems tacticians.

Passionate about developing their sales perspective into becoming a film industry expert.

A Continued Partnership:
Closing out its seed round of funding in January of 2022 at $6.8 million, Filmhub is positioned to scale tremendously.
Three roles have been placed since the growing tech startup and Hunt Club partnered, with plans to continue the partnership and place for future leadership roles as Filmhub scales.
"When it comes to building out a team, focus on the metrics that matter. Become adept at identifying them. This is paramount when growing a young startup. Your company is only as good as your team - when you find the right candidate, bring them onboard. Business moves too fast to wait."

-Alan d'Escragnolle, Filmhub Co-Founder and CEO
Filmhub is simplifying film distribution, granting filmmakers a wider audience
Empowering filmmakers to maintain their rights to the films they make, Filmhub connects over 100 streaming services with world-class filmmakers, disrupting the distribution landscape.
Effectively scale your team with exceptional talent by partnering with Hunt Club.
Topics Discussed