A century and a half ago in Texas on June 19, 1865, enslaved African Americans were told by Major General Gordon Granger that they were free following the Emancipation Proclamation. The proclamation, issued by President Abraham Lincoln, declared slaves free two and a half years prior to their liberation.
After a heavy push for the day to be recognized as a federal holiday following nationwide protests regarding police brutality, Juneteenth, also known as "Freedom Day" and "Emancipation Day" became a federally recognized holiday in 2021. Now, many companies big and small have opted to close up shop on the holiday, allowing employees to have the day off in commemoration of Juneteenth. Rather than viewing Juneteenth as a typical long weekend, we suggest using the time off as a "day on". The meaning of this "day on'' is to honor the holiday away from your job to do work that supports creating a more just and equal society. If a "day on" doesn't work for your schedule this year, consider acknowledging and contemplating the meaning of this historic day that shapes and continues to influence our society today.
As a way to commemorate the historic Juneteenth holiday, we chose to celebrate and elevate Black voices from our InTandem entrepreneur workshop that helps accelerate growth for minority startups.
We met with four startup leaders, Obi Omile Jr, Valerie Mosley, Amaka Uchegbu, and Verona Eaton, to discuss a series of questions related to Juneteenth. We asked them a series of questions to gain a sense of their experience building a business, what inspires them, advice, and the ways in which they give back to their communities.


About the Startup Leaders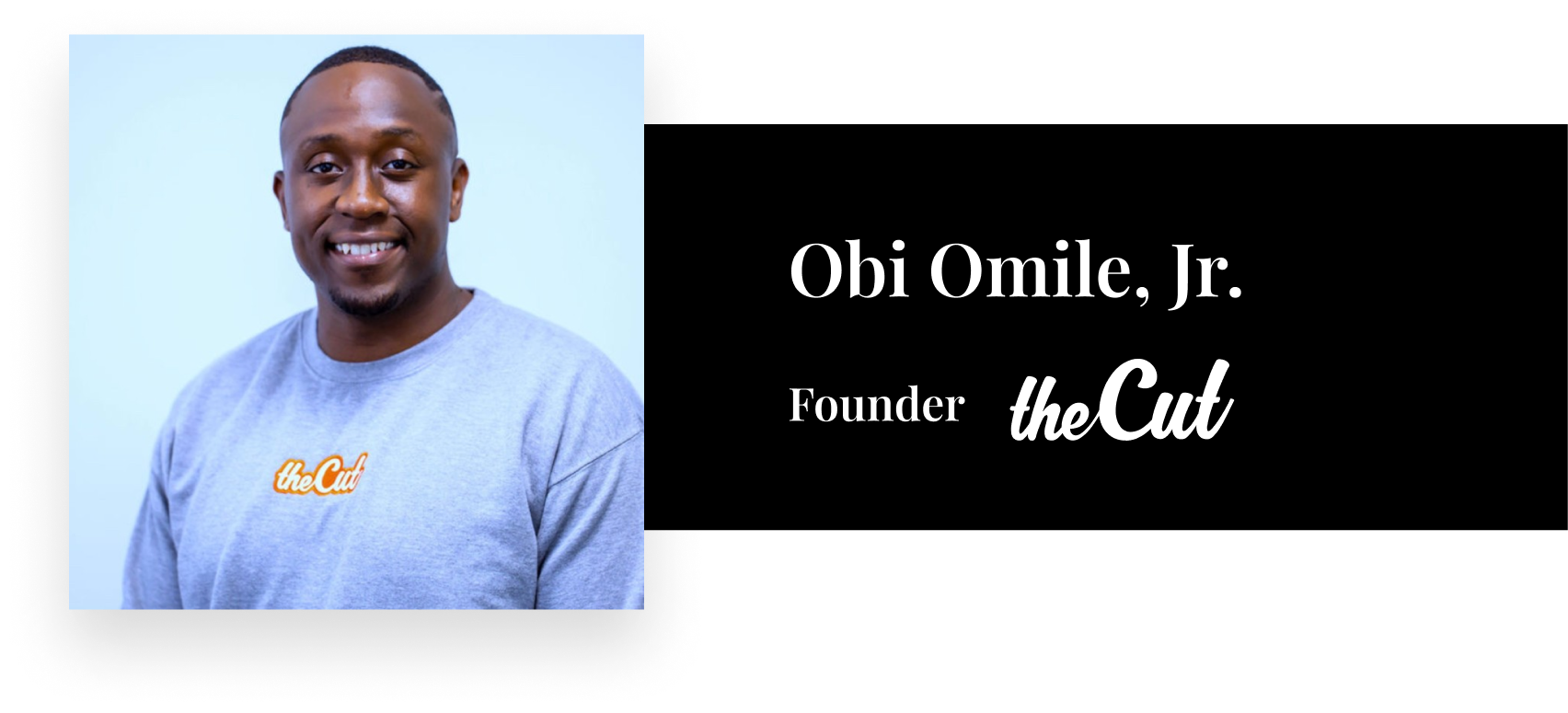 Founder and CEO of theCut, a barbershop tech platform. Obi started theCut with his high school best friend, co-founder Kush Patel, in 2016. theCut connects people who need a haircut with talented barbers around the country. New Barbers can be discovered on theCut, booked, paid, and tipped in a few clicks. It's their mission to modernize the men's grooming experience.
Check out theCut here.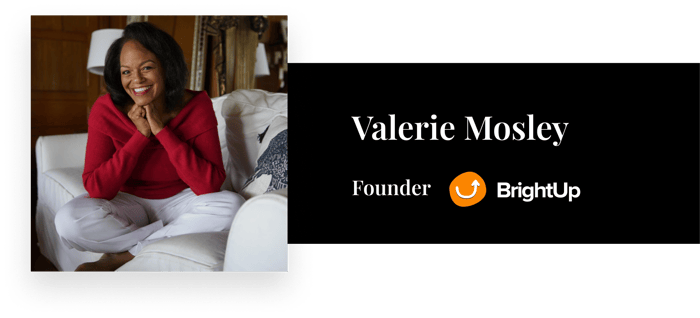 Valerie Mosley is the founder of Upward Wealth (doing business as BrightUP), a fintech platform that democratizes the creation of personal and financial wealth. She also serves on the corporate boards of Envestnet (NYSE: ENV), DraftKings (NASDAQ: DKNG), Groupon (NASDAQ: GRPN), and Eaton Vance's family of mutual funds.
Valerie retired as a Partner, SVP Portfolio Manager and Investment Strategist from Wellington Management Company, LLP, a $1 trillion global money management firm.
Valerie has also been recognized as The International Person of the Year by The UK's Power List, One of the 50 Most Powerful Women in Business and one of the Top 75 African Americans on Wall Street by Black Enterprise Magazines. Some of Valerie's greatest joys include time with her three children, being around nature, bike riding, and or connecting with positive energy persons.
Learn more about BrightUp here.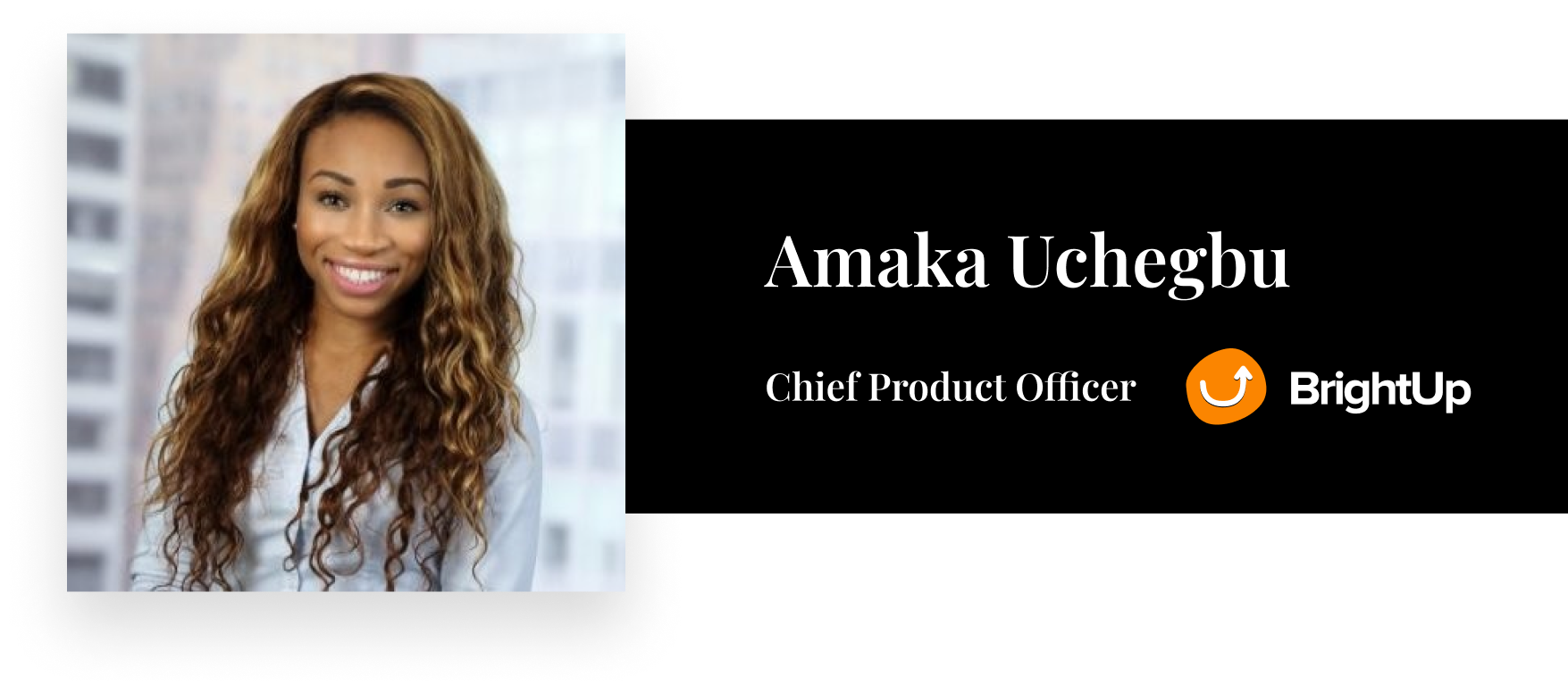 Amaka is the Chief Product officer at BrightUp, a female-founded financial wellness benefit platform dedicated to helping workers grow their net worth. She cares deeply about social mobility and democratizing access to the American Dream. Prior to BrightUp, she was a consultant at McKinsey & Company, where she co-authored a critical publication on the impact of automation on the African American workforce. Amaka served clients in a range of industries and geographies while at McKinsey, from publishing giants on the East Coast to natural resource firms in West Africa. She graduated from Yale University with a BA in Ethics,
Politics & Economics. Her Thesis examined the re-articulation of the 1960s Biafra secessionist movement in contemporary social media discourse and won the University's John Adison Porter Prize. Amaka is Igbo-born, UK-raised and normally resides in New York. She enjoys hiking, cycling and over-ordering at restaurants.
Check out BrightUp here.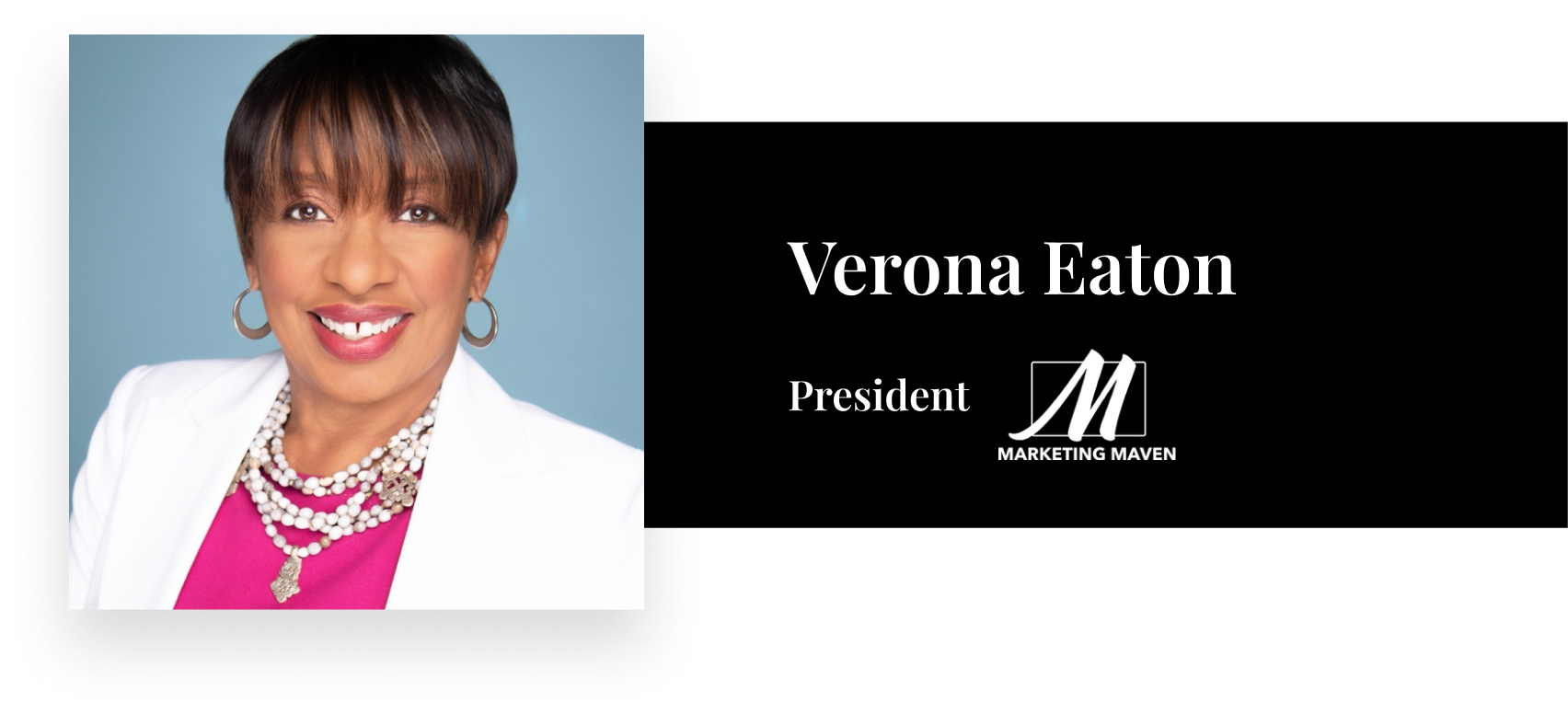 Verona is an accomplished marketing leader, business coach, and founder of Marketing Maven Consulting, currently leading marketing for BrightUp. Verona Eaton has spent a career building brands for Fortune 500 leaders such as Coca-Cola, Campbell Soup & Bristol Myers Squibb. Her breadth of Marketing expertise covers Brand Strategy & Management, New Product Identification & Launch, Multicultural Marketing and Integrated Marketing Communication Planning/Execution. She is the proud mother of an Ohio State Buckeye and resides in Atlanta with her husband Kenneth. Verona is a Beachaholic, who also loves choral singing and running.
Learn more about BrightUp here.
Q: What does Juneteenth mean to you personally?
Obi: When I first discovered Juneteenth, it blew my mind that for so long they were held captive when they had been freed. It's a day that many slaves were made aware that they were free, and that freedom is important to recognize and commemorate. That day [Juneteenth] is more important to me than the fourth of July.
Valerie: When I think about Juneteenth, I'm reminded of the personal and financial costs of not knowing, of not having valuable information that would add value to their life and their families lives.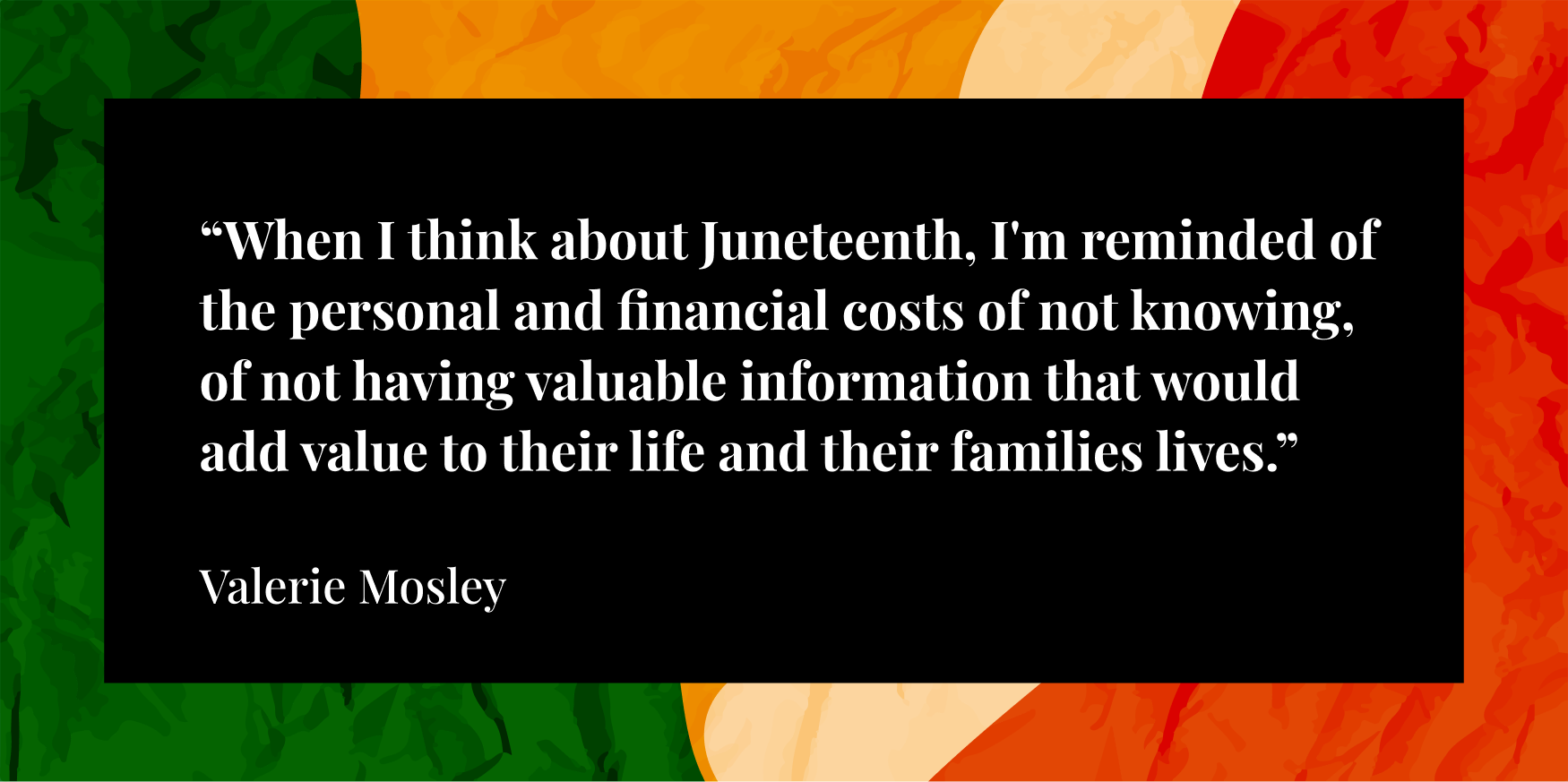 Amaka: I primarily grew up in the UK and recently learned about what Juneteenth was. After learning the history behind Juneteenth, I believe it's actually quite sad. However, I do think it is important to be aware of and everyone should know what it is because the holiday can serve as a reminder of negative times in our history that we can grow and learn from.
Verona: It has changed meaning for me. I grew up not really knowing anything about the Juneteenth holiday until I moved to Houston Texas. I lived there for 8 years and always thought, 'why are we celebrating the fact that we are 2 to 3 years late being freed from slavery?'
After the events that frustrated and saddened the Black community in 2020, and hearing that Juneteenth was being pushed to be considered a national holiday, I rethought my perspective and came upon a more mature perspective. I now look at Juneteenth as a celebration of liberation. It doesn't matter when it happened, but it was a pivotal point for Black Americans here in the U.S. and it is the first step in a lot of steps to come that will make things better for a community that has struggled to be recognized and given an equal opportunity to the American dream.
On Verona's plans to commemorate Juneteenth this year— "For me, it's not about a barbecue or party. I plan to read, study, and research to learn something I didn't know about the history of African Americans. We have made incredible strides, but understanding history and how we were treated with philosophies and beliefs that continue in 2022 is the only way we move forward."
Q: What inspires you as a business leader?
Obi: I am inspired by the opportunity to make a difference. I have always wanted to leave an impact on the world-to make people's lives better, to solve problems. Specifically, with theCut, the company my co-founder and I are building, we're empowering barbers to be better entrepreneurs.
The opportunity to give them the tools to run their businesses the way they have always envisioned is what motivates us.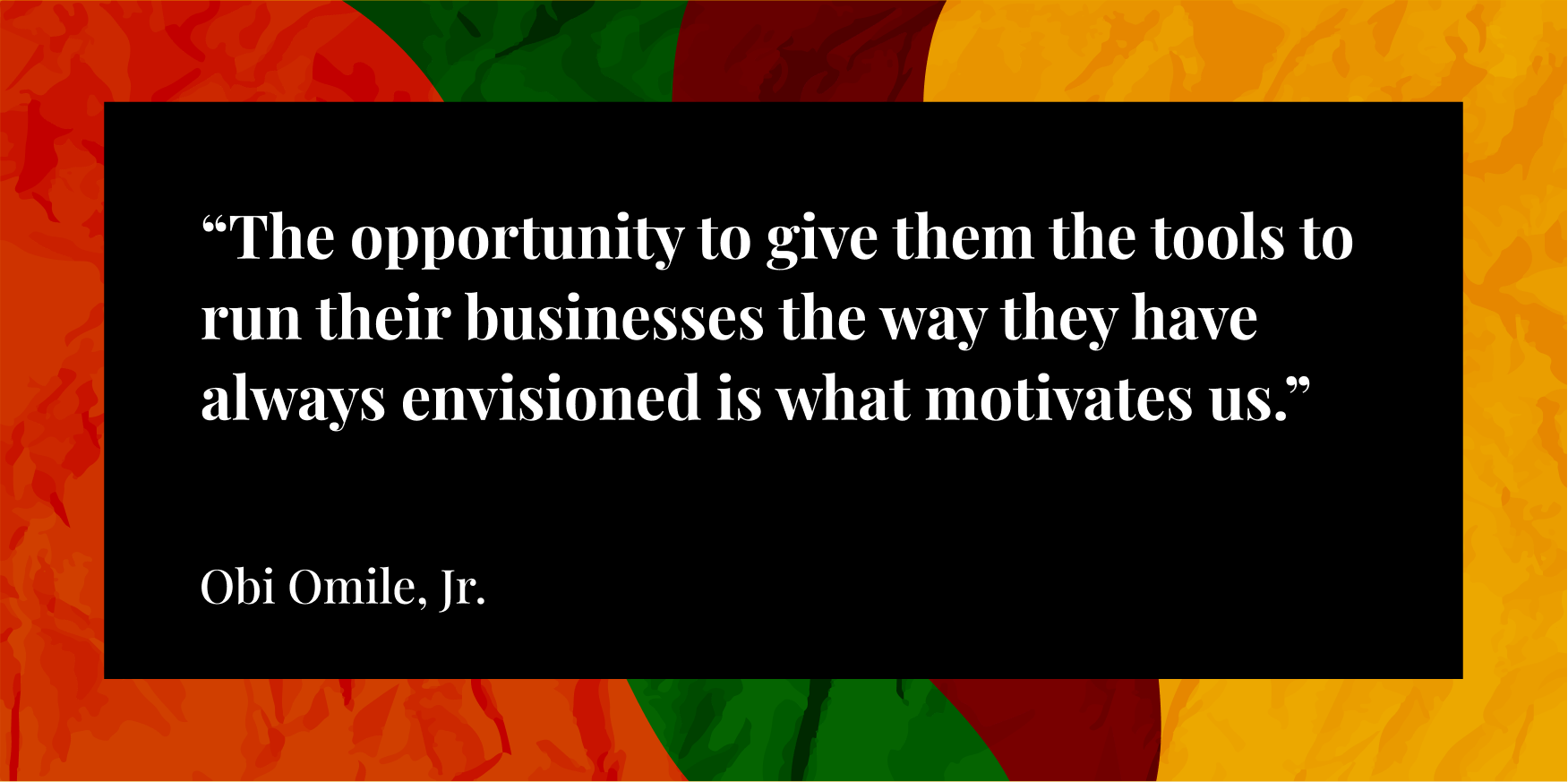 Some barbers we've helped can spend an entire day with their family where before they would have had to work and manage their schedules. They are able to open their own barbershop because we helped them grow their business. Hair cutting is important, whether it's haircuts or getting your hair done. It's how you showcase your personality, it gives you confidence and that confidence is sometimes out of this world. We want people to feel that way as often as possible and that's what inspires us—-these stories from people who are expressing real emotion and real passion. We're happy to be a part of that.
Amaka: The very core of what my business is about, helping people. That's what inspires me. Workers have been treated quite poorly and I'd love to change that. Work really shapes everything, and we're reshaping what it means to be an employee and respected and valued as one.
Verona: The opportunity to have an impact. To be a part of something greater than myself that allows me to impact and change lives. That's what drives me and that's what inspires me. BrightUp really has that potential to make a difference. It's for the 90% that don't have, people who don't understand how financial literacy can provide them with the ability to change the trajectory of their lives and the lives of their children. This is what motivates me–teaching underserved communities how to budget, save, and invest. It's not just about providing the tools, it's about helping people know that they are capable of having a manageable and sustainable life—about inspiring them to do this and encouraging them to feel worthy to set their life on a different course.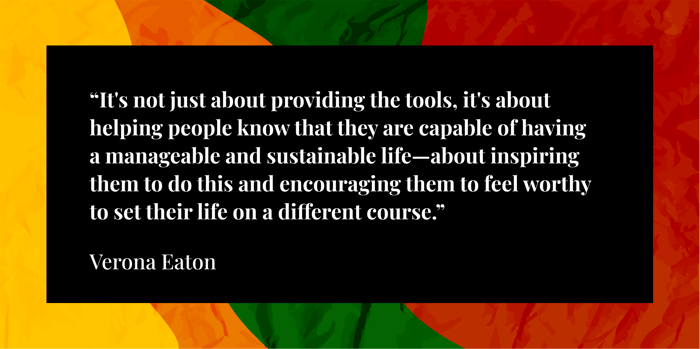 Q: How do you give back to your community?
Obi: First, with the tech that we offer at theCut. Barbers have been here for centuries, but have been slow to adopt new technology. We wanted to make tech accessible to barbers in a meaningful way. Beyond that, we work with a community of barbers who give back to their communities. We've had events with Hill Harper and his Summer Empowerment Academy offering free haircuts for kids that show up to his summer camps. We've worked with barbers to give free haircuts at events with the Washington Football Team. We're just trying to give people the confidence of having a fresh haircut, even when they can't afford it, and giving that to as many people as possible. It's all about donating service and time.
Valerie: BrightUp is intentional about sharing what we know with our users. You see, we founded BrightUP to democratize wealth-building and well-being, because we know that one's wealth doesn't define one's worth! We use behavioral science to meet customers where they are and offer a compassionate suite of (1) capital that empowers; (2) content that informs, and (3) coaching that comforts users on their financial wellness journey. BrightUP is really a freedom project. Imagine if birds and individuals knew their worth and were armed with wealth-building and well-being resource wings. Higher and longer flights in the direction of desires would be more universally attainable, which is currently the case!
Q: How does your community inspire you?
Amaka: On the BrightUp user community, "I'm always inspired by their bravery, candidness and openness about finances. It's not easy to discuss financial difficulties with us, but they do so with candor so we can help them. I am also inspired by how low-income individuals manage to make ends meet in a world that takes advantage. And seeing how they benefit from this product BrightUp offers is also really inspiring."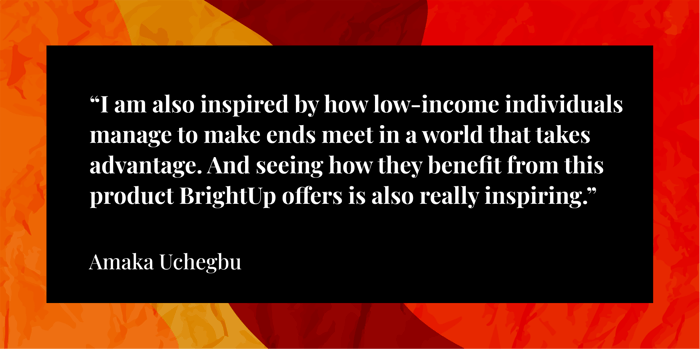 Q: What advice would you give to aspiring black entrepreneurs or business leaders?
Verona: To find something that you are passionate about and meets a need. If you've got those two things going for you then you can make the rest of it work, despite the hardships. If you are passionate you will figure it out through the rollercoaster. Start with love. Love what you're doing because it's a struggle and a grind.
Amaka: Forget people that will discredit you. Remove the assumption that everyone is against you, it isn't helpful. Sometimes people are against you, but it's your mindset that matters. You don't want it to take up so much cognitive energy code switching.
Obi: Be yourself and then just do it. You can always make an excuse for why something is not possible or why it's not the right time. You may very well be right that there are barriers. But you still have to go after what you want. My biggest thing is go out and do it and stop thinking so much about it.That's the only way to learn. While you're doing it, do not placate anyone. Be authentic to yourself and your business. Your customers will gravitate to you for that. Once you start off being yourself, it makes it easier to be yourself down the road.
Thoughtful Ways to Honor and Celebrate Juneteenth
Visit a local or virtual African American Exhibit
Read books that discuss Black American history
Learn more about Juneteenth
Volunteer or donate to charity
Center for Black Equity (Donate)

"Promote(s) a multinational LGBTQ+ network dedicated to improving health and wellness opportunities, economic empowerment, and equal rights while promoting individual and collective work, responsibility, and self-determination."
Topics Discussed