Experts can confidently predict that inflation will continue into 2022, putting historically low interest rates at risk and driving some consumer concern around prices for big ticket items. At the same time, the National Retail Federation reports that consumer wealth grew an additional 18.1% year-over-year in the third quarter of 2021, indicating consumer resilience, even amidst COVID's ongoing impact. Positive signs for the job market are also assuring, especially as companies are expected to offer higher wages in order to urgently fill positions and tackle the supply and demand crisis across industries.
These economic conditions have accelerated financialization and digital transformation, duly noted in the record-breaking venture capital funding trends flooding the technology markets with more liquidity than ever before. Crunchbase reports that in 2021, global venture investment was up more than 10x what it was a decade earlier, totaling $643 billion, compared to $335 billion in 2020 - a 92% year-over-year increase. Compared to the 4% year-over-year growth seen at the end of 2020, investors and startups are officially playing in a new league.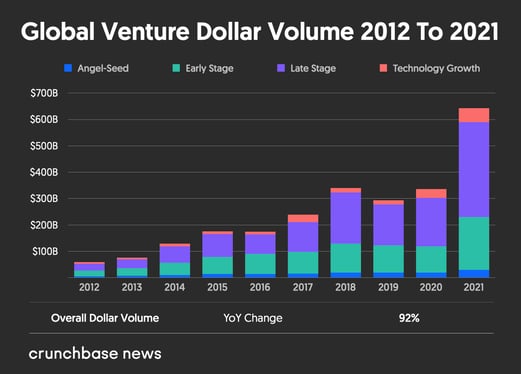 Source: Crunchbase News
In 2020, there were 167 new global unicorns minted. At the end of 2021, there were 586 new global unicorns. The North American venture capital scene remains red hot as well, with 489 unicorns in the United States, and seed through late-stage companies closing $329.5 billion. In the fourth quarter alone, $88.9 billion was invested across stages, making it the highest spend quarter of the year and the highest in Crunchbase's data-set, ever.
Paralleling global and national trends, Chicago had its best-ever year in tech. Chicago startups secured over $7 billion in 2021 — nearly double the amount raised in 2020. Rich with culture and a highly skilled diverse workforce, Chicago is proving to be one of the best cities to look for a tech job. World Business Chicago reports that Chicago is now the birthplace of 20 of the USA's 154 tech unicorns including ShipBob, G2, Project44, and Cameo. These companies have been successful in finding great talent and scaling their business from Chicago startup to unicorn, now with talent distributed in multiple markets.
The Great Resignation Has Changed How Companies and Candidates Approach Hiring
Covid changed the tech workplace forever. The flight from Tier 1 cities like San Francisco and New York has scattered and spread out the talent pool and ushered in a new world of remote work and Zoom meetings. The pandemic has also afforded people an existential moment to contemplate their jobs, lifestyle, and where (and how) they lived. The Great Resignation continues to be one of the biggest themes moving into 2022, as upwards of 38 million people quit their jobs last year. This shift in talent is sending shock waves through the tech and startup sectors, as cash-rich companies compete for a shrinking pool of talent with changing priorities on their minds.
Why Modern Recruiting Technology is the Secret Weapon to Scaling Startups
With all this cash comes consequences, and the challenge for startup founders will be increasingly difficult with more competitors vying for the same resources in 2022. Determining where to deploy capital to provide the best returns will separate successful startups from the pack, shifting investor focus to which companies will succeed and why.
Once a round of financing is closed, the first thing any company does (and usually well beforehand) is build a hiring plan that often has its headcount doubling, tripling, or more. This is a huge feat and is often a startup's biggest roadblock to growth. Building the right team is extremely hard. Solving the talent problem not only impacts milestones such as product delivery and customer acquisition, but is also extremely difficult to do well. Along with the many pitfalls to hiring - adding the wrong culture fit, or hiring the wrong skill-set for the wrong role, the talent marketplace has grown unconventional, opaque, and barren. More money, more hiring, and less talent have created a talent crisis challenging startups' ability to scale past the first milestone of building a team.
Today, building inclusive and diverse teams is also a driving factor in helping to improve startup performance. McKinsey & Company's research found that companies' likelihood of positive financial performance is higher by 36% with ethnically diverse teams and 25% higher with gender-diverse organizations.
While geography has historically posed a challenge for startups seeking to build diverse teams, modern recruiting technology solutions are helping fast-growing companies unlock the ability to find and hire diverse talent in every market in the US. Using the power of existing networks and referrals, startups have seen improved candidate placement rates increase up to 190%. By leveraging these talent matching solutions, companies are able to also surface unexpected, passive candidates - positioning their teams with a competitive advantage to win the best talent.
Candidates Are in the Driver's Seat
As a result of these colliding factors, candidates have more control over the hiring process than ever before. According to Hunt Club data, the average candidate is now negotiating their initial offer up more than 28% due to competing offers and market factors, up from 9% in 2019. Hiring the wrong talent not only burns valuable time, but it comes with an increasing price tag.
Never in history have we seen so many funded startups. Never have so many companies had cash to deploy. In this cash-rich environment, the fight for talent hasn't been this fierce since the dot-com boom — with startups, mid-size and large companies all fighting for the same resources to scale.
Whether you are looking to scale your startup or invest in one, Hunt Club's tech-enabled talent solution offers exclusive access to the world's top-tier talent.
Topics Discussed