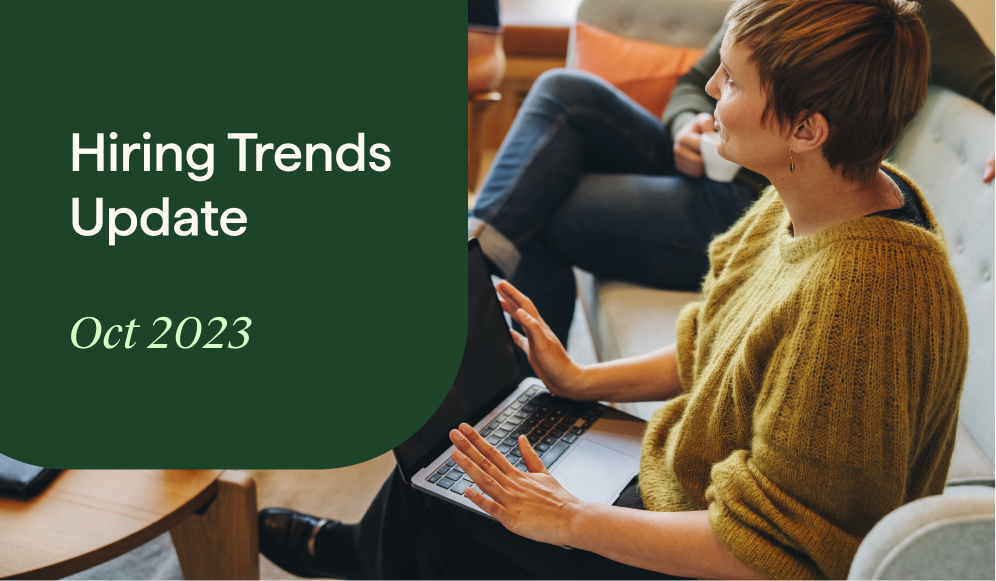 Our Q3 2023 Market Report explored the seismic shift in leadership mindset from one of a growth-at-all-costs to a more pragmatic, ROI-driven approach. Since then, we've been seeing the effects of this shift trickle down and take root in the job and hiring markets. From employer expectations to advances in generative AI, companies are now prioritizing long-term sustainability and profitability, and we've gathered some of the most prominent trend updates to reflect the current landscape.
And as hiring managers and founders navigate this mosaic landscape, the ability to adapt to these trends will be crucial for organizations aiming to thrive in the years to come.
In Q3...
Q3 number of active jobs was relatively stagnant compared to Q2 2023 but down 6% YoY.
58% of industries saw an increase in labor demand in Q3 with Transportation and Warehousing seeing the most growth at 39% QoQ.


September 2023 Monthly Trends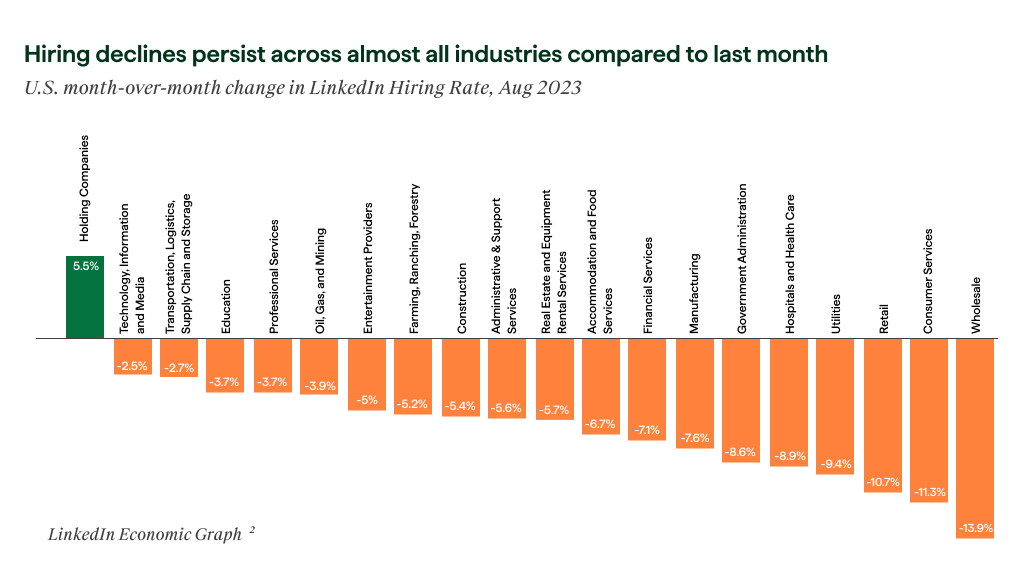 Job seeker intensity in the US is 18% higher than this time last year (as measured by applications submitted by applicant).



US workers are losing confidence in their current companies and positions compared to the beginning of the year with respect to holding their jobs, improving financial positions, and career progression.
Employer Trends
Our partners are largely focused on planning headcount for 2024 now, with many proactively opening searches to support growth ahead of the hiring rush that typically comes in Q1.
We have seen an increased investment in culture, aimed at building employee engagement and building back feelings of stability following 12+ months of macro instability.
Hiring managers are investing in employee career growth, with a trend toward internal promotions over outside hires.
Companies are focused on improving employee productivity and efficiency with an eye towards how AI fits into the company.


47% of US executives believe that "using generative AI will increase productivity," 44% plan to increase their use of AI at their organization in the next year, and 40% think that using generative AI will help unlock more growth/revenue opportunities in the next year.
According to research from LinkedIn's Economic Graph Research Institute, 84% of US members are in jobs that could leverage GAI to automate at least a quarter of repetitive tasks and increase productivity. While GAI will reduce the time professionals spend on some skills, such as writing or data analysis, its influence isn't limited to reducing routine work. GAI will also drive up demand for other skills, especially people and specialized skills.


Overall, employers and workers view GAI not as a competition for headcount, but as an opportunity to lighten workloads and focus professionals on the most important parts of their job.
Companies are offering less flexibility with remote and hybrid job postings stagnating and decreasing.
"Soft/People Skills" are more critical than ever. Since November 2022, the fastest-growing skills in demand by employers are flexibility (+158%), professional ethics (+120%), social perceptiveness (+118%), and self-management/autonomy (+83%).
There's movement toward hiring for breadth over depth (indexing towards startup over big company expertise) with a reduction in pure management layers and increasing senior ICs. Leadership hires are required to be functional experts who can get into the weeds.


Candidate Trends
Loss in confidence of their current employers is resulting in more passive talent looking for new opportunities —seeking more personal fulfillment and opportunities for growth at new employers.
Given the macro-environment the past two years, there is a continued heightened sensitivity in joining an early-stage company (anything pre series B) with a slight lean towards corporate opportunities rather than anything venture or PE-backed with all other things being equal.
Employees value strong culture and leadership — even more than compensation for some.
Middle management candidates are moving toward taking on individual contributor roles, with less of an interest in having direct reports or being a player-coach.
Candidates want more flexible work offerings with higher application rates for remote and hybrid opportunities.
Pandemic migration trends are reversing with migration to big cities speeding up, while migration to secondary cities slows down.
Employees are struggling with information and meeting overload impacting innovation and productivity. A Microsoft survey found that 57% of respondents' time is spent communicating in meeting/email/chat while only 43% is spent creating.


Stay Ahead of the Curve
As the job market continues to evolve, Hunt Club stands at the forefront, connecting forward-thinking companies with the adaptable, multi-skilled talent pool needed to thrive in this dynamic hiring ecosystem.
Connect with us if you're looking to make your next hire, learn more about hiring trends, or stay ahead of the curve of what's next in the market.
Topics Discussed