Austin, TX, 2022
During a recent event spotlighting founders and funders in Austin, TX, Hunt Club and LiveOak Venture Partners hosted a discussion where two Human Resource experts highlighted three insights every people leader should keep in mind when hiring and onboarding new talent. As people leaders, Jignasha Amin Grooms, Executive Vice President & Chief Human Resource Officer from Disco and Chelsea Woodhead, Chief People Officer from Homeward lead the strategic vision for talent acquisition, retention, and growth at their organizations.
1. Compensation is the foundation of the employment relationship.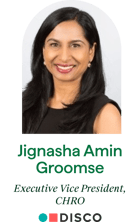 Compensation is one of the toughest conversations within a majority of U.S. workplace cultures - and a lack of education around how employees and their managers can have productive discussions about salaries is missing from the conversation.
Jignasha: "Compensation is the foundation of the employment relationship because at its most basic form, as an employer, you're reaching out with set expectations by saying, 'I'm gonna hire you for this job.' In turn, that employee accepts those expectations by saying, 'I'll do that job, and here's how much you're gonna pay me for it.' or 'Here's how much money I'll accept for it.'"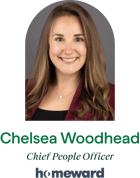 Chelsea: "When we talk about recruiting and pipeline, you have to be honest with yourself and be unbearably clear about it: 'Here's what I'm willing to pay, and here's what I expect.' If we're not doing that in the recruiting process, regardless of how tight that recruitment funnel might be, you get off on the wrong foot and it's really hard to rebound from that starting point."
2. People leaders support the growth of your organization by incentivizing and cultivating an invested, engaged workforce.
Chelsea: "I see the Chief People Officer as an incredibly strategic partner in how you think about growth. Your human capital is your most important asset. When scaling to 100+ people, if you don't have someone sitting at the table who's maniacally focused on how you grow and build the living organism that's supporting your business strategy and your business growth, I think you're bringing them into the conversation a little bit too late."
Jignasha: "At Disco, I view our employees as my clients. I have 692 clients and my only job is to be the service of their success, to provide a fulfilling, productive work environment where I can grow and accelerate their careers. That does not necessarily mean telling people what they want to hear, but telling them the truth in the service of their successes so we can move the business forward."
3. Give your employees enough opportunities to eventually outgrow their position.
Jignasha: "We need to accept that an employment contract is finite. As a business leader, you need to accept that someone is going to join your team and that's not forever. You need to ask yourself, 'How long does this contract need to be? How long does this person need to ramp up and add value and then think about movement, either internally or externally?' Remember, no one holds one seat forever. The best outcome is that your people are moving up and on in their careers because you gave them incredible development opportunities. "

"Companies outgrow people. And sometimes people don't want to grow to the size of the company you're moving toward. There are some people in your ecosystem who love being a 20 to 30, maybe even a 10-person company, they don't want to be a 2000-person company. There's a beautiful thing that happens when you understand your people and can tie performance management to individual development plans."
"If you make the employee part of the growth process, they can help you build a succession plan while they're building their development plan with you. That actually creates a beautiful virtuous cycle that drives both retention and engagement. Because the only thing constant is change, that is the only thing that I can promise you that will happen. It's part of our job as leaders, as heads of the people team, to set these expectations with our people."

Jignasha Amin Groomse, Executive Vice President CHRO of Disco
Partner with Hunt Club and connect with influential leaders who will help transform your industry.
Topics Discussed