Tossing a few droplets of water onto my Made In stainless steel frying pan, they burst into steam almost instantaneously, signaling that the pan is ready. I place the salmon skin-side down, as the olive oil brushed flesh wafts a delicate peppery wave of smoke into the air. A saucepan on a smaller burner is simmering spring herb sauce. Against the glow of the late winter sun, blood oranges are delicately sliced for the salad - their sweet aromatics mingling with the searing fish.

Offering affordable, chef-tried and trusted cook and tableware, Made In is transforming how we approach cookware
After a long week of work and errands, there's something about being at home in your own kitchen that stokes the creative flames. Intimate weekend dinner parties evoke a sense of fulfillment. As friends arrive to catch up and reminisce over a bottle of wine and a home-cooked meal, it's easy to let go of the to-do list and enjoy each other's company. As the kitchen fills with the acoustics of a stainless steel chef knife chopping fennel to top the salad, wine pouring into Italian crafted glasses, and easy conversations about a favorite movie stirring about, it becomes a space everyone wants to gather in.
Returning to the stove, the salmon is perfectly seared on both sides. Dinner is served.

The quality of cookware a restaurant provides a chef de cuisine was unmatched compared to what was found in most kitchen cabinets. Thanks to the cutting edge cook and homeware company Made In, everyday cooks can experience the ethos of chef quality products within the four walls of their home, filling a gap in the market that once made restaurant-worthy meals prepared in our own kitchens, unattainable.
Keeping with the founders' 100-year familial tradition of transforming and serving the hospitality industry, Made In sources all of their materials and products from family-owned businesses in the United States and Western Europe. Crafting pieces meant to be passed down through generations, Made In partners with world-class artisans bringing the highest quality kitchen and table-top ware into homes, restaurants, and distinguished hotel kitchens.
Since launching in 2017, Made In has expanded sales to over 70 countries, scaled beyond home kitchens, breaking into the hospitality industry, and most significantly, has achieved astronomic growth of more than 700% in 2020 alone. Backed by the likes of the most prestigious chefs in the world, including The Alinea Group's Grant Achatz and Top Chef Tom Colicchio, Made In has also gained trust and attention from a list of leading consumer-sector Venture Capital firms, such as Chicago based Starting Line and Austin based Brand Foundry Ventures.

Made In has clearly proven itself a force to be reckoned with in the cookware industry.
Creating strong brand affinity with everyday items in your home: Cookware
From foodie home chefs who are looking to experiment in the kitchen, to moms and dads working to get food on the table for their families, there has long been a disconnect between the amount of time we spend in the kitchen versus the amount of attention we give to our cook and tableware. Made In co-founders and close childhood friends Chip Malt, CEO and Jake Kalick, President built their brand to change and transform this narrative. Malt likes to ask people, 'how many times a week do you cook at home?' Most often, responses include 'a few times a week up to multiple times a day' - yet when asked what type of pans they use, there's a pause. People can't seem to recall anything specific about the brands in their kitchens. Made In's mission is to change this perspective, giving people a reason to be proud of the cookware they've invested in and use every day to feed themselves, their family, and friends.
Starting in the stainless steel arena before branching out to non-stick, bakeware, knives and tabletop, Made In provides a full range of premium-grade cookware at affordable prices to home cooks, as well as top chefs, and leading hospitality companies.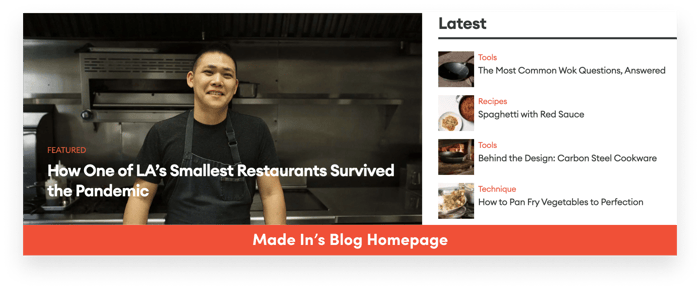 To help bridge this gap, the Made In team is approaching the industry from a new angle. They educate people on the product up-funnel. Meaning the relationship doesn't end once a Made In item is purchased, rather a direct relationship with the consumer is built upon, adding immense value to the initial transaction. Made In offers an extensive and growing online library of videos and blog content, helping buyers make educated decisions on how to purchase and use their products. Videos and tutorials led by world class chefs inform Made In customers' on the importance of different materials and purposes of each Made In pan, knife, and glass they bring into their kitchen. Not to mention the recipe recommendations curated by an amazing team of chefs, made to inspire creativity in the kitchen. Established as a hub for content and ingenuity, the Made In team is just getting started.
Upgrade your kitchen with Made In.
Cooking up the Right Talent for a Hyper Growth Business
Made In attributes much of their fast-paced hyper-growth to the strong talent on their teams, and they continuously work to place significant emphasis on building out a roster of growth-minded, dedicated experts who will uphold their values and culture. Recognizing that top talent is a company's most competitive edge, the founders went as far as putting their talent search at the forefront of their company. When deciding where to plant Made In's roots, Malt and Kalick considered a few major tech hub destinations rich in food culture and talent. Ultimately choosing to build their headquarters in Austin, Texas, they believed this would help them reach and attract the city's high talent density.

In 2021, Made In approached a pivotal point in their growth, needing A-list leadership to help drive and scale their continued trajectory to redefine the cookware industry. To do so efficiently they partnered with Hunt Club, a talent company revolutionizing hiring for fast-growing digital business. By leveraging the power of relationships, Hunt Club's technology transforms thousands of industry experts into the world's most powerful talent network.
In partnership with Hunt Club, Made In had access to a professional network of over 6 million candidates and 13,000 business leaders, made up of entrepreneurs, executives, innovators, investors, and team leaders. Through the entire talent process, the two companies worked closely to align on strategy, sourcing, interviewing - all the way through extending offers to top candidates, including candidates for a Director of Growth Marketing and VP of Product & Sourcing. Both very niche roles, the search required a targeted, qualified talent pool.
VP of Growth: A creative strategic placement focused on building and scaling Made In's success
When it came to hiring a VP of Growth, Malt and Kalick had a list of attributes in mind. They needed someone who was genuinely passionate and capable of scaling a startup, had extensive knowledge of lead generation, and could offer expertise in creative marketing. This role would be taking over several key responsibilities and teams that Malt had previously owned, because as a founder, wearing all of these hats proved to be untenable. It was very important to him that the new director, assuming work from his own plate, would be as invested in their success as he is as a founder.
When Hiring a VP of Growth, they partnered with Hunt Club to find someone who could
Optimize data metrics in creative strategies and planning

Drive customer experience from awareness to retention, encouraging life-long customer relationships

Demonstrate passion for implementing solutions that align with the market, company goals, and strength of customer engagement

Exude and build upon the founding team's grit and focus

Be a pragmatic leader dedicated to the intersectionality of the customer journey, market data and company campaigns
"This role would be inheriting teams and projects I had built over the past five years, making it a very emotional process. I knew I wanted to find someone who would approach initiatives with as much care and enthusiasm as I would, while taking my vision to the next level," said Chip Malt, Made In Co-Founder and CEO.

VP of Product and Sourcing: A seasoned subject-matter expert
In contrast, when Malt and Kalick identified the need for a leader to drive their product and sourcing, they were faced with a common challenge that many founders experience: hiring for a role in which they held little expertise themselves to effectively source and evaluate the talent pool. Leaning into their partnership with Hunt Club to help define the role and kick off the candidate search, Made In was able to identify the traits they needed in a VP of Product and Sourcing.
The characteristics Made In Looked for when Hiring a VP of Product and Sourcing, included:
Experience in finding niche manufacturers and sourcing quality goods

Ability to build and maintain connections with manufacturers to ensure long-term, quality partnerships

A strong collaborative mindset that would help facilitate the relationships between sales, marketing, and product worked together to align on product development and market fit

Understood the value of well-developed product and sourcing launch plans



Hiring A-List Talent Through Trusted Referrals
Amidst the most competitive talent market in history, hyper-growth companies like Made In are competing to fill niche roles with the most qualified candidates.
"As first-time founders, who you're hiring is really critical. We knew the types of candidates we wanted to join the team - passionate, experienced people who were excited to roll up their sleeves and really drive our company's growth," said Jake Kalick, Made In co-founder and president. "From the very beginning, Hunt Club's team had a very clear understanding of how to approach the search for each of our roles, guiding us through an efficient process to connect with the strongest pool of top industry leaders. "

In 2022, Hunt Club has partnered with Made In to successfully hire four roles, including a Director of Growth Marketing, VP of Product and Sourcing, Business Development Manager, and Lead Designer, all of which will be instrumental in helping Made In continue their mission to be both a household name, and a go-to hospitality brand partner. With these leaders in place, the founders can trust that key initiatives are being addressed, while focusing their attention on new areas for growth.
Made In is on a Mission to Become a Household Name in Kitchens and a Leader in the Hospitality Industry
Made In empowers home chefs to change the way they approach breakfast, lunch, and dinner, making transformative waves in the cookware industry.
Further demonstrating their success, Made In has been voted one of the Best Workplaces of 2021 by Inc., and has been recognized for crafting one of the Top Cookware Sets of 2022.
Looking to build an A-list team to drive your business forward? Connect with Hunt Club.
Topics Discussed