Hunt Club is proud to be ranked on the 2022 Inc. Regionals Midwest list of the fastest-growing private companies. We are thrilled to have earned this spot as a result of our 87% revenue growth over the 2018-2020 recorded period, and since then from 2019-2021, Hunt Club has experienced exponential growth of 208%! Every year, Inc. Magazine publishes its prestigious Inc. 5000 List, celebrating innovation, achievement, and revenue growth - and we are delighted to be ranked both in 2021 and now in 2022.
Hunt Club is among a list of incredible companies across Iowa, Illinois, Indiana, Kansas, Michigan, Minnesota, Missouri, North Dakota, Nebraska, Ohio, South Dakota, and Wisconsin.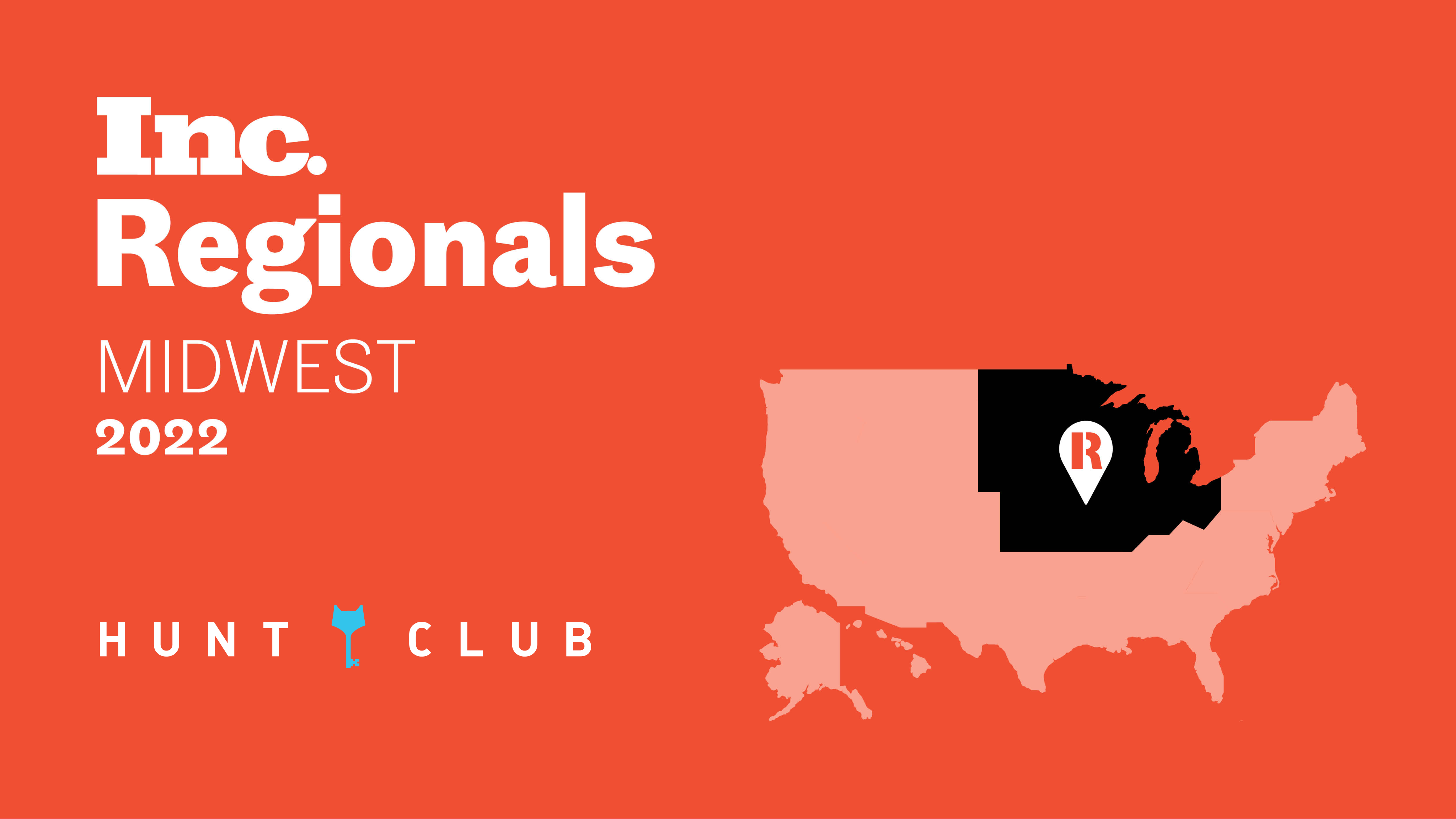 We want to take a moment to reflect and thank all of our partners whose collaboration, trust, and dedication have allowed us to grow in remarkable ways. Our team is proud to work with some of the most innovative companies in the world to help A-list teams find A-list candidates.
With big plans ahead for continued growth, we are also beyond grateful for our talented, world-class team who's extraordinary commitment to Hunt Club is helping drive us forward every day. This growing group makes Hunt Club an inspiring and exciting place to be - and none of this would be possible without them.
The complete results of the Inc. 5000 Regionals Midwest, including company profiles and an interactive database that can be sorted by industry, metro area, and other criteria, can be found at inc.com/midwest.
Inc. and the Inc. 5000 Regionals Methodology
The 2022 Inc. 5000 Regional are ranked according to percentage revenue growth when comparing 2018 and 2020. To qualify, companies must have been founded and generating revenue by March 31, 2018. They had to be U.S.-based, privately held, for-profit, and independent—not subsidiaries or divisions of other companies—as of December 31, 2019. (Since then, a number of companies on the list have gone public or been acquired.) The minimum revenue required for 2018 is $100,000; the minimum for 2020 is $1 million. As always, Inc. reserves the right to decline applicants for subjective reasons.
About Inc. Media
The world's most trusted business-media brand, Inc. offers entrepreneurs
the knowledge, tools, connections, and community to build great companies. Its award-winning multiplatform content reaches more than 50 million people each month across a variety of channels including websites, newsletters, social media, podcasts, and print. Its prestigious Inc. 5000 list, produced every year since 1982, analyzes company data to recognize the fastest-growing privately held businesses in the United States. The global recognition that comes with inclusion in the 5000 gives the founders of the best businesses an opportunity to engage with an exclusive community of their peers and the credibility that helps them drive sales and recruit talent.
About Hunt Club
Hunt Club is a talent company revolutionizing hiring for fast-growing digital companies. By leveraging the power of relationships, Hunt Club's technology transforms thousands of subject matter experts into the world's most powerful talent network. Hunt Club has built a growing professional network of over 6 million candidates and 13,000 business leaders, made up of entrepreneurs, executives, innovators, investors, and team leaders, who help introduce and connect top talent, delivering the most efficient and effective hiring experience for employers and candidates.
The associated Inc. 5000 Conference is part of a highly acclaimed portfolio of bespoke events produced by Inc. For more information, visit www.inc.com.
Topics Discussed