The love of sports has been woven into the fabric of American culture for over a century now. Since the onset of the Golden Age of American Sports in the 1920s, people have adopted teams almost as an extension of their personality, purchasing season tickets, wearing their favorite player's jerseys, hosting tailgates to kickoff games, and painting their faces or entire torsos. On the other end of the spectrum, casual sports fans are joining their friends for the annual Super Bowl party, or watching the NBA finals at a bar, and entering March Madness tournaments with colleagues.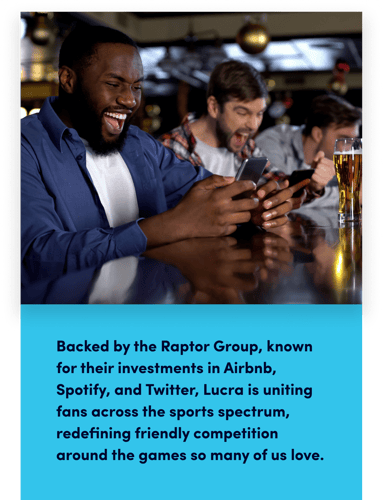 To bridge the gap between lifelong sports fans and casual fans who may be averse to wagering on a game, Dylan Robbins, Founder and CEO, launched Lucra in 2019, as a "new social and approachable way to compete with friends." As an avid New York Knicks fan, Robbins enjoys challenging his friends to contests throughout the NBA season. His longtime friend and colleague, Michael Madding, Chief Strategy Officer at Lucra, doesn't quite match Robbin's affinity for sports betting, despite being a collegiate athlete. However, both share a love for friendly competition and creating shared experiences by getting in the game.
Backed by the Raptor Group, known for their investments in Airbnb, Spotify, and Twitter, Lucra is uniting fans across the sports spectrum, redefining friendly competition around the games so many of us love.
With sports viewership expected to reach 90.7 million views by 2025, reports Statista, live streamed games and events are a central pillar in many Americans' lives. For instance, NBC Sunday Night Football is the most watched broadcast show in 2022 with just under 18 million viewers. In alignment with America's love of sports, many individuals show their devotion to a single game or team through wagers. During the 55th Super Bowl alone, fans bet an estimated $4.3 billion. Needless to say, invoking friendly competition over whose team will win, or which player will have the most successful tackles, has become a major part of the sports and gaming communities.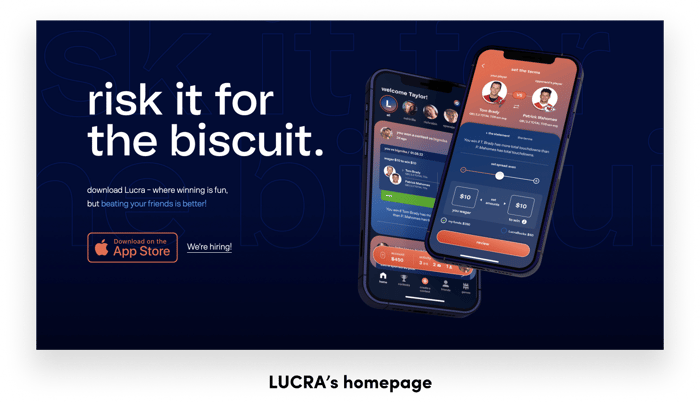 Dylan Robbins, CEO and Founder, and Michael Madding, CSO, are forming a business based on friendship. As a people first company, the social platform emboldens fans to create their own competitions during individual games, playoffs, and seasons, with plans to expand into games like Chess and Settlers of Catan. Rather than competing against the typical 'House,' users challenge their friends to a contest. Customizing each contest on their own terms, users create their own networks who can track their progress. Throughout each season, the app generates leaderboards and live stats - a convenient tool for the friends who like to talk smack about their top players.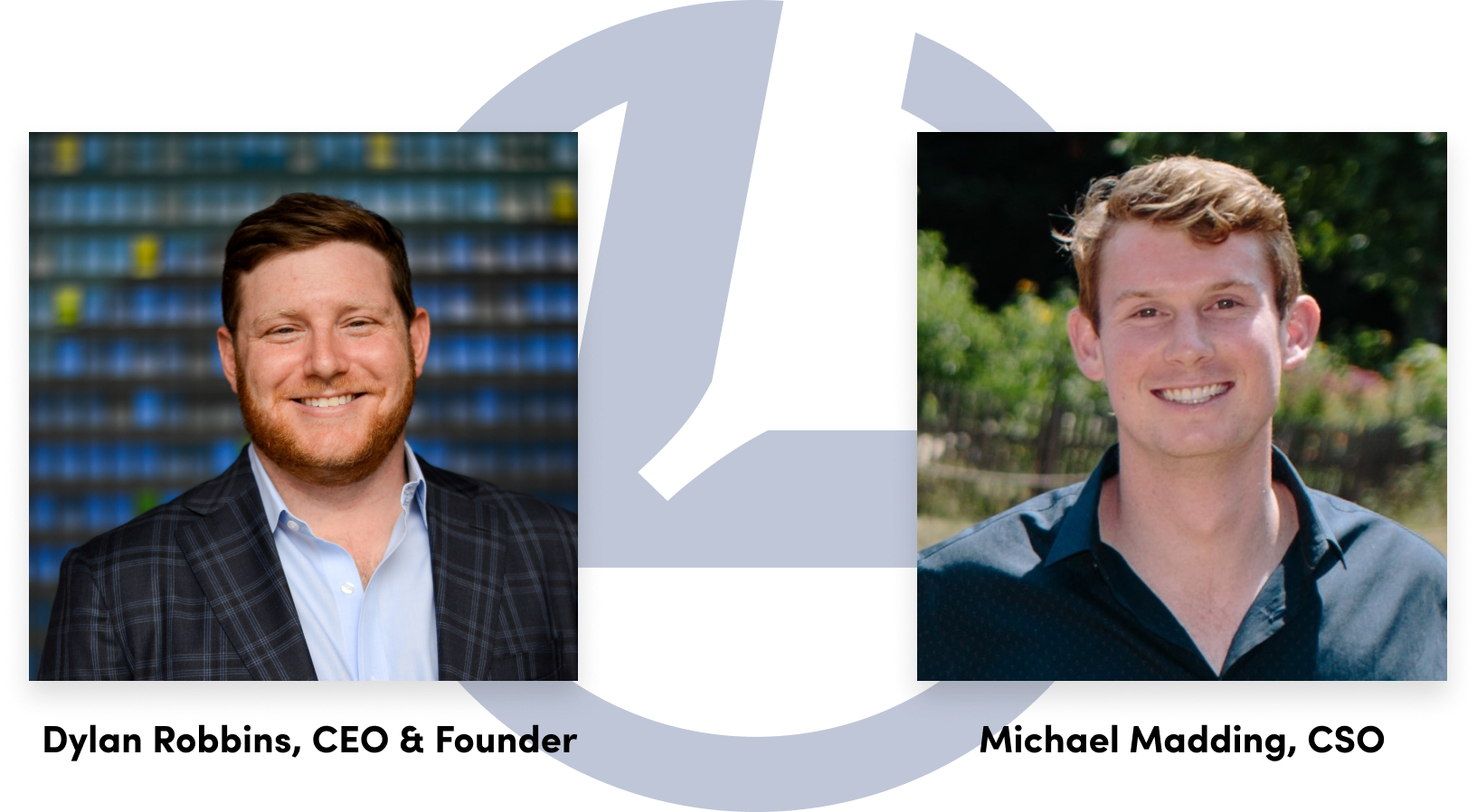 Hiring leade

rs early to establish process and innovation
As their company scaled, Robbins and Madding knew they needed more talented leaders to help drive product and business development. They no longer had the bandwidth to lead each function within the growing startup on top of their daily executive level tasks. In 2021, they began the search for Lucra's Business Development Lead, Senior Performance Marketing Manager, and later on, a Chief of Staff.
Having sourced and screened many of the early employees themselves, Robbins and Madding had a clear idea of the type of candidates they were looking for. While a typical search for leading roles can take months, the founder and startup leader understand the importance of hiring the right talent early on. To help expedite the hiring process and maintain a high caliber of candidates, Lucra partnered with Hunt Club to source and hire a Business Development Lead, a Senior Performance Marketing Manager, and a Chief of Staff.
Stepping outside of their network: connecting with the unexpected
Prior to filling the three roles, Robbins and Madding identified the key traits they wanted in Lucra's future Business Development Lead, Senior Performance Marketing Manager, and Chief of Staff. While each role requires specific expertise, the overall characteristics of each were similar. They were searching for authentic people who knew how to have fun. One of Madding's favorite questions to ask in an interview was "when was the last time you laughed?" Looking for genuine answers, the startup leaders wanted to eliminate the need for a dual 'work' and 'out of office' personality amongst their team.
Seeing as startups move fast, Robbins and Madding looked for creative leaders who could execute tasks with little oversight once a plan was set in motion. "A question we ask often is, if not me, then who? We are looking to develop a team that is proactive and leans into projects, passionate people." Also looking for individuals who might not exude the same gusto for sports that their typical users might have, they wanted to hire a diverse group of people to help build out product to support users who are interested in wagering on non-traditional sports such as ping pong, chess and beer pong.
Having worked together throughout the past decade as bankers at Goldman Sachs and classmates at Stanford Business School, Robbins and Madding garnered a robust network of industry leaders. When it came to building out the Lucra team, the two took the time to talk about company culture and the characteristics they value most in their team. Wanting to cultivate a diverse and imaginative atmosphere, the CEO and CSO decided to step outside of their network and into Hunt Club's network of 7 million+ passive and active candidates in order to meet people they otherwise would not have connected with.
A continued partnership with Hunt Club: leveraging key traits to narrow the search funnel
Lucra's leaders were excited to partner with Hunt Club to leverage their Expert Network of 15,000+ experts. "What we appreciated most about what Hunt Club did was how quickly your team narrowed the funnel to high quality candidates. By the time we were talking to the 5 to 10 candidates that Hunt Club had sourced, we would have been happy to hire 2 or 3 of them. From there we just had to pick the best of the three." - Michael Madding, CSO.
As a startup in its hyper-growth phase, Lucra needed to build out the functions that Robbins and Madding no longer had the bandwidth for as a seed stage company: business development and marketing. "As you grow, you need to specialize, and that's where the need for the Business Development Lead and Senior Performance Marketing Manager roles came from," said Dylan Robbins, CEO.
With Hunt Club, they gained access to a large pool of high-quality candidates in half of the time of an average search. Through understanding Lucra's needs and key characteristics they were looking for in each position, Hunt Club's Talent Experts were able to search for their ideal candidate profiles within the Expert community.
Key characteristics Lucra's leaders were looking for:
When sourcing their Business Development Lead (BDG), Robbins and Madding wanted to find someone who:
Is proactive.

They needed to exude the "if not me, then who" mindset.

Establishes and initiates creative go-to-market strategies.

Their ideal BDG identifies potential markets and takes action in forming a connection with potential clients.
When sourcing their Senior Performance Marketing Manager, Robbins and Madding wanted to find someone who:
Is creative and collaborative.

Since they were being hired to take over some of the responsibilities from the founders, they needed to be able to formulate plans and execute them with little to no oversight.

Strategizes comprehensive campaigns.

Focusing on in-bound and out-bound leads, their Senior Manager needed to have a holistic understanding of the market with an added touch of creativity to illuminate Lucra's lively qualities.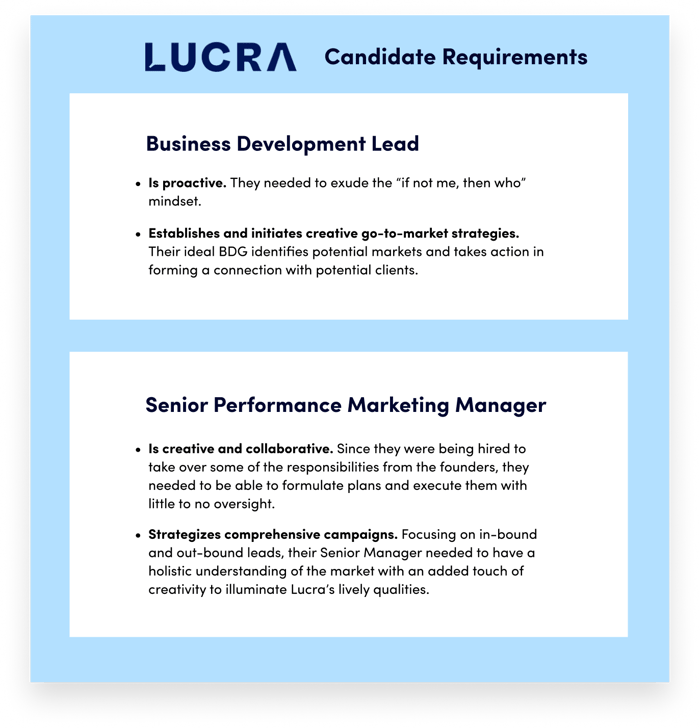 Narrowing down to the top 5 candidates in both the business development and marketing search funnels, Hunt Club connected Robbins and Madding with the best people for the two leadership roles.
Knowing Robbins and Madding also wanted to hire a Chief of Staff to navigate communication and projects between teams, Lucra continued their partnership with Hunt Club once the two leadership roles were placed and had closed their series A funding.
"The Chief of Staff was the role we wanted to wait for after our Series A funding. After specializing in each function - we had built out our Business Development and Marketing teams - we needed someone to be the glue across those functions. Having the resources to work with Hunt Club again, we worked together to find our Chief of Staff." - Dylan Robbins, CEO
Lucra is redefining friendly competition
Creating novel experiences around our favorite pastimes, Lucra's platform is paving the way for a new form of friendly competition. With customizable contests surrounding sports like football and basketball and recreational games including chess, Madden, and Settlers of Catan, there's something for everyone. Become the next GOAT amongst your friends and kickoff your first friendly Lucra competition today.
Building out an A-list team? Hunt Club's Talent Experts power your search using our AI technology and white glove service to find your next leaders.
Topics Discussed