One out of every two banks is looking to partner with fintech companies as the financial technology market is on its way to exceed $900 billion by 2030. Not only are banks leaning into the innovation that is coming out of the fintech industry, hyper-growth companies are optimizing their financial departments through fintech integrations.
Treasure Financial is helping startups drive revenue through smart and deft investments.
Launched in 2018 by serial entrepreneur, Sam Strasser (CEO), and capital market expert and fintech executive, Benjamin Verschuere (Chief Investment Officer), the cash management platform uses AI and machine learning capabilities to turn idle funds into revenue that enables businesses to 100x their earnings.
A New Approach To Banking for Startups
When startups acquire more funding than they can initially deploy, they are often met with a dilemma - they must decide whether to house the excess funds in a bank where it will sit and accrue minimal returns, or they need to start spending it.
While most startups choose to host their funds in a traditional bank account - Treasure Financial offers them a new approach to banking, transforming business cash into revenue.
Unlike a bank, the investing platform has fiduciary responsibility. Every decision Treasure makes in terms of investing a company's funds is made in their best interest helping clients earn 100x the revenue they would make on returns at a traditional bank.
Treasure Financial's tool offers startups a streamlined way to manage their cash with three easy steps:
Deposit Cash: Companies can deposit excess cash directly into their Treasure account. If clients need assistance in locating idle cash within their company, the investing platform's technology can pinpoint funds to be moved.
Generate Revenue: Clients can select between two available funds for depositing their excess funds, Treasure Cash and Treasure High Yield. Through strategic investments, the platform helps clients earn between 15x and 100x on returns, eliminating all hidden fees present in the traditional banking process.
Liquidate Funds: When companies are ready to deploy funds, there's no waiting game. A client's money is available in two business days.
"Treasure Financial is creating a better way for startups to save and invest their funds. We do the heavy lifting, creating and maintaining an amazing end-product consisting of returns and reports that provide our clients' executive teams with the information and resources they need to build financial plans, present to their boards, and scale their businesses, " said Eli Menaker. "Our mission is to help high-growth companies and startups thrive."
Talent Is a Company's Best Investment
Having received invaluable mentorship and funding from industry titans from the likes of PayPal Co-Founder, Peter Thiel, Jump Capital, Katalyst Venture, and others, Sam and Ben focused on building out the company's operations and engineering teams early on, in an effort to establish a strong base for the company to grow.
With a solid technology and ethos in place, they knew it was time to expand, identifying the need to build out a best-in-class marketing function with a Director of Marketing who could:
Elevate the brand that the founders and other teams had built
Provide new insight into Treasure's GTM strategies
Evolve and syndicate their branding, design, and messaging across multiple platforms and channels
Develop a demand generation engine to help the company drive leads
Support their sales and senior leadership teams through effective campaign creation, sales assets and enablement resources
How Hunt Club Helped Treasure Financial Source and Hire a Director of Marketing Role
In order to source the industry's top marketing leaders, Treasure Financial partnered with Hunt Club, a full-service talent firm powered by technology and community.
Hunt Club's team worked with Treasure Financial to source, screen, and build a pipeline of pre-vetted candidates from a community of 20,000+ business leaders, called the Expert Network.
Connecting influential people with coveted roles through referrals and white-glove service, their process brings together candidates and well-known companies that other hiring tools may have overlooked.

"Finding the right leader to help your company grow takes time - and it's all about having and making the right connections. We've outgrown cold emails as an effective method for engaging the best talent."

David Fleming, Associate Director of Talent Strategy
"Finding the right leader to help your company grow takes time - and it's all about having and making the right connections. We've outgrown cold emails as an effective method for engaging the best talent," explained David Fleming, Associate Director of Talent Strategy at Hunt Club.
As a result of an effective 60-day search process, Treasure Financial welcomed Eli Menanker as their new Director of Marketing in August 2022. Eli's passion for building teams and brands from the ground up, as well as his extensive experience driving go-to-market strategies, made him a perfect fit for the role.
"Eli holds over 10 years in the B2B SaaS and Fintech spaces with experience both scaling and expanding marketing programs across a variety of stages. In a short period of time, Eli's creativity and willingness to methodically lay a foundation for growth have notably impacted the business."

Leigh Stewart, Strategic Operations and People Lead
On the other side of the table, Eli also felt supported and prepared throughout the recruitment and interview process. "Taking on a new role has its risks. I was able to lean on and trust Hunt Club's team of Talent Advisors who made sure I clearly understood each step and what the role required," said Eli Menanker, Director of Marketing at Treasure Financial.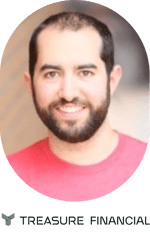 "Especially in today's competitive jobs market, it's important for candidates to set salary and job title expectations early. Hunt Club helped me navigate these conversations and working with them made the decision to join Treasure Financial easy."

Eli Menanker, Director of Marketing
With experienced talent advisors who can help candidates and companies navigate salary and compensation negotiations, Hunt Club places top leaders in half the time as traditional recruitment firms.
Generate higher returns on your company's idle funds with Treasure Financial.
Find Your Next Leader
We connect, you approve.
Partner with Hunt Club to fill your pipeline with top-tier talent.
Topics Discussed