Tim Kopp, Chairman at Terminus on Navigating a Changing Market and Tips for New CEOs
With 20+ years of experience in the industry as the CMO at ExactTarget, an Investor and Board Member at G2, and General Partner at Hyde Park Venture Partners, Tim Kopp, Chairman at Terminus has built numerous marketing teams and has mentored and nurtured top leaders.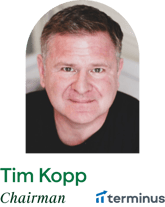 While tenure is not always the most important indicator of a leader's success, experience managing through multiple change cycles offers an advantage that can only be learned through the real thing. Tim recently sat down with Hunt Club's CEO, Nick Cromydas to share three thoughts on how to deploy marketing and what to focus on in a turbulent economy.
1. Hire agile leaders
When you're hiring in any market, it's critical to assess leadership principles and talents' ability to problem solve and communicate clearly and thoughtfully. "Lately though, the #1 thing I stress test is agility in learning. I ask questions on how someone may have succeeded without a clear playbook to gauge their curiosity."
In today's world of business with so much change, agility is everything. Playbooks can only take you so far. A leader must be able to apply critical thinking to the problem at hand to build their own playbook.
2. Go off the beaten path
Marketers have the opportunity now to test outlandish campaigns. Find the pockets or areas where your team can go on the offense - and launch a campaign that breaks through the noise. Some of the best CMOs have built their careers when they step outside of the traditional 'marketing strategies' box and lean into their creative side.
3. Listen to leading indicators
In a volatile economic environment, marketing budgets are often one of the first things to get pulled back. This can be a double-edged sword as you're potentially stalling growth. As a CMO turned CEO, Tim encourages leaders to keep the focus on key marketing endeavors to drive company success. In fact, a boomerang market is the perfect opportunity to hone in on marketing efforts.
"The world paints such a polarizing picture often of doom and gloom in moments like these, but things are never as bad and or as good as they seem. I love to find outlier opinions and talking to people who have a contrarian view. The one thing I'd love to see more organizations do is really understand their leading indicators. If you need to pull back for a period, what's your signal to start deploying investment again?"

- Tim Kopp, CEO and Chairman at Terminus
Guiding New CEOs Through a Change Cycle
Over the past few years, the record-breaking influx of cash in the private sector allowed thousands of entrepreneurs and startups to take flight. For many novel companies and their CEOs, this change cycle is coming as a shock. In his experience transitioning from a Chief Marketing Officer to a Chief Executive Officer, Tim Kopp shares advice for new CEOs to consider:
As a CEO, you need to know enough about every function to ask the right questions about the driving metrics of the business to steer the direction, and enough about the future of their industry to set the vision.
Be prepared to roll up your sleeves. You'll find that CEOs pivot tasks and roles quickly. While you may have a mentor, they won't be alongside you everyday. Learning is an ongoing process. When you're starting out, you quickly learn to master a majority of the skills needed to be a successful CEO on the spot.
Continue to make connections outside of work. Running a company is a big undertaking, make sure you take time for yourself. Set time aside for family dinners, weekend golf games with friends, whatever it is that reinvigorates you.
About Tim Kopp:
Tim Kopp is an experienced marketer, advisor, and venture partner with a passion for advising high-growth tech companies. After nearly 20 years of Senior Leadership roles across B2C and B2B his passion has become fueling the most promising, high-growth technology firms across the Midwest.
About Terminus:
Terminus is changing the foundation of B2B marketing. As the first true ABM platform, Terminus helps sales and marketing teams engage target accounts across the entire lifecycle by utilizing first party data to help surround buyers with engaging digital experiences.
Learn more about Terminus here.
Partner with Hunt Club to Find Your Next Leader
Topics Discussed