Three Top Tech Recruiters Share How You Can Stand Out and Land Your Dream Job
Recruiting has experienced many changes throughout the last few decades. From handing in physical resumes to applying through platforms like LinkedIn and Indeed, job seekers have had to adjust how they approach their search in order to keep up with the evolving landscape.
While the job hunt can feel discouraging at times, having the right tools in your kit can make a world of difference.
At a recent networking event hosted by Silicon Slopes, Silicon Slopes Jobs Board, and Hunt Club, recruiting leaders from Adobe, Entrata, and Pluralsight joined a panel to discuss the challenges job seekers face in the current job market.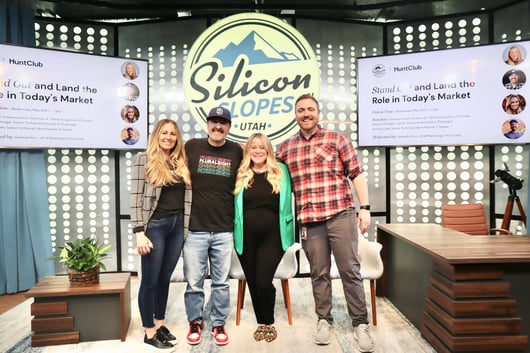 In a panel called, "Stand Out and Land the Job in Today's Market," Hunt Club's VP of Marketing, Amanda Price, joined the Heads of Talent from top Silicon Slopes companies and led the discussion on how to turn these challenges into advantages. The speaker lineup included recruiting powerhouses Emma Corbett, Director of Talent Acquisition at Entrata, Bentley Clark, Sr. Technical Talent Partner at Adobe, and Spencer Winegar, Senior Technical Recruiter at Pluralsight.
Together, they shared essential tips on interviews, resumes, LinkedIn best practices, and other impactful insights to help job seekers land their dream job. With a collective 30 years of sourcing and placing top candidates, the trio of talent leaders shared invaluable insights into moving your resume to the top of the pile.
10 Must-Know Tips for Finding and Landing Your Next Job

1. Identify 3-5 Companies You Want To Work For
Rather than bulk applying to hundreds of companies and open roles, spend that same amount of time applying to 3–5 positions. By taking the time to research the company culture, the open roles, and the opportunities for growth, you're able to apply to companies you are more likely to enjoy working at.
Pro tip: Build a career portfolio, don't climb a career ladder. This is done by looking beyond the traditional FAANG companies (Facebook, Apple, Amazon, Netflix, and Google) and finding smaller organizations where you can still glean transferable skills that will help you in all of your future roles.


2. Build Connections To Receive Referrals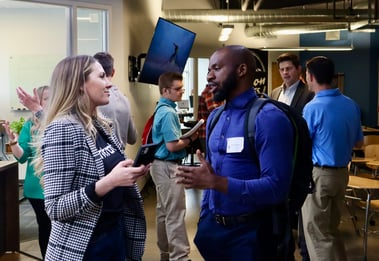 Whether you're applying to a startup or enterprise company, a referral can be just the lead you need to get your foot in the door.
In order to receive a referral from a current employee, start by reaching out to people in roles similar to the ones you're applying for through LinkedIn or company events.
By building these connections prior to applying, you will be able to both reference an employee in your application as well as receive an internal recommendation — something recruiters heavily take into account when prioritizing which resumes to pass along to the hiring managers.


3. Cater Your Resume For Every Submission
Recruiters spend an average of 6-7 seconds reading a resume. If you include keywords that reflect the language in the job listing, recruiters and talent leaders are more likely to view you as a fit for the role.
Don't be afraid to pull the requirements from the job description directly into your resume, this shows the recruiter that you have the necessary qualifications they are looking for.


4. Include Career Highlights
Recruiters want to hear about the projects and experiences you've had that will directly impact and influence you in the new role. It's your time to brag, don't be shy about including specific projects you excelled at!
Pro tip: Be concise when listing your qualifications. Rather than expanding on each one within your resume, recruiters recommend that you dive deeper into them during the interview process.


5. Reach Out To Recruiters
Once you've submitted your resume and application, contact the recruiters at the different companies you have applied to.
This is a small step that can have a large and lasting impact. In reaching out, you are letting them know that not only are you interested in the position, but you are proactive and diligent in your job search — characteristics that translate into on-the-job skills.


6. Optimize Your LinkedIn Profile Before Writing a Cover Letter
The importance of a strong LinkedIn account cannot be emphasized enough. While a recruiter reads your resume, once they pass your resume off to the hiring manager, more often than not the hiring manager will look up your name on LinkedIn rather than reading your resume and cover letter.
The time you could have spent writing and editing your cover letter can now be used to update your LinkedIn profile with recent career highlights, valuable experiences, certificates you've received, and more.


7. Come To Every Interview Energized
Imagine you're a rockstar traveling to different cities and venues every day to perform. Your audience expects the same vibrant energy and performance every day.
While an interview isn't quite the same as a concert, recruiters and hiring managers also expect you to come full of energy and enthusiasm that you would bring to the job.
While it can be challenging to always come with your best foot forward, it can lead to productive and stimulating conversations that illustrate your workplace personality.


8. Research the Company Before Your Interview
By researching the company before an interview, you are able to illustrate your investment in the company, culture, goals, and values. This shows recruiters your commitment to being a part of their team, your preparedness, and also allows you to dive right into the meaty part of the interview.
Preparing questions is also a great way to be a memorable candidate and it demonstrates to the recruiter and hiring manager that you identified their company as a best fit for you and your goals.
Consider asking questions related to the company's DEI practices or about how the leadership team manages the company during change cycles.


9. Share the Impact You Had In Past Roles
Skills and characteristics are essential to a successful candidate. Equally as important? The impact you had in your last role.
Recruiters recommend talking about your past projects in the following format:
"I completed "X" project by collaborating with "Y" teams/individuals, which impacted "Z" outcome."
For example, you might share:
"I used Python to code our latest application update along with the lead software engineer. This project will prevent major site overhauls in the future reducing the time the engineering team has to spend fixing bugs and increasing the time they can spend innovating."
Framing your previous work in this way elevates the impact and influence you had on your direct team as well as the company.


10. Grow Your Network
Recruiters cannot emphasize it enough — networking helps move your resume to the top of the pile. When an industry professional recommends you for a job, the likelihood that you will be offered the role is quadrupled versus applying directly through a website without a referral.
Whether you attend company events, local networking socials, or connect with people through platforms such as LinkedIn or the Expert Network, finding commonality through human connection during an interview makes all the difference.
Search for open roles within the Utah tech community on the Silicon Slopes Jobs Board.

A Network Designed For Industry Leaders
When searching for a job, the power of connection — whether that leads to a professional mentor, advocate, or referral — is invaluable.
Join a powerful community of business leaders who are introducing their network to leading companies and connecting with innovators across the country.


Topics Discussed