In 2021, U.S. venture capital (VC) firms raised nearly $330 billion. This is double the amount firms raised in 2020. A prime geographical area for this financing? Austin, Texas.
One of the top 10 U.S. markets for total VC funding, Austin's rapidly growing tech scene has delivered 412 deals valued at over $5.5 billion. This is a 211% growth compared to the previous year. With the amount of diverse capital and quality of entrepreneurs, ATX is proving to be a high-yielding base for budding and seasoned businesses. While the software sector has always reigned in Austin, other industries are rapidly growing, including CPG (consumer packaged goods) and real estate, to name a few.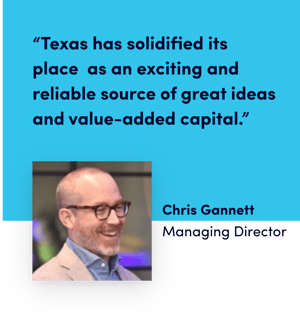 "To be a successful entrepreneur, one no longer needs to be based out of San Francisco or New York City. Texas has solidified its place as an exciting and reliable source of great ideas and value-added capital," says Hunt Club's Managing Director of Venture Capital, Chris Gannett. "We like to track talent flows, and we're seeing volumes of top industry professionals flood into Texas – not just from California, but also from financial and marketing hubs like Chicago and NYC." He continued, "Having joined Hunt Club from a senior operating role at a top Austin-based startup, I can attest first-hand to the energy, support and access that the Texas venture ecosystem delivers to young companies with promise. It's a privilege to be a part of and support this community."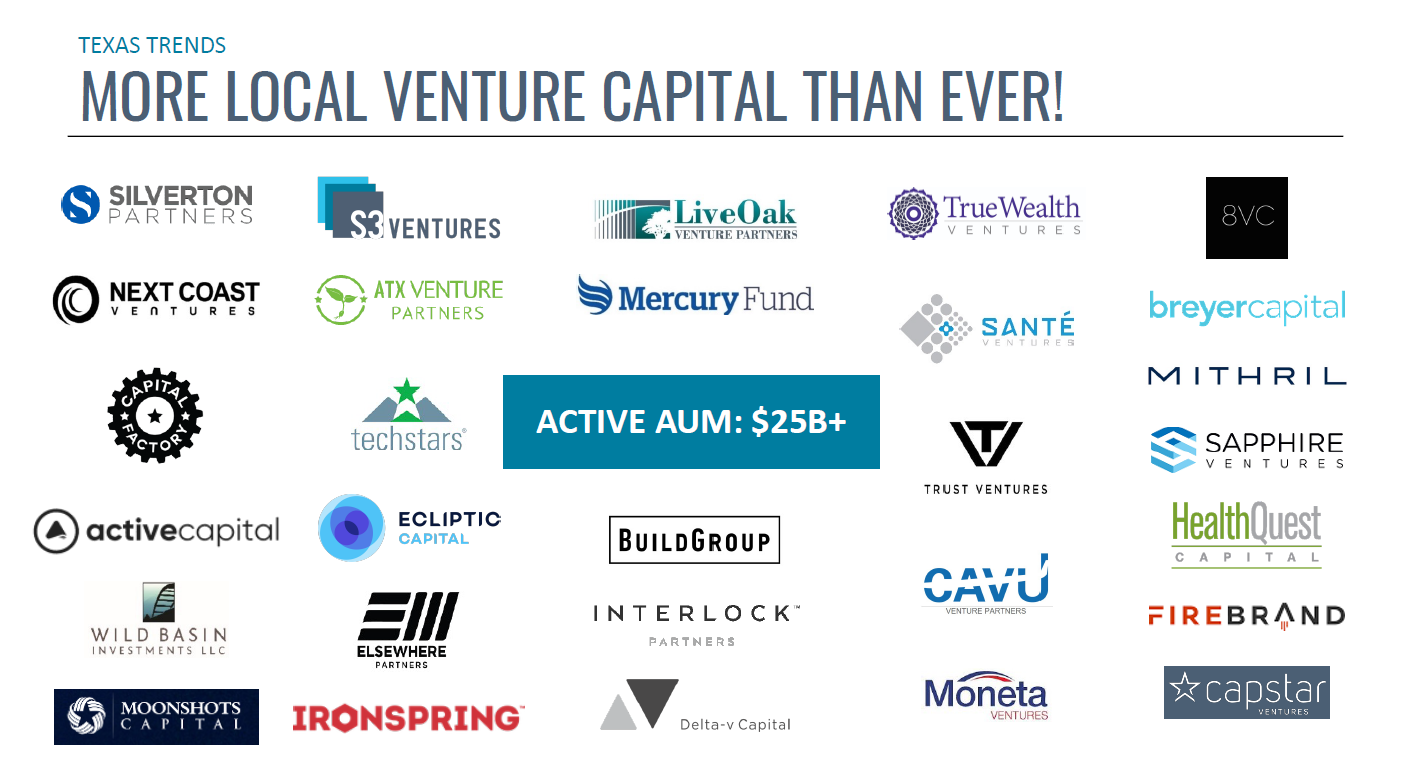 As startup communities continue to emerge in new locations, founders are recognizing Austin, and Texas as a whole, to be a hub for young companies and venture opportunities.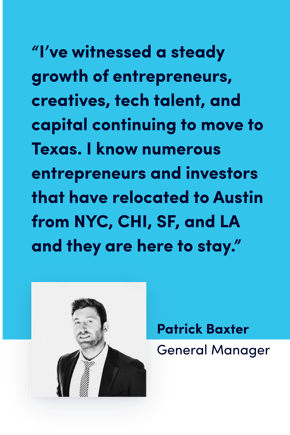 General Manager at Hunt Club, Patrick Baxter has been a part of the startup community in Austin for the past six years. "I've witnessed a steady growth of entrepreneurs, creatives, tech talent, and capital continuing to move to Texas. I know numerous entrepreneurs and investors that have relocated to Austin from NYC, CHI, SF, and LA and they are here to stay," says Patrick.
Innovation and entrepreneurship are the drivers of our economy, and VC firms in Austin are confidently leading the way as partners, investors and founders are working together to establish and grow successful startups. Meet 5 top Austin VC firms redefining venture capital for talented business leaders and accelerating entrepreneurship.
1. ATX Venture Partners

Website: https://www.atxventurepartners.com/
Founded: 2014
Stage(s): Early Stage Venture, Seed
Notable investments: Cyvatar, QuotaPath, Reflex
Founded by Danielle Weiss Allen Partner & Co-Founder, Brad Bentz, Partner & Co-Founder, and Christopher Shonk Managing Director & Co-Founder, ATX Venture Partners specializes in B2B software, APIs, marketplaces, frontier tech, and applications companies. Guided by the accomplished founders, along with a limited team of additional partners and associates, ATX Venture Partners' portfolio companies gain incredible leadership and growth insight from vanguards within the investment management and Wall Street management industries.
Learn more about the top five black VC firms redefining venture capital.
2. Austin Ventures

Website: http://www.austinventures.com/
Founded: 1979
Stage(s): Seed, Early & Late Stage Venture, Private Equity
Notable investments: Bloomfire, Edgecase since acquired by GroupBy, Vyze since acquired by Mastercard
With over 40 years in the business, Austin Ventures has raised a staggering $3.9 billion in capital. Founders Joe Aragona, General Partner & Co-Founder and Ken DeAngelis, General Partner & Co-Founder, along with two other General Partners, concentrate their funding and expertise on early-stage and middle market companies led by driven entrepreneurs and executives. They focus the majority of their efforts on growing organizations within Texas.
3. LiveOak Venture Partners

Website: https://liveoakvp.com/
Founded: 2012
Stage(s): Early Stage Venture, Seed
Notable investments: AmplifAI, Flo, Spyderbat
Krishna Srinivasan, Founding Partner, Venu Shamapant, Founding Partner, and Ben Scott, Founding Partner & Partner Emeritus, launched LiveOak Venture Partners in 2012 after meeting at Austin Ventures in 1999. Since the firm's launch, it has generated over $5 billion in enterprise value. Much of their success is attributed to their core values of I. Invest in real time, II. No distractions, III. Timely Response, IV. Be helpful even if we are unable to invest. The Founding Partners expressed in their Entrepreneur's Bill of Rights that, "we realize our long-term success is defined by the success of the Texas ecosystem and we are fully committed to help accomplish that."
Discover 4 VC's investing in LGBTQIA+ businesses, uplifting and empowering marginalized founders.
4. Next Coast Ventures

Website: https://www.nextcoastventures.com/
Founded: 2015
Stage(s): Early & Late Stage Venture
Notable investments: Brava, Ceresa, Upgrade
Entrepreneurs are the focal point of Next Coast Ventures. Michael Smerklo Co-Founder & Managing Director and Thomas Ball Co-Founder & Managing Director like to pose the question "if we were a founder right now what resources would we want our investors to bring forward to help us build our business?" to help them evaluate their success in supporting their portfolio companies. They provide every entrepreneur and company they work with access to their expanding network of company innovators, ensuring everyone is connected with the right people and resources to scale their growing companies.
5. 8VC

Website: https://www.8vc.com/
Founded: 2015
Stage(s): Seed
Notable investments: Affinity, Asana, Our Place
Led by an impressive team of entrepreneurs and investors, 8VC is able to pursue a diverse portfolio of industries including logistics, biology, healthcare, IT Infrastructure, and Government/Defense. Their robust founding team, comprised of Alex Kolicich Founding Partner, Drew Oetting Founding Partner, Jake Medwell Founding Partner, Kimmy Scotti Founding Partner, and Joe Lonsdale Managing Partner, has helped build a venture and private equity firm that is creating "long-term economic and societal value" through the organizations they support financially and intellectually.
Read about the 10 top female venture capitalists breaking the bias.
Connect with two of Hunt Club's leading talent experts
Chris Gannett has been helping businesses, brands, and executives to transform, grow, and lead for 25 years in entertainment, media & technology, consumer goods, and finance. At Hunt Club, Chris leads the company's Venture Capital practice – a specialized team purpose-built to help premier Venture Capital, Growth Equity and Private Equity investors build smarter and scale faster through application of Hunt Club's technology, expertise and relationships. He is an experienced public and private company operator, investor, and board member with a history of successful special situations, event-driven strategies and venture roles featuring four exits, three turnarounds, and millions in capital raised. Chris is passionate about creating conditions to unlock the magic of people helping people.
Based in Austin, Patrick Baxter is a General Manager at Hunt Club leading Texas and the entire South region, including other fast growing tech cities like Nashville, TN. He partners with high growth companies, helping them scale their teams. Working with Venture, Growth, and Private Equity firms as well, Patrick helps them unlock value-add for their portfolio companies through Hunt Club Atlas.
Attract Key Investments with Hunt Club
Admired as the "city of unicorns and tech giants," Austin is developing into a vibrant and momentous hub for top venture capitalists. If you're a VC firm looking to accelerate growth and sustainability in Austin, Hunt Club can get you started.
With Hunt Club Atlas, venture capital investors are able to centralize their firm's online people network, identify relevant connections, and automate introduction requests in order to connect their portfolio companies with leading talent.
Connect with Chris Gannett
Connect with Patrick Baxter
Topics Discussed